Donald Trump's Ex-ICE Director Tells Fox News That Nancy Pelosi Is 'Disgusting'
On Fox & Friends Thursday morning, President Donald Trump's former Acting ICE Director Thomas Homan called House Speaker Nancy Pelosi "disgusting" after she asked that the president postpone his State of the Union address until the government shutdown had been resolved.
Co-host Steve Doocy asked Homan, who served as acting director of U.S. Immigration and Customs Enforcement from January 2017 to June 2018, to weigh in on the letter Pelosi sent to Trump on Wednesday in which she suggested rescheduling the State of the Union because of "security concerns."
"What do you say to Nancy Pelosi?" Doocy asked.
"She's disgusting," Homan said straight away. The Fox & Friends live audience laughed and clapped in response.
"But why is she?" Doocy followed up. "She is trying to make a political point."
Homan then said that Pelosi was "scared to death that a president is going to speak straight to the American people more than eight minutes, and explain there is a crisis on the border."
The former ICE director said the issue wasn't simply about enforcing the law but "about saving lives." He said a wall would have prevented the death of two children trying to cross the border.
"If Nancy Pelosi saw what I saw in the three, four years of my career, maybe she'd have a different attitude," Homan said. "I've stood in the back of a tractor trailer surrounded by 19 dead aliens, including a 5-year-old boy who died in his father's arms because he suffocated to death.
"Because when you entice people to come to this country illegally, because you push sanctuary cities, want to abolish ICE, you don't want no real enforcement of our border laws, you don't fix the loopholes like the asylum laws, that entices people to come to this country."
He also said New York City's proposal for free medical care and in-state tuition would further incentivize illegal immigration.
"More people come into this country, more people die," Homan said. "I've seen many people die on this journey, so it's not just about protecting the sovereignty of this country, enforcing laws, it's about saving lives of a vulnerable population that's being misled."
Doocy agreed with Homan, saying, "Absolutely. Well said." The audience clapped.
In April 2016, The Washington Post wrote that Homan "deports people. And he's really good at it."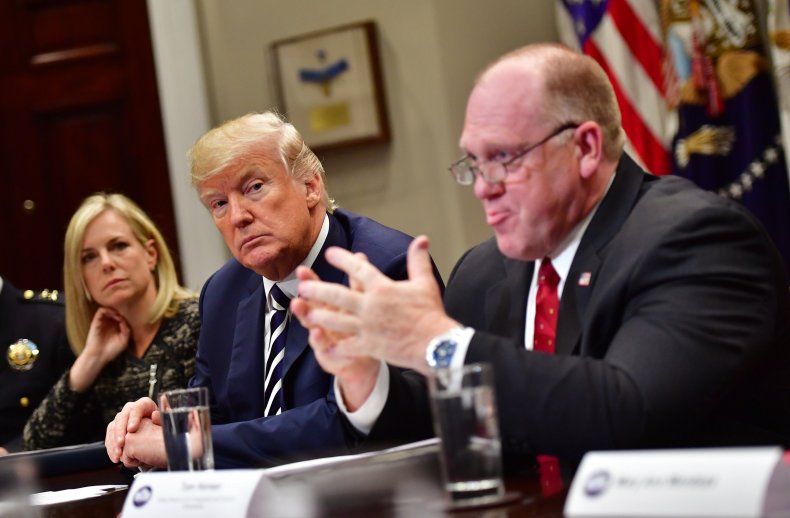 Pelosi's letter to Trump essentially disinvited the president from delivering his State of the Union to Congress.
"Sadly, given the security concerns and unless government re-opens this week, I suggest we work together to determine another suitable date after government has re-opened for this address or for you to consider delivering your State of the Union address in writing to the Congress on January 29," she wrote.
In an interview with CNN, Pelosi said: "This is a housekeeping matter in the Congress of the United States, so we can honor the responsibility of the invitation we extended to the president. He can make it from the Oval Office if he wants."