Donald Trump's Hours of 'Executive Time' Are Justified Because Winston Churchill Took Naps in Pajamas: Newt Gingrich
Former Republican House Speaker Newt Gingrich came to President Donald Trump's defense on Twitter Monday morning after a leak of Trump's private schedules revealed that about 60 percent of his time over the past few months was spent unstructured "executive time" which he used to tweet and watch television.
Gingrich, who served as speaker from 1995 to 1999, defended Trump by comparing him to former British Prime Minister Winston Churchill, who took an hour or longer nap in the afternoon and continued working at night.
"The distortions of the hate Trump movement are never more obvious than in the reaction to the President's leaked schedule," Gingrich tweeted. "The ignorance of history of the current elites is pathetic. Churchill slept late, worked late, took a nap every afternoon (getting into his pajamas)."
In another tweet, Gingrich added that the schedules of presidents, like all leaders, "should be based on achievement not activity," and that former President Ronald Reagan "spent every August at the ranch. Washingtonians were appalled. Reagan came back refreshed and refocused. It made him more effective."
The former House speaker then listed what he considered Trump's achievements, and commended him for "his focus."
"We have continued economic growth, continued wage growth, continued job creation, progress in Chinese trade talks, trade agreement with Mexico and Canada, progress in strengthening NATO, progress in Venezuela," Gingrich tweeted. "If Trump's schedule leads to all this he should be applauded for his focus."
A White House source leaked almost every day of the president's schedule for the past three months, and they were all published by Axios on February 3. They revealed that Trump usually wakes up before 6 a.m. and spends the first five hours in executive time, and that he passes the morning in his residence watching TV, reading the news and reacting by calling his aides, Congress members and friends. The many tweets Trump sends are often during his unstructured time.
The leak came after Trump's schedule through the first half of last week showed he only had a lunch with Vice President Mike Pence and an intelligence briefing before a few more events were added, including a phone call with Venezuelan interim President Juan Guaidó.
In October, Politico reported that Trump had nine hours of executive time on his schedule, which was three times more than the time set for his public appearances, briefings and official meetings.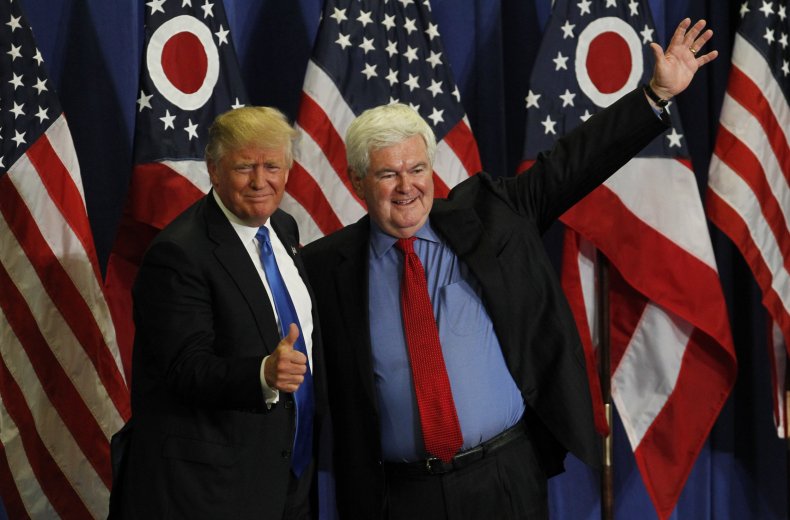 Gingrich defended Trump last week by slamming conservative political commentator and author Ann Coulter after she criticized the president for temporarily reopening the government without receiving any funding from Democrats for his border wall.
Trump "should not pay any attention to Ann Coulter," Gingrich said on Fox News's Fox & Friends show. "Ann Coulter's never run for office; she doesn't know anything about how you put a majority together. She's off here in some fantasyland where she gets to be noisy, which helps her sell books."