President Donald Trump repeated his call for Democratic presidential candidate Joe Biden to release his list of potential U.S. Supreme Court justices during a campaign speech in Pittsburgh, Pennsylvania on Thursday.
Trump said that he would be announcing his nominee to replace the late Ruth Bader Ginsburg on the Supreme Court on Saturday from the White House. Ginsburg passed away Friday at the age of 87 from pancreatic cancer. If a Trump nominee is confirmed to take Ginsburg's place, that person would be the third Trump appointee to be named to a place on the nation's highest court.
Trump explained how it was his idea to create a list of potential nominees. "So I get out on a list and I name the people and I said, 'and I promise that I will pick someone like the people on this list,'" Trump said. "And it didn't work. It went nowhere because they didn't trust it. They said, 'We want you to pick the people on the list, not somebody like the people on the list.'"
"So I went back the next week and I said I will pick somebody that's on this list," Trump continued. "And they were all great, great judges for the most part—I think almost entirely—judges and really respected conservative believers in our country. Solid, incredible people. And as soon as I did that, things went through the roof. It was amazing how important it was."
According to Trump, Biden has not named his potential nominees to the Supreme Court because "he can only put super radical left judges on it, people that would destroy your country."
Newsweek reached out to the Biden campaign for comment.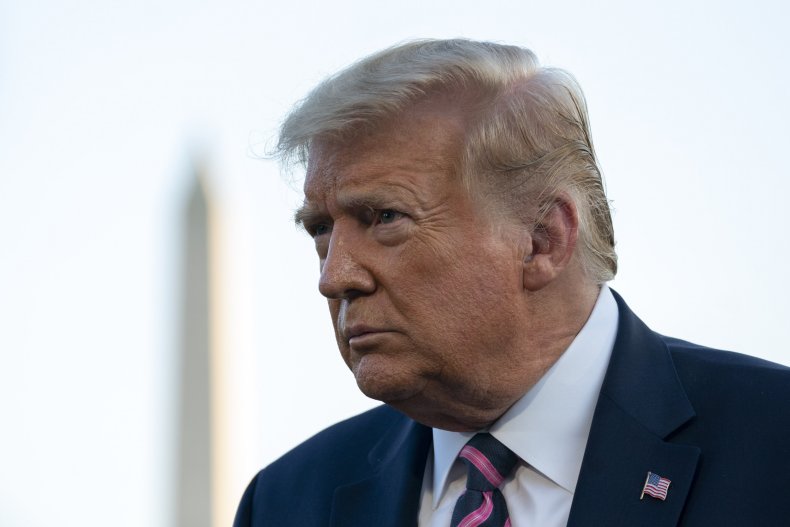 Biden said Sunday that he would not release his list of potential nominees until after the election. In remarks from Philadelphia, Biden said that placing a judge's name on his list "could influence that person's decision making as a judge, and that would be wrong."
Many Republican lawmakers are pushing to have the Supreme Court vacancy filled as soon as possible. Senate Majority Leader Mitch McConnell said Tuesday that filling the seat left by Ginsburg was "an obligation under the Constitution."
Meanwhile, many Democrats believe the Supreme Court should remain empty until after the presidential election in November. Some have said that a conservative majority Supreme Court could overturn both the Affordable Care Act and Roe v. Wade, the 1973 ruling which allowed women to obtain legal abortions.
During a candlelight vigil for Ginsburg on Saturday, Democratic Massachusetts Senator Elizabeth Warren said that Leader McConnell "believes that this fight is over. What Mitch McConnell does not understand is this fight has just begun."