Donald Trump's Facebook Gets Almost 200,000 Likes Despite Being Blocked after Capitol Riot
Donald Trump's Facebook page attracted almost 200,000 likes over the past two weeks despite being "indefinitely" blocked from posting.
The president—who will exit the White House on Wednesday following the inauguration of Joe Biden—was effectively exiled from mainstream social media platforms this month after a mob of his supporters stormed the U.S. Capitol Building on January 6.
Unlike Twitter, which removed Trump's account from view amid a suspension, Facebook kept his profiles visible but ruled they would no longer be able to post status updates. Both platforms said allowing Trump to post risked inciting further violence.
While the president's frequent outbursts on social media have been silenced, the moves have not stopped his Facebook profile from gaining new likes in the days since, according to statistics compiled by U.S. analytics company Social Blade.
Between January 7, when Facebook boss Mark Zuckerberg confirmed Trump's profiles would be restricted indefinitely, and January 17, his Facebook amassed 188,684 new likes. Taking Monday morning into account, the total number of likes was 195,456.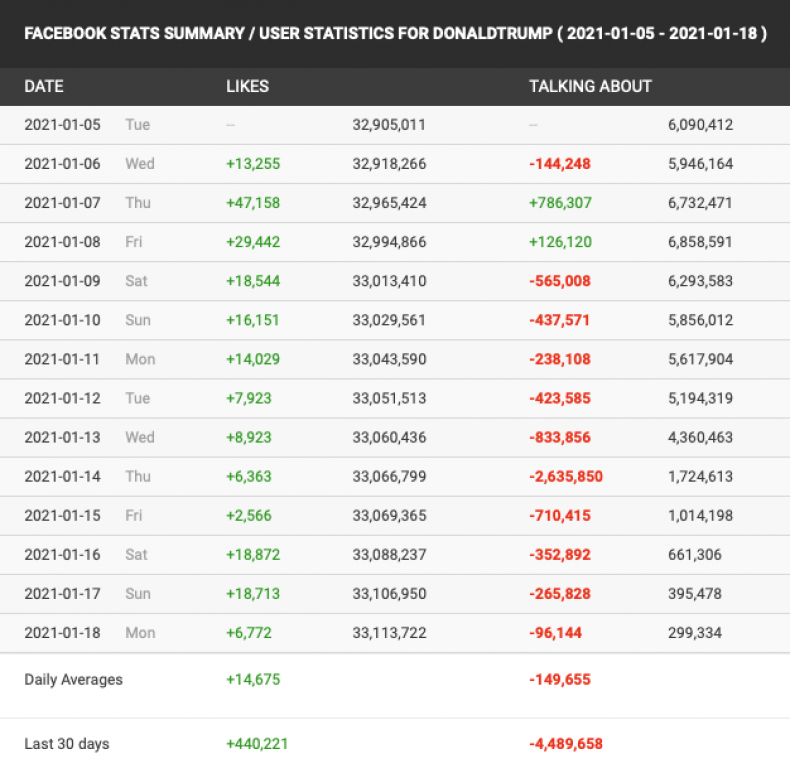 The last post on Trump's page is dated January 6, when Facebook first confirmed that it would place a "feature block" on his account, locking it down for 24 hours.
Zuckerberg said the following day it would remain restricted at least until Biden was in office because the risks of allowing Trump to post were "simply too great."
He wrote on Facebook: "Over the last several years, we have allowed President Trump to use our platform consistent with our own rules, at times removing content or labeling his posts when they violate our policies. We did this because we believe that the public has a right to the broadest possible access to political speech, even controversial speech.
"But the current context is now fundamentally different, involving use of our platform to incite violent insurrection against a democratically elected government."
Facebook's chief operating officer, Sheryl Sandberg, said last Monday the social network had "no plans" to lift its block, which showed "the president is not above" site policies. Trump has been banned from Facebook, Instagram, Twitter and YouTube.
Academics and content moderation experts told Newsweek that Twitter had shown a "double standard" in how it treated Trump compared to other world leaders and its decisions involving the president could mark a shift in its enforcement tactics.
Meanwhile, President-elect Biden's presence on Twitter continues to grow, with his new account @PresElectBiden picking up more than 918,000 followers since its creation last week. On January 20, that account handle will become @POTUS, Twitter said.
In addition, the social network confirmed in a blog that @SenKamalaHarris will become @VP, @FLOTUSBiden will be @FLOTUS, and @PressSecPsaki will be @PressSec.