Donald Trump's Facebook Ban Is Upheld, But 'Indefinite' Length Faces Review
Facebook's Oversight Board has upheld the company's decision to suspend Donald Trump's Facebook and Instagram accounts.
Facebook was right to suspend Trump's accounts after he used them to incite an insurrection in Washington, D.C., in January, the quasi-independent panel, which can review the company's bans, said in a ruling on Wednesday.
"Given the seriousness of the violations and the ongoing risk of violence, Facebook was justified in suspending Mr. Trump's accounts on January 6 and extending that suspension on January 7," the board said.
But the board also said that "it was not appropriate for Facebook to impose an 'indefinite' suspension."
The ruling said: "Facebook's normal penalties include removing the violating content, imposing a time-bound period of suspension, or permanently disabling the page and account.
"The Board insists that Facebook review this matter to determine and justify a proportionate response that is consistent with the rules that are applied to other users of its platform."
The board gave Facebook six months to complete a review of Trump's account. He remains suspended for now, but may be permitted to return to Facebook and Instagram once the company reviews its penalty.
In the meantime, Trump on Tuesday unveiled a new blog on his personal website called "From the Desk of Donald J. Trump."
It looks rather like a Twitter feed, displaying Trump's recent statements that can easily be shared on Facebook, Twitter and YouTube.
YouTube also suspended Trump after the Capitol riot, while Twitter, which had been the former president's preferred megaphone, permanently banned him.
Facebook indefinitely suspended Trump's account on January 7. In a post at the time, Facebook CEO Mark Zuckerberg said: "The shocking events of the last 24 hours clearly demonstrate that President Donald Trump intends to use his remaining time in office to undermine the peaceful and lawful transition of power to his elected successor, Joe Biden."
He added that the company believes the risk of allowing Trump to continue using Facebook during the transition period was "simply too great."
Two weeks later, Facebook announced that it would refer Trump's case to the Oversight Board, a panel created last year in response to criticism about the company's inability to effectively respond to misinformation, hate speech and influence campaigns.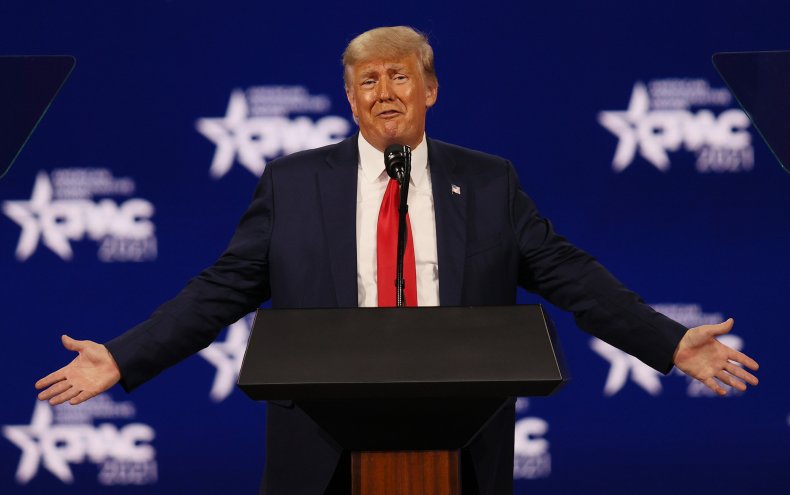 The board's 20 members include human rights experts, legal scholars, journalists and a former prime minister of Denmark.
Facebook has maintained that the Oversight Board is independent, but it was launched with $130 million in funding from the company. The Associated Press reported that the first four members were directly chosen by Facebook and those members then worked with Facebook to select additional members, and Facebook pays each member a salary through an "independent trust."
Facebook's decision to suspend Trump's access to his Facebook and Instagram accounts "was taken in extraordinary circumstances: a US president actively fomenting a violent insurrection designed to thwart the peaceful transition of power; five people killed; legislators fleeing the seat of democracy," Nick Clegg, Facebook's vice president of global affairs, explained in a blog post.
"We believe our decision was necessary and right," Clegg wrote. But he added that "given its significance, we think it is important for the board to review it and reach an independent judgment on whether it should be upheld."
The Oversight Board's decisions are binding, Clegg said, and can't be overruled by anyone at Facebook, including Zuckerberg.
This is a developing story and this article may be updated.