Donald Trump Fact-Checked by His Own Border Chief on Claim 'Minor Form' of Tear Gas Used on Migrants
President Donald Trump defended the use of tear gas at the Mexican border by claiming that U.S. Border Patrol agents had used a "very minor form" of the chemical agent, but even the president's own border chief couldn't back that assertion as true.
Kevin McAleenan, the Trump-appointed commissioner of Customs and Border Protection, said during an interview on Monday that there was only one type of tear gas that is used by agents.
"Is there such a thing as a good kind of tear gas?" CNN's Chris Cuomo asked McAleenan on Cuomo Prime Time. "There's only one kind, right?"
"The CS gas we deploy is standard law enforcement issue," McAleenan said, knocking down Trump's claim that agents had somehow used a less harmful type of gas on the migrants trying to cross the southern border.
The Trump administration had come under attack for using the chemical weapon to repel a crowd of migrants who were attempting to seek U.S. asylum through the border city of Tijuana over the weekend. Photos show women and children running away from the noxious gas, but officials said that the action was necessary to quell angry rock-throwing men.
The president told reporters on Monday that the tear gas was used in response to the "tremendous violence" that injured at least three Border Patrol agents.
"Why is a parent running up into an area where they know the tear gas is forming and it's going to be formed and they were running up with a child?" Trump asked, before he asserted, without evidence, that some adults in the group had grabbed random children "because they think they will have a certain status by having a child."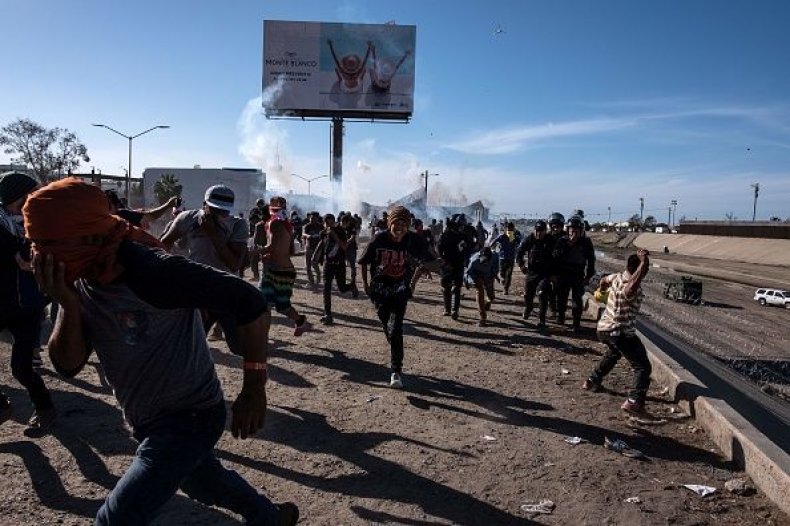 But Trump's assertion that border patrol agents were "very badly hurt" during the showdown was also disputed by McAleenan. The Border Patrol commissioner said in a statement on Monday that there were four agents who were hit by rocks thrown by migrants, but that they "were wearing protective gear and did not suffer serious injuries."
The Mexican government has called for a "full investigation" into the use of tear gas and other non-lethal weapons at the border, according to a report by Reuters. The request came from the country's foreign ministry, which presented a diplomatic note to the Trump administration.
But Trump has only doubled down on his verbal attacks on Mexico, saying on Monday that Mexican officials should work harder to send Central Americans back to their home countries.
"Mexico should move the flag waving Migrants, many of whom are stone cold criminals, back to their countries. Do it by plane, do it by bus, do it anyway you want, but they are NOT coming into the U.S.A. We will close the Border permanently if need be. Congress, fund the WALL!" Trump tweeted.