Donald Trump's Failed, Forgotten $1 Million 'Battle of the Sexes' With Serena, Venus and John McEnroe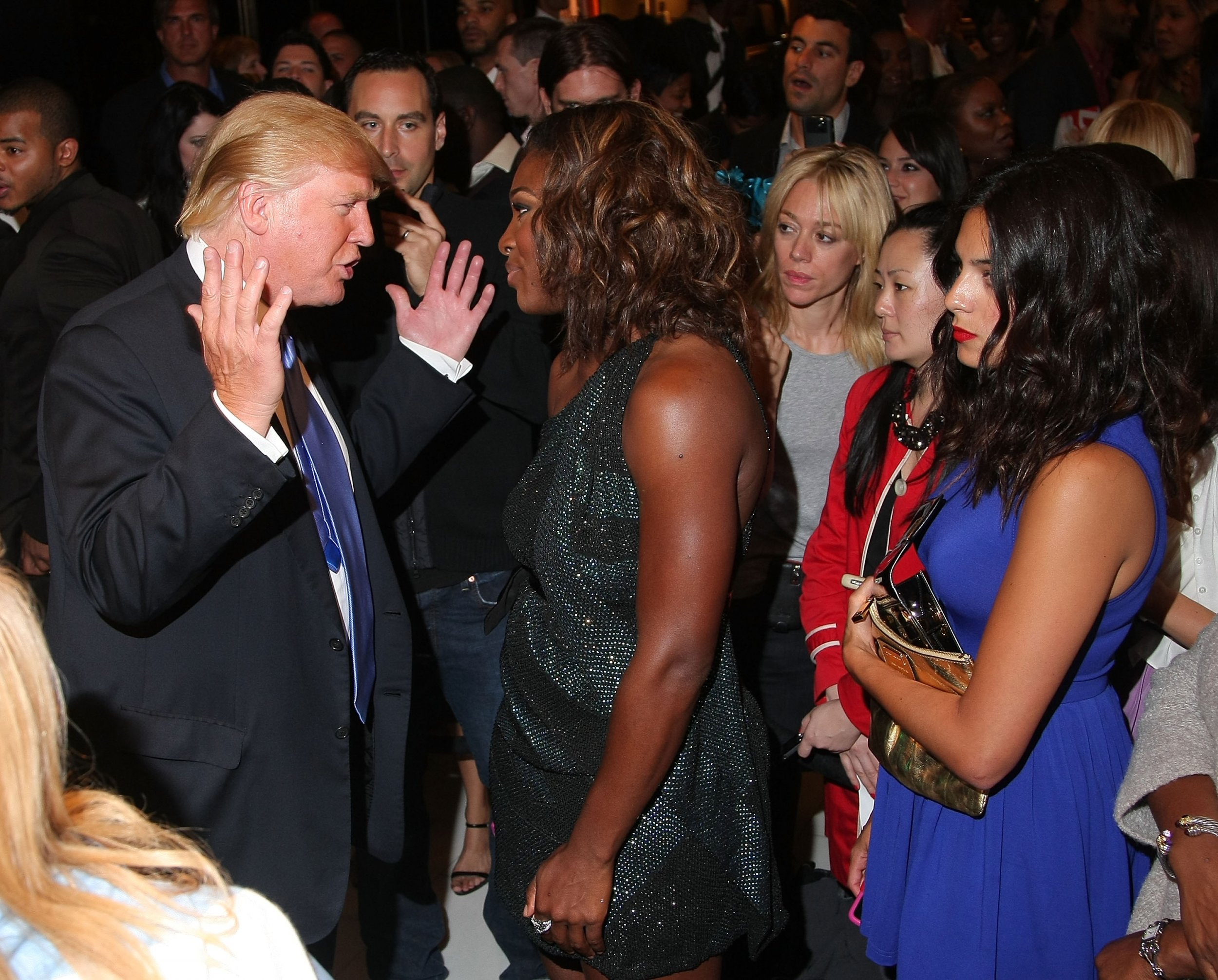 The reporter was chasing down a hot tip—it involved Donald Trump, a trash-talking tennis star and a million dollars.
The year was 2000.
The journalist was Selena Roberts, the trash talker was John McEnroe, and the million dollars was tennis prize money. And Trump? He was just a bombastic billionaire.
It was the "Battle of the Sexes" that never was, a proposed replay of the landmark 1973 tennis match between Billie Jean King and Bobby Riggs.
It started with McEnroe dissing Serena and Venus Williams in The New Yorker, claiming the young stars (dominating women's tennis at the time, as they continue to do) would lose on the men's college or senior tours. A lightbulb went off in Trump's comb-over: He would re-create the "Battle of the Sexes."
The original event was massively important. The story, or a version of it, will soon be told in the film Battle of the Sexes—featuring Emma Stone as King and Steve Carrell as Riggs. Some 50 million Americans tuned in to watch the real-life spectacle, pitting the 29-year-old King, then at the height of her athletic powers, against Riggs, a 55-year-old former champion and a proud chauvinist who reveled in media hoopla. King made quick work of Riggs in the match, but the shift in perception of women in sports was massive, and a defining moment of the '70s. King went on to dedicate her life to fighting for equality. For Riggs, who came out of retirement for the match, the whole thing was about money. Despite all that, the two remained good friends until his death from cancer in 1995.
Trump's "Battle of the Sexes," however, was...not that. Roberts, then a 34-year-old writer covering the tennis beat for The New York Times, spoke to Newsweek about chasing down the story, most of which played out in just a few hours during the 2000 U.S. Open.
Roberts can't remember who, exactly, tipped her off that Trump wanted to make the match happen (likely an editor at the Times), but it was rumored the real estate magnate—well known in New York circles but yet to achieve Celebrity Apprentice fame—had sent a letter to McEnroe pitching the idea.
Roberts maneuvered her way into Trump's packed luxury box at the tennis Grand Slam held annually in Flushing, Queens. The then-54-year-old businessman was watching Justine Henin take on Anna Kournikova, a middling Russian player who rose to stardom as a sex symbol. Roberts talked with Trump for about 10 minutes, huddled away from the bustle of folks milling about the catering and watching the match. Ever the headline-grabber, Trump leveraged McEnroe's comments into a potential event. "I'm sure Trump saw it as an opportunity," Roberts said. "He's an opportunist."
Trump described his grand plan to her: a glitzy affair held at his (now-defunct) Taj Mahal casino in Atlantic City, New Jersey. McEnroe would face either sister, Serena or Venus, for a cool $1 million in prize money, winner takes all.
''I wrote a letter to my dear friend John, making him the offer,'' Trump said at the time. ''I have not heard back from him, but I think it would be a great event, great for the game and very exciting.''
The idea burned out fast. (Neither the White House nor the Trump Organization responded to requests for comment.)
Richard Williams, father of Venus and Serena, slammed the door: ''We're not interested." The sisters brushed it off as silly: ''I don't think it's fair to put a 20-year-old against a 40-something," Venus joked.
McEnroe didn't bite either, although he bristled at Venus's joke. "This is not John McEnroe issuing a challenge," he said at the time. "I wouldn't waste my breath.... Sure, Venus Williams is a great woman player, but to insult somebody by saying I'm an old man or whatever, to get away with saying that? Anyone who knows anything about tennis wouldn't do that."
"I knew before I even walked up to their dad to talk about it, this was a nonstarter," Roberts said. "They don't take part in tomfoolery."
All told, the whole idea lasted a few hours. So, yeah, no major motion picture is in the works for Trump's "Battle of the Sexes." But to Roberts—whose sportswriting career included breaking the news that Alex Rodriguez took steroids—Trump's proposed spectacle hinted at what was to come. "It seemed like that moment came from some baseline of misogyny and disrespect for women," says Roberts, now a filmmaker. "It was not a big story at the time. Certainly, in retrospect, it seems more important now."
And McEnroe? He's still downplaying Serena's talent by comparing her with men.