Donald Trump Fails To Change Minds of Republican Vaccine Skeptics: Poll
Former President Donald Trump has failed to move the needle among Republican vaccine skeptics despite reassuring his backers that the COVID-19 shot was safe and "something that works," according to a new survey.
The latest Morning Consult poll found that 58 percent of Republicans said they would get a vaccine after Trump's intervention—the same proportion who said they'd get a shot before he sought to ease skepticism.
Republicans voters were also more likely to be wary of getting a COVID-19 vaccine than Democrats and independents. More than eight in ten Democrats said they would get a shot, while 62 percent of independents said the same.
Morning Consult conducted its latest survey between March 18 and March 21. Its margin of error stands at 2 percentage points.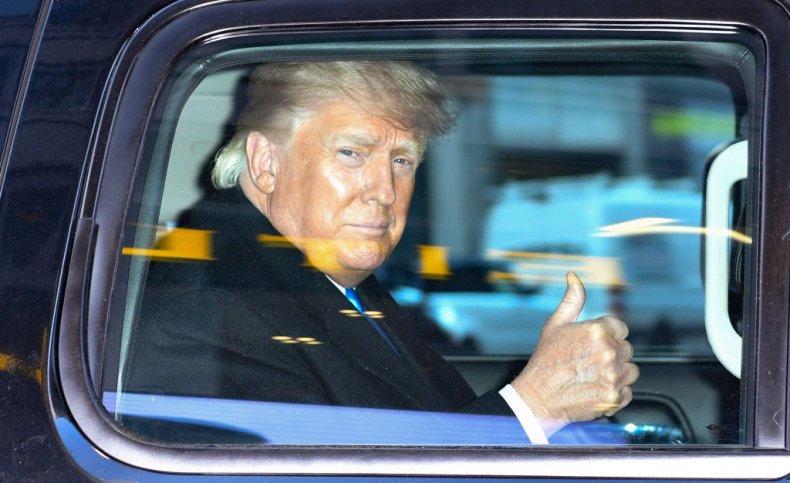 Speaking to Fox News two days before the poll began, Trump reassured his supporters that the vaccine was completely safe and "a great vaccine" he recommended they take.
"I would recommend it. I would recommend it to a lot of people who don't want to get it and a lot of those people voted for me, frankly," he told the network. "But again, we have our freedoms and we have to live by that and I agree with that also."
It was reported earlier this month that Trump and his wife, the former first lady Melania, were vaccinated in the White House before President Joe Biden's inauguration in January.
A day before the former president called on supporters to get their shot when it was made available to them, White House Press Secretary Jen Psaki said political figures needed to ensure "people of a range of political support and backing know the vaccine is safe and effective."
A Monmouth University poll released earlier this month revealed that roughly a quarter of all Americans were opposed to getting a shot if they could avoid it, while a further 21 percent said they'd wait for others to receive it before they came to a decision.
The Pew Research Center found vaccine skepticism had fallen slightly in February, with 30 percent of people saying they wouldn't get a shot, down from 39 percent in February. Yet the prevalence of skepticism still threatens the vaccine rollout.
A new poll from YouGov conducted between March 20 and March 23 has found that a quarter of U.S. adults are still saying they will not receive a COVID-19 vaccine, while a further 17 percent are unsure.
A little more than a third of Republicans (35 percent) said they wouldn't get a shot, compared to only 9 percent of Democratic voters.
At the time of writing, 46.4 million Americans, roughly 14 percent of the population, have been fully vaccinated. A quarter of the population has received at least one shot, according to the latest Centers for Disease Control and Prevention data.
Newsweek, in partnership with NewsGuard, is dedicated to providing accurate and verifiable vaccine and health information. With NewsGuard's HealthGuard browser extension, users can verify if a website is a trustworthy source of health information. Visit the Newsweek VaxFacts website to learn more and to download the HealthGuard browser extension.