All The Times Donald Trump Didn't Quite Condemn Tiki Torch Nazis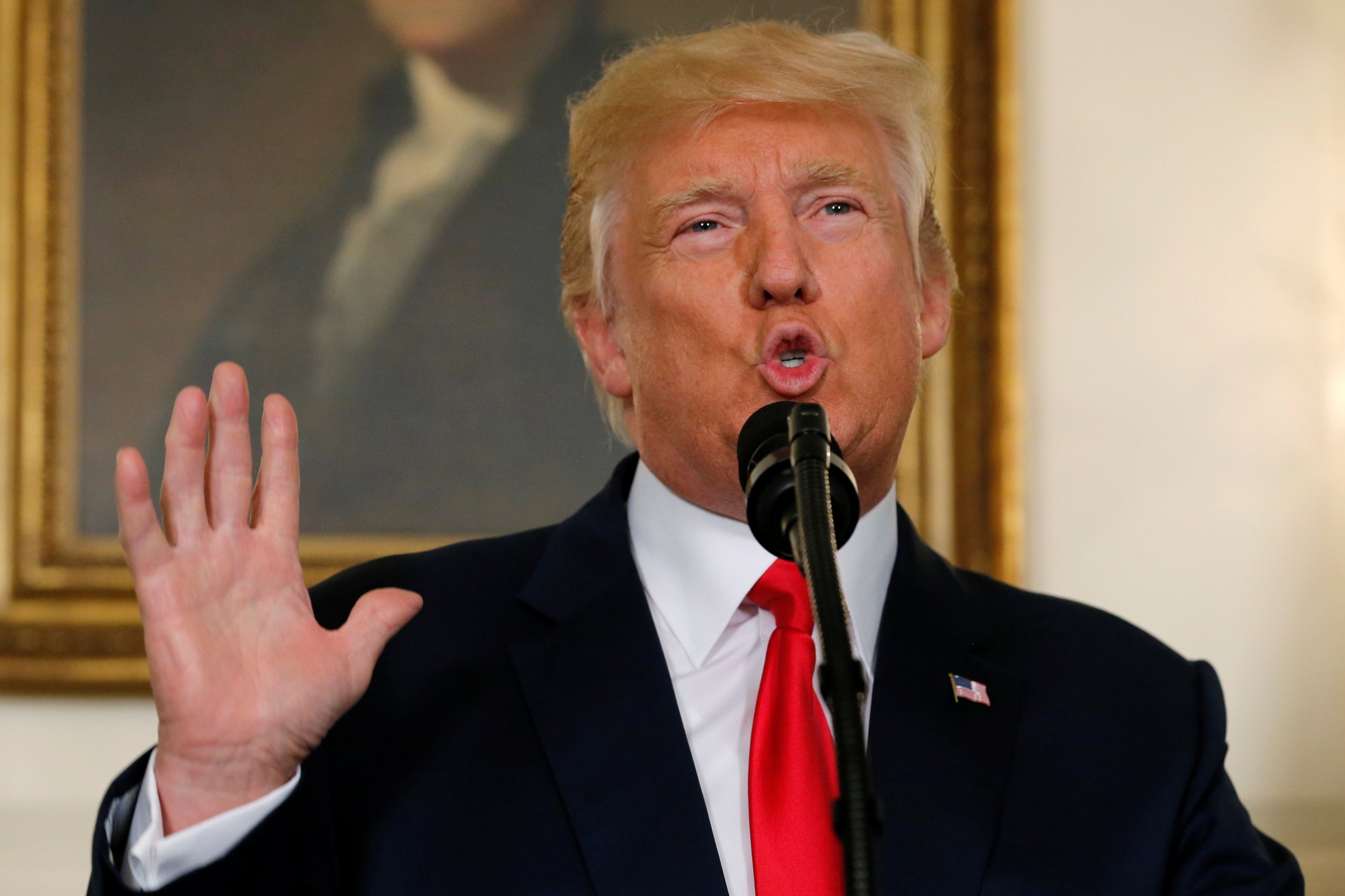 This weekend marks the one year anniversary of the Unite the Right rally in Charlottesville, Virginia that left over 30 people injured and one young woman dead, and Donald Trump is still not quite condemning white supremacy.
The president sent out a social media post on Saturday morning, writing that the riots resulted in "senseless death and division" and that he condemns "all types of racism." He does not write any specific denouncement of the alt-right or white supremacist neo-Nazi groups that were present at the events that day.
The vague and general statement is not the first that the president has put out since the events at Charlottesville last year. In fact, his tweet today largely resembles the one that he sent out on August 12, 2017, after James Alex Fields Jr. drove a car into a crowd of protesters, killing 32-year-old paralegal Heather Heyer.
Later that same day, in a press conference in New Jersey, Trump said that "we condemn in the strongest possible terms this egregious display of hatred, bigotry, and violence on many sides, on many sides." Again, he had failed to mention anything about the white nationalist groups that had organized the rally.
The White House came to the president's defense shortly after the conference, saying that when Trump condemned "all forms of violence, bigotry and hatred" that were on display in Charlottesville this weekend "of course that includes white supremacists, KKK, Neo-Nazi and all extremist groups." But the president has yet to say that himself.
Trump's social media posts and statements were challenged by his Oval Office predecessor, as Barack Obama sent out a tweet that quoted anti-apartheid leader Nelson Mandela. The tweet became the most-liked tweet ever, at the time.
A few days after the Charlottesville riots took place, Trump said in another press conference that there was blame to be placed on "both sides." He immediately came under fire for not strictly denouncing the white supremacists and neo-Nazi figures that had approached the "Unite the Right" rally with guns in hand. His comment also received backlash for seemingly placing some of the responsibility on counter protesters who had taken to the streets to protect racial equality and justice.
"What about the 'alt-left' that came charging at, as you say, the 'alt-right,' do they have any semblance of guilt?" Trump asked at the news conference outside his hotel in Manhattan. "What about the fact they came charging with clubs in hands, swinging clubs, do they have any problem? I think they do."
Trump's refusal to directly call out white supremacists even had Republican lawmakers, who usually stay quiet about the president's statements, up in arms. Republican Senator Cory Gardner tweeted: "Mr. President — we must call evil by its name. These were white supremacists and this was domestic terrorism."
Mike Huckabee, while not directly addressing Trump, did say that the behavior of white nationalists in Charlottesville "evil."
Trump's tweet this morning comes as the nation prepares for alt-right rallies and "Unite the Right 2" demonstrations in the wake of the one year anniversary of Charlottesville.