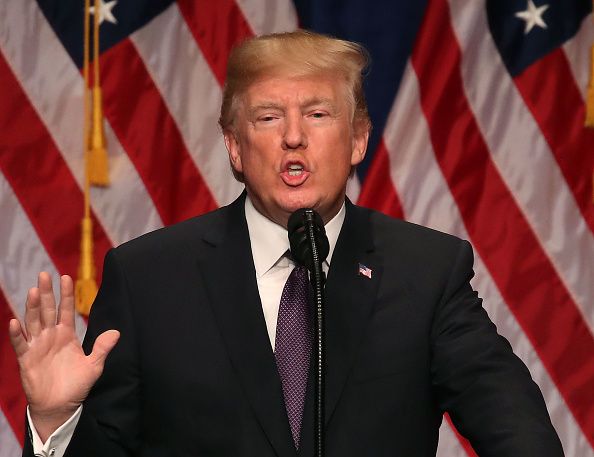 This isn't fake news. President Donald Trump's favorite phrase, "fake news," is now the second most annoying phrase of 2017.
Over 1,000 Americans were asked to choose the most annoying words or phrases from a list of five. 'Fake news' came in second for the first time this year, with 23 percent of the vote. In first place, for the ninth consecutive year in a row, was the word "Whatever," according to the Marist poll.
Other words and phrases that made the list were "No offense, but," "literally," and "You know what I mean."
Liberals are more likely to be annoyed by "fake news" than conservatives, but millennials are less likely to care if you overuse "whatever" than older age groups, according to the Marist poll data.
The phrase "fake news" is defined as spreading false stories that appear to be news on social media.Trump's favorite saying has been around for quite some time, but Trump has a tendency to dismiss unfavorable reports as "fake news." The existence of verifiably false news during the campaign made the term especially influential this year.
The phrase also was declared the official Collins Dictionary Word of the Year for 2017.
On Tuesday, Trump took to Twitter to call out The Washington Post's story on how he discussed rescinding Neil Gorsuch's Supreme Court nomination.
"A story in the @washingtonpost that I was close to "rescinding" the nomination of Justice Gorsuch prior to confirmation is FAKE NEWS. I never even wavered and am very proud of him and the job he is doing as a Justice of the U.S. Supreme Court. The unnamed sources don't exist," Trump tweeted.
Other news organizations, such as NBC and CNN, also have faced criticism from Trump and the rest of the administration for reporting unfavorable news about the administration.
"With all of the Fake News coming out of NBC and the Networks, at what point is it appropriate to challenge their License? Bad for the country," Trump tweeted in October.