Donald Trump Falsely Claims Schumer Has Been 'Missing In Action' During Coronavirus Crisis
President Donald Trump on Thursday responded to Senate Minority Leader Chuck Schumer's call for a military "czar" to coordinate production and distribution of medical equipment with a letter accusing the New York Democrat of leaving his state unprepared for the worldwide coronavirus pandemic by participating in the president's impeachment trial.
Earlier on Thursday, Schumer sent Trump a letter criticizing the "the tardiness and inadequacy" of his administration's response, and warning him that shortages of medical equipment, personal protective equipment, testing supplies, and other necessary goods were "beyond acute" in both New York and other areas with high numbers of coronavirus cases.
"While companies that volunteer to produce ventilators and PPE are to be commended and are appreciated, America cannot rely on a patchwork of uncoordinated voluntary efforts to combat the awful magnitude of this pandemic," Schumer wrote. "It is long past the time for your Administration to designate a senior military officer to fix this urgent problem. That officer should be given full authority under the Defense Production Act (DPA) to complete and rapidly implement a plan for the increased production, procurement and distribution of critically-needed medical devices and equipment."
Schumer noted that the official Trump has charged with overseeing use of the Defense Production Act, National Trade Council Director Peter Navarro, is "woefully unqualified" for such a task due to his being an economist with no training or experience in logistics.
He added that Trump's son-in-law Jared Kushner, who leads a second parallel effort to mobilize private industry, is "equally inexperienced and unqualified."
Both should be replaced by a trained military logistics expert, Schumer said, one who has spent his or her career "ensuring that every service member from the foxhole to headquarters have everything they need in peacetime and wartime, regardless of whether they are in the middle of a desert; at sea; or providing support to civilian authorities in the wake of a natural disaster."
"This is a matter of the utmost urgency for the health of every American. Regrettably, our national response is far behind where it should be. But by acting now, there is still time to help protect our medical professionals, reduce suffering and save lives," he wrote.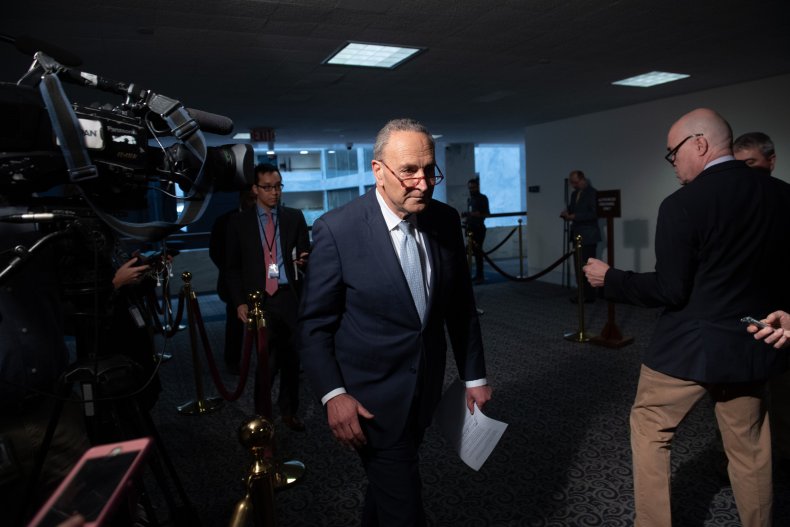 But shortly after 6:00 pm, the president hit back with a missive of his own, thanking Schumer for his "Democratic public relations letter and incorrect sound bites, which are wrong and incorrect in every way."
Trump explained that the person in charge of the White House Coronavirus Task Force is still Vice President Mike Pence, but added that Navy Rear Admiral John Polowczyk "is in charge of purchasing, distributing, etc" despite Navarro's role on the task force as the Defense Production Act policy coordinator.
The president also claimed that the Defense Production Act "has been consistently used by my team and me for the purchase of billions of dollars' worth of equipment, medical supplies, ventilators, and other related items" because it provides "powerful leverage" that pushes companies to comply voluntarily with requests. However, Trump offered no evidence to support this statement.
Continuing, Trump boasted of having "given New York many things, including hospitals, medical centers, medical supplies, record numbers of ventilators, and more," and claimed that Schumer "should have had New York much better prepared," even though members of Congress play no role in disaster preparedness by state or local governments.
"If you spent less time on your ridiculous impeachment hoax... and instead focused on helping the people of New York, then New York would not have been so completely unprepared for the 'invisible enemy,'" he wrote, meaning the Coronavirus known as SARS-Cov-2.
However, as a sitting senator, Schumer had no choice but to participate in Trump's impeachment trial, which ended February 5. But according to reports in The Washington Post, Trump had multiple briefings warning him about the possibility of a coronavirus pandemic.
Similarly, Schumer participated in a Senate briefing about the virus from US public health officials on January 24.
While Trump concluded his letter by claiming that Schumer has been "missing in action" during the coronavirus crisis, the New York Democrat played a key role in moving the $2 trillion CARES Act relief bill through the Senate last week.
Neither the White House nor Schumer's office immediately responded to Newsweek's request for comment.