Donald Trump Was 'Fascinated With Looking at KKK Garb' at Civil Rights Museum—Former Aide
Former President Donald Trump was "fascinated with looking at" a Ku-Klux Klan display at a civil rights museum, Omarosa Manigault Newman has claimed.
Manigault Newman, who served as assistant to the president and director of communications for the Office of Public Liaison until her dismissal in December 2017, made the claim during a recent episode of Big Brother VIP in Australia.
The TV personality, who rose to fame as a contestant on the first season of Trump's reality show The Apprentice, recounted her time in the real estate mogul's administration as she sat for an interview.
In a video shared on Australian Big Brother's official TikTok account, Manigault Newman was asked during about her final day in the White House, prompting her to speak about organizing the opening of a civil rights museum in Jackson, Mississippi.
"It didn't go so well, because he was fascinated with looking at the KKK garb," she said. "He was obsessed with the white [supremacist] kind of display.
"And it was kind of one of those moments where I was like, 'Holy cow. Who is this person? He is not the person that I met back in New York in Trump Tower in 2003. This was a different person that I was talking with."
Elsewhere in the interview, Manigault Newman also claimed that Trump often consulted with her on matters that she had little to no experience in.
"Donald was used to running his own company, so he had a very small group of people around him," she explained. "And I was one of the few who had known Donald Trump for 15 years prior to him becoming president.
"So in the early days he wanted the familiar faces around him. Unfortunately, I can't advise you on defense! But he didn't care. He would call me into the Oval Office and ask me about veterans affairs, or he would ask me about what was going on in the Pentagon.
"And every day, I would go in and say, 'Mr. President, should we call your secretary of defense?' or 'Should we call the secretary of state?' And he'd be like, 'No, just tell me what you think.' And so I found myself advising Donald Trump on things that I had no business advising him on."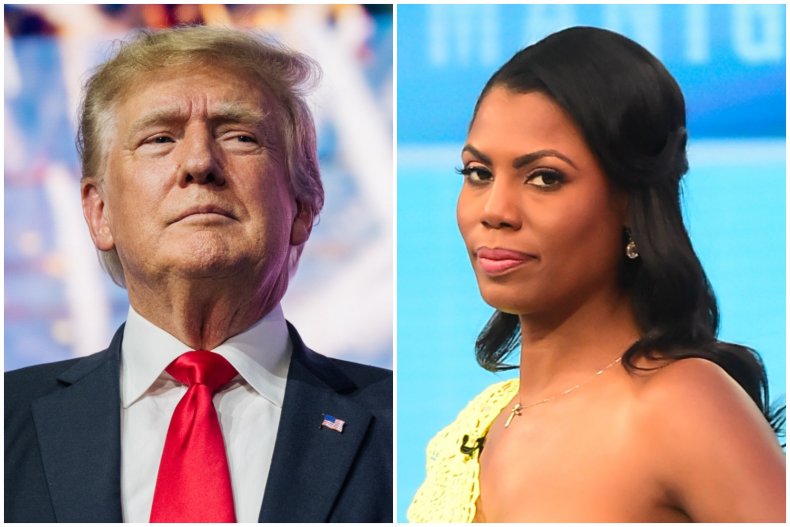 Manigault Newman said that the most extreme example came when Trump "had just decided to bomb Syria."
"I removed myself from that room, from that space, because I did not have the classification level. And so I bounced, I said, 'Donald, I'm out. You need to really talk to your advisers.' But the the truth is, you try to just contain Donald, because there was so much work to be done."
In another video shared on TikTok, Manigault Newman alleged that Trump would get "excited" and "focused" when he was told that celebrities were visiting him at the White House, with Kim Kardashian and Kanye West given as examples.
"That's how we incentivized him," said Manigault Newman. "We knew that he had to read this huge budget but he had no interest. But we'd go, 'Hey, we've got the award-winning team of the NFL coming next week,' or something. We'd always incentivize."
"I always loved when Kanye came because Ye would just get him so excited and relaxed and it was always chill," she added. "We incentivized him with celebrities and it's just kind of how we managed him."
During her interview, fellow Big Brother VIP star Caitlyn Jenner, who is Kardashian's former stepfather and has publicly spoken in support of Trump, was seen looking on in apparent disapproval. The videos can be viewed here and here.
Newsweek has contacted representatives of Trump for comment.
Manigault Newman and Jenner flew to Australia to shoot their stints on the show earlier this year. Meghan Markle's estranged half brother, Thomas Markle Jr., is also a part of the cast.
After she was fired from her post by White House Chief of Staff John Kelly, Manigault Newman wrote a book about her time in the administration called Unhinged, which was released in 2018.