President Donald Trump's favorability rating among white Catholics has dropped by more than 20 points in the space of two months, according to new polling data.
The latest survey from the Public Religion Research Institute (PRRI) and SSRS found that 37 percent of white Catholics had a favorable view of Trump at the end of May.
When the same poll was conducted in March, the president had a 60 percent favorability rating among the demographic—putting him 23 points higher than his position today.
Over the whole of last year, Trump's favorability ranking among white Catholics was 49 percent, or 12 points higher than his ranking last month.
As the coronavirus death toll topped the 100,000 mark and nationwide protests against the killing of George Floyd kicked off, the commander-in-chief's favorability rating among white evangelical Protestants also fell.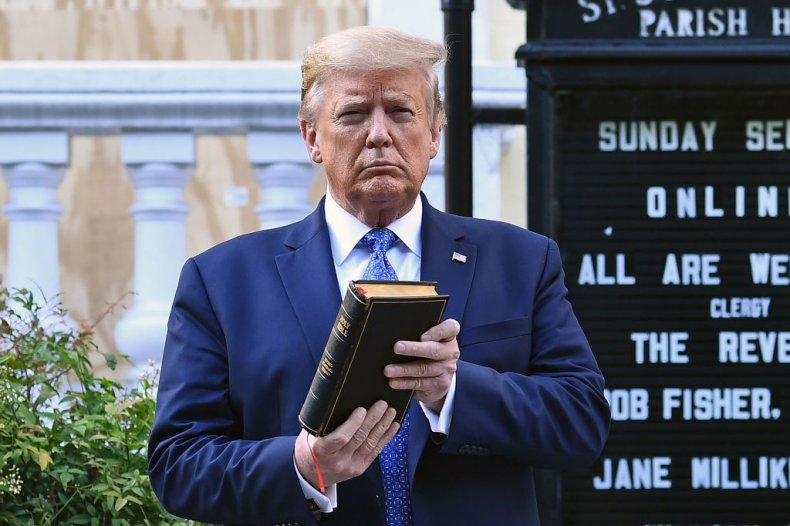 According to the PRRI poll, a little more than six-in-ten (62 percent) backed Trump in May—down 15 points on his March favorability rating of 77 percent.
But the president's ratings among both white mainline and non-white Protestants were up on last year.
Forty percent of non-white Protestants told pollsters they had a favorable view of Trump, compared to just 30 percent who said the same in 2019. Among white mainline protestants, Trump's favorability rating was down 11 points on March this year, but three points up on 2019.
U.S. adults without a religious affiliation were found to have a fairly stable view of Trump over the last two months, with 36 percent thinking favorably of the president in March and 34 percent taking the same view two months later.
PRRI pollsters found Trump's overall favorability stood at 41 percent at the end of May, while 55 percent took an unfavorable view.
When the same survey was conducted in April, 43 percent of polled Americans viewed Trump favorably as 54 percent looked on the president negatively.
"The lack of change in a tumultuous week again underscores that the president's favorability numbers seem to have a hard floor in the low 40s," the PRRI said in a blog post publishing the poll results.
Broken down along party lines, the president's favorability rating among Republicans in May fell to 83 percent, down 7 points on the previous month. Independent voters were also less likely to back the president, with 35 percent holding favorable views of the president compared to 43 percent in April.
The new PRRI poll surveyed 1,003 U.S. adults between May 26 and May 31. Its margin of error stands at 3.5 percentage points.