Trump 'Fawning' to Putin and other Authoritarians in 'Embarrassing' Phone Calls, White House Aides Say—Report
As the spotlight on President Donald Trump's interactions with foreign leaders intensifies, former and current White House officials have described Trump's interactions with strongman leaders as fawning, deferential and embarrassing, with many of those in the administration "horrified" at his conduct.
The Washington Post spoke with 12 current and former White House officials who said that members of the administration were shocked at the president's behavior during conversations with authoritarians like Russian President Vladimir Putin and members of the Saudi royal family.
"There was a constant undercurrent in the Trump administration of [senior staff] who were genuinely horrified by the things they saw that were happening on these calls," one former White House official—who spoke on the condition of anonymity—told the Post.
"Phone calls that were embarrassing, huge mistakes he made, months and months of work that were upended by one impulsive tweet," the official added.
Aides were particularly concerned about Trump's calls with Putin. The first call came less than two weeks into the presidency on January 28, 2017.
The call was intended for Putin to congratulate Trump on his victory, but the new president was "obsequious" and "fawning," even apologizing to the dictator for not calling him sooner, anonymous former White House aides told the Post.
"He was like, 'Oh my gosh, my people didn't tell me you wanted to talk to me,'" according to one person with direct knowledge of the call. And in another Putin call, Trump is said to have asked his Russian counterpart for advice on how to deal with North Korean dictator Kim Jong Un.
"We couldn't figure out early on why he was being so nice to Russia," a former senior administration official added.
Trump upended long-term U.S. strategy during his calls, for example promising to support Saudi Arabia's entry into the G7 group of nations. "The G-7 is supposed to be the allies with whom we share the most common values and the deepest commitment to upholding the rules-based order," one former official told the Post.
Saudi Arabia's human rights abuses mean it would not have been suitable for admission, but Trump said he would support the country's efforts anyway, the former official claimed. Ultimately Saudi Arabia was not added to the group.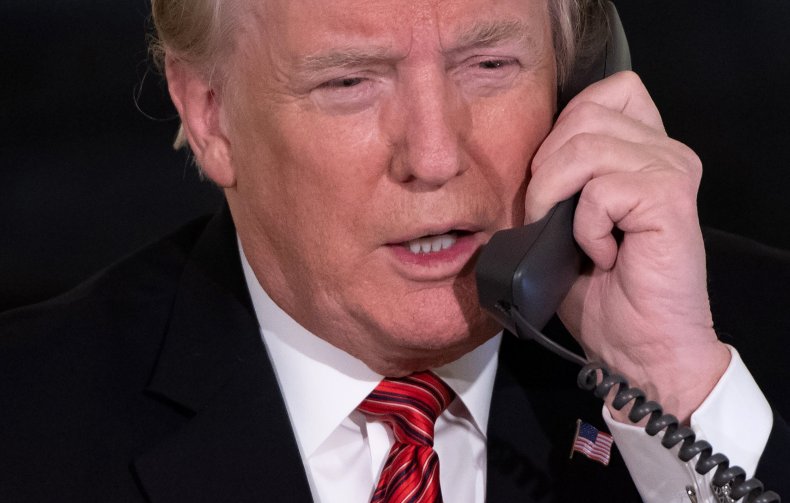 The president also reportedly ignored the grave human rights abuses in the Philippines, where President Rodrigo Duterte has been waging a zero tolerance campaign against drug dealers and users, in which thousands have been killed.
During an April 2017 call, Trump told Duterte that he was doing an "unbelievable job on the drug problem," the Post reported.
Officials said it was a constant battle to keep Trump on track. "You had two to three minutes max," one former senior administration official said. "And then he was still usually going to say whatever he wanted to say."
Another said aides quickly had to come to terms with his unconventional, and at times embarrassing, manner. "People had gotten really numb to him blurting out something he shouldn't have," one former national security staffer told the Post.
Officials were also concerned that calls with long-time U.S. allies often did not go as smoothly as those with strongmen and dictators. "People who could do things for him—he was nice to," one former security official said. "Leaders with trade deficits, strong female leaders, members of NATO — those tended to go badly."