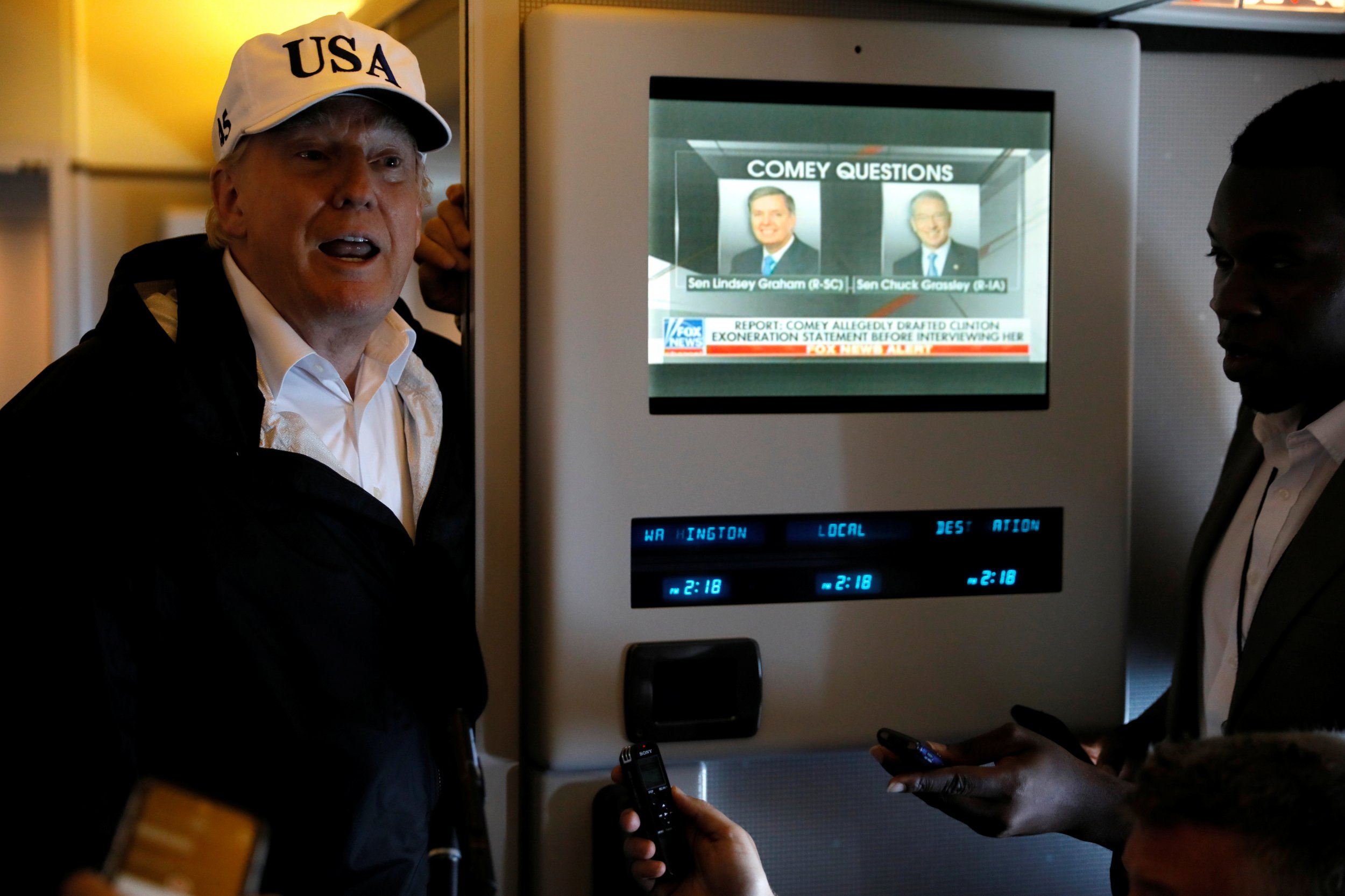 The United States of America is run by a man who orders federal investigations into his political enemies the way normal people summon the fashion police: On Twitter. And voices from both the left and right are now saying Trump is venturing onto treacherous ground.
Back from his brief and unscheduled Twitter hiatus, Trump fired up his feed Friday morning with shoutouts to the Justice Department and FBI on his ideological enemies. "Pocahontas," he wrote, referring to Massachusetts Senator Elizabeth Warren, "just stated that the Democrats, lead by the legendary Crooked Hillary Clinton, rigged the Primaries! Lets go FBI & Justice Dept."
Fanning Trump's Twitter flames: Donna Brazile's claim that Hillary Clinton's campaign teamed up with the Democratic National Committee to box Bernie Sanders out: "At some point the Justice Department, and the FBI, must do what is right and proper," Trump said. "The American public deserves it!"
"If I were [advising] the president, I would warn him to tread lightly," Norm Eisen, who served as White House ethics czar for the Obama Administration, told Newsweek when asked for an interpretation of Trump's tweets.
As Trump sees more associates pulled into the Russia-related probe led by Special Counsel Robert Mueller, Eisen said, "This is the latest in a series of desperate and totally unfounded attempts to gin up a competing scandal involving his political adversaries."
Brandishing orders or suggestions to Justice or the FBI "violates a core norm" that has guided the U.S. even in times of war or turmoil: "The president does not bend the rule of law to go after political opponents," Eisen said. "We have never had a president in our history who made statements of this kind [in public]... Even Nixon had the decency to do it behind closed doors."
This isn't the first time Trump's played this Twitter hand: He's urged or threatened investigations against Democrats including Senator Chuck Schumer and House Minority Leader Nancy Pelosi.
Asked about the tweets Friday before departing on a trip to Asia, Trump, per press pool reports, took a slightly more modulated tone. "I'm really not involved with the Justice Department. I'd like to let it run itself. But honestly, they should be looking at the Democrats," he said. "A lot of people are disappointed in the Justice Department, including me."
The president also volunteered that "there was no collusion. There was no nothing. It's a disgrace, frankly, that they continue."
Eisen is a frequent Trump critic who called the president's tweets "the ravings of a guilty man." But the concern about Trump's threats of investigation or prosecution of enemies definitely isn't limited to one side of the aisle: Tim Miller, a top strategist for the presidential campaign of Trump's GOP primary foe, Jeb Bush, told Newsweek it doesn't bode well for the Republic.
"Many of the establishment Republican Trump defenders have argued that Trump's autocratic outbursts should not be taken literally and there's nothing to be concerned about since they haven't been acted on," Miller said Friday.
"That changes if [Attorney General Jeff] Sessions is either forced out at DOJ or feels compelled to act on 'show prosecutions' to keep the president happy," he told Newsweek. "That is banana republic type stuff — and we are on the brink of it."
Eisen, who's also chairman of the watchdog group Citizens for Responsibility and Ethics in Washington, said even if Trump does have the power to order up some kind of probe, it would be unusual for the executive to issue such specific direction to law enforcement agencies that try to stay independent.
Trump, he said, is legally bound to uphold the Constitution and to "take care" that the law is faithfully executed. So are the government investigators he might wish to command, meaning if even the president ordered them to do otherwise, Eisen said, they'd have the option to tell him, "I'm sorry, you're ordering me to violate the constitutional norms and values. Fire me if you don't like it."