Trump Suggests FBI Framed Him at Mar-a-Lago: 'Who Knows What Was Planted?'
Former President Donald Trump has said on a podcast that the FBI may have planted things at his Mar-a-Lago home during the raid in August.
Trump spoke on The Joe Pags Show in an episode that was published on Tuesday and where he discussed his feelings towards the FBI.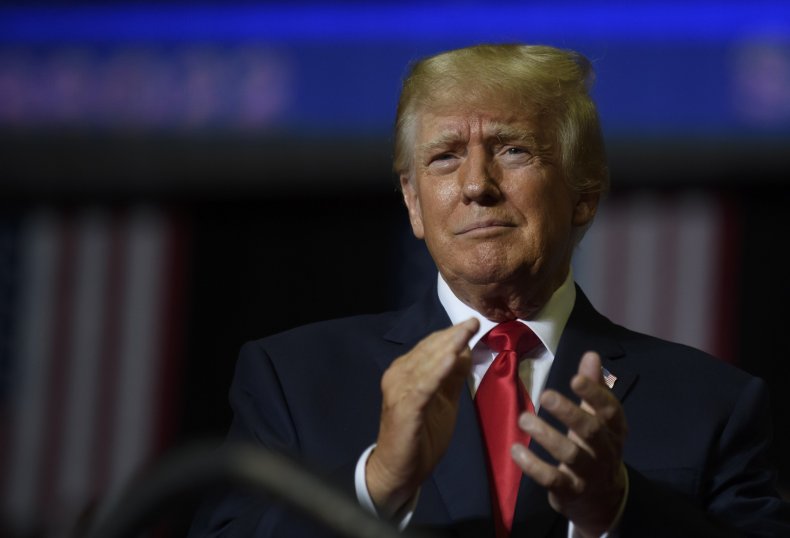 Without going into particular details of what could have been planted, Trump said the raid was unprecedented.
The FBI justified the raid by revealing that they believed Trump was in possession of several classified documents.
"There is probable cause to believe that additional documents that contain classified NDI [National Defense Information] or that are Presidential records subject to record retention requirements currently remain at the PREMISES," the redacted affidavit said.
A brief clip of Trump making these claims has since gone viral on social media and has been viewed more than 150,000 times on Twitter.
"[The FBI] for some reason showed up when you weren't there and took these 15 boxes that were safe in the office of the former president," host Joe Pags said.
"You have your own Scif (Sensitive Compartmented Information Facility) there. You have got security there. It was protected.
"Mr President, the only time we found out what may or may not have been at Mar-a-Lago was after they took it and started leaking it out," Pags said. "So what do you think the game is here?"
Trump replied: "Do you know what you said that is very interesting? Nobody ever heard of any leaks or any problems and then all of a sudden when they take it out and put it into NARA (National Archives and Records Administration) or wherever they have it, then all of a sudden things started leaking out.
"They wouldn't let us have lawyers there. They wouldn't let us have any representation, so who knows what was planted.
"Who knows what was put in there, who knows what was taken out," the former president said.
"If you look at the group, it is largely radical left-run, NARA, and you look at it and you know they have a problem with the constitution of the United States. They think it's a dangerous document, I believe they said."
Trump concluded by saying it was "disgraceful" what was going on and added the raid was unprecedented and no one had ever seen anything like that.
Since the FBI conducted the raid on Mar-a-Lago on August 8, Trump has been repeatedly critical of the bureau.
In a September interview with Fox News' Sean Hannity, Trump addressed the FBI's claims he was in possession of classified documents.
"You can declassify just by saying it's declassified, even by thinking about it," said the former president. "Because you're sending it to Mar-a-Lago or to wherever you're sending. And it doesn't have to be a process.
"There can be a process, but there doesn't have to be," said Trump. "You're the president. You make that decision. So, when you send it, it's declassified."
The interview aired after Trump's legal team met a rebuke from special master Judge Raymond Dearie, who was appointed to review the records seized at Mar-a-Lago. Dearie challenged Trump's lawyers after they refused to produce evidence of declassification.