Donald Trump Directed a Criminal Conspiracy With Michael Cohen Campaign Finance Violations, Federal Prosecutors Have Concluded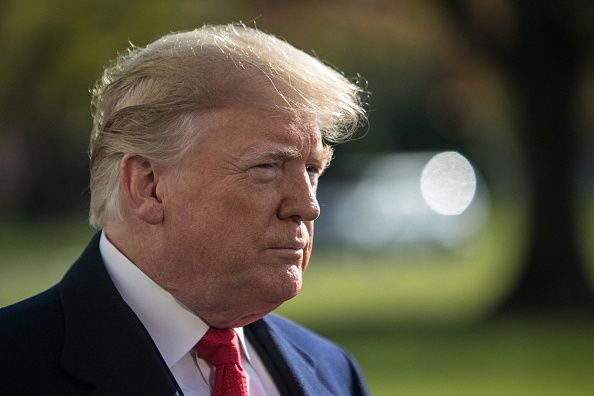 Federal prosecutors have concluded that President Donald Trump participated in federal crimes when he directed his former personal attorney Michael Cohen to commit campaign finance violations by paying off two women during his 2016 campaign.
The conclusion was drawn by federal prosecutors from the Southern District of New York, who on Friday filed a sentencing memo suggesting that Cohen serve a "substantial" prison sentence of 51 to 63 months. While they found Trump to be complicit in Cohen's crimes, no formal charge has been rendered against the president.
Trump, identified as "Individual 1" in the memo, is mentioned several times by prosecutors as leading the criminal conspiracy to pay off Stormy Daniels and Karen McDuggal to keep their alleged extramarital affairs with the president a secret.
"During the campaign, Cohen played a central role in two similar schemes to purchase the rights to stories - each from women who claimed to have had an affair with Individual 1 - so as to suppress the stories and thereby prevent them from influencing the election," prosecutors wrote.
"In particular, and as Cohen himself has now admitted, with respect to both payments, he acted in coordination with and at the direction of Individual 1," they added. The assertion marks the first time that federal prosecutors have deemed Trump an active participant in the conspiracy.
Former federal prosecutor Renato Mariotti shared his analysis on Twitter shortly after the sentencing memo was released.
"Just to be crystal clear, prosecutors drew the conclusion and made the assertion that Trump directed the campaign finance crime Cohen committed, but they did not "charge" Trump. A formal charge has not been made," Mariotti wrote.
Laurence Tribe, a professor of Constitutional law at Harvard Law School, shared Mariotti's assessment, also writing that the court filing clearly states that Trump was leading a "criminal conspiracy" with Cohen.
"WOW: The Dec 7 filing in SDNY on Michael Cohen's sentencing charges that President Trump (aka "Individual 1") directed a criminal conspiracy with his attorney Cohen to violate the federal election laws in order to increase his odds of winning the presidency by deceiving voters," Tribe wrote.
Cohen first dropped the bombshell that he had been directed by Trump to commit campaign finance violations in August during a plea agreement with the Southern District of New York. At the time, Cohen confessed to several federal crimes including bank fraud, tax evasion and campaign finance violations.
After his first guilty plea, Cohen also confessed to lying to Congress about a Trump Tower project in Moscow, though these charges were brought on by special counsel Robert Mueller. After pleading guilty, Cohen agreed to cooperate with Mueller's probe into Russian election meddling and possible collusion with the Trump campaign.
Mueller also filed a sentencing memo on Cohen on Friday, but he denied to suggest a particular sentence and praised the attorney for his cooperation.
Trump has dismissed Cohen as a "weak person" and claims that he is so desperate to get a lower prison sentence that he is lying about what happened during the 2016 campaign. "What he's trying to do—and it's very simple, he's got himself a big prison sentence and he's trying to get a much lesser prison sentence by making up a story," Trump told reporters last week.
Trump does not seem to be too concerned by the prosecutors' findings, as he posted a victorious post on Twitter shortly after both sentencing memos had been filed on Friday.
"Totally clears the President. Thank you!" Trump wrote.