Donald Trump Says 'He Couldn't Care Less' That He's Not Supposed to Interfere With Federal Reserve Policy
President Donald Trump said Thursday that he was not happy with the direction of the Federal Reserve and that he feared the central bank could disrupt the thriving U.S. economy.
Trump's Fed reproach breaks with usual protocol, as the White House typically does not interfere with monetary policy. The Federal Reserve's actions aim to be independent of politics and instead about what's best for the U.S. economy.
In an interview with CNBC, the president said that he is "not thrilled" that the Federal Reserve raised interest rates twice this year. "I don't really—I am not happy about it," he said. "I don't like all of this work that we're putting into the economy and then I see rates going up."
Trump acknowledged that "somebody [might] say, 'Oh, maybe you shouldn't say that as president,'" but countered that he, "couldn't care less what they say, because my views haven't changed." Trump claimed he was "just saying the same thing that I would have said as a private citizen." As a private citizen, however, President Trump ran a real estate business that would benefit immensely from a lower interest rate.
Newsweek subscription offers >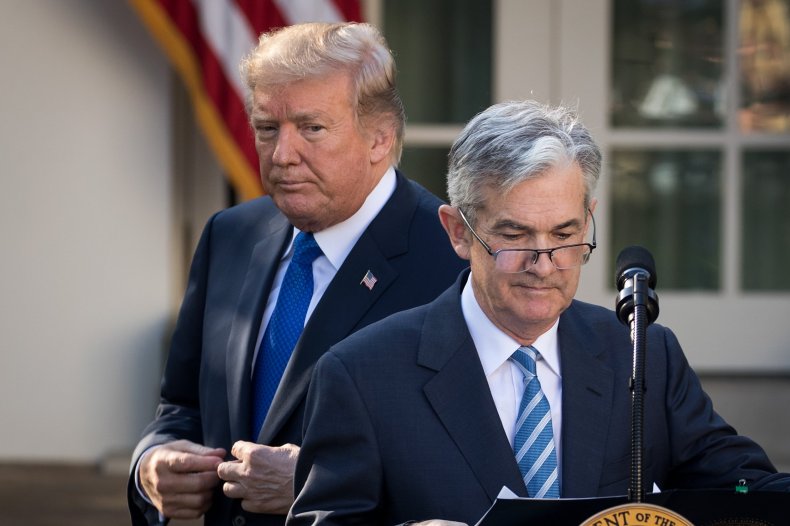 The strength of the U.S. dollar and treasury yields both slipped on the news. "Uncertainty over the White House's dollar policy will certainly sow renewed seeds of doubt into global investors," wrote Viraj Patel, foreign exchange strategist at ING, in a report.
The president did, however, say he considered his Fed chair pick, Jerome Powell to be a "very good man," and that while he's unhappy about what the Fed is doing, "at the same time I'm letting them do what they feel is best."
President Trump replaced former Fed Chair Janet Yellen, an Obama pick, after he accused her of being "obviously political," in her monetary actions.
Newsweek subscription offers >
In a statement to Newsweek, the White House said that "the president respects the independence of the Fed. As he said, he considers the Federal Reserve Board Chair Jerome Powell a very good man and that he is not interfering with Fed policy decisions." The president's views on raising interest rates are already well known, the statement added, and "his comments today are a reiteration of his long-held positions and public comments."
President Richard Nixon was the last president who attempted to influence a fed chair, encouraging Arthur Burns to keep monetary policy loose during his re-election campaign in 1972.
President Trump faced public criticism last month when he tweeted that he was "looking forward" to the May jobs report, which lays out unemployment numbers and typically influences the stock market, before it's official release. The president gets early access to the report, but a Bureau of Economic Analysis rule bars the president and other Executive Branch employees from making any comment until its public release.
Donald Trump Says 'He Couldn't Care Less' That He's Not Supposed to Interfere With Federal Reserve Policy | U.S.