Trump Could Feed Every Homeless Veteran for the Cost of His Military Parade, Even Conservatively Estimated
President Donald Trump's military parade is set to kick off on Veterans Day, but at a cost that even conservative estimates show could feed every homeless veteran for at least two weeks, a Newsweek analysis found.
The military showcase was initially estimated to cost $10 million and $30 million, White House budget director Mick Mulvaney told the House Budget Committee in February. That cost accounted for Trump's vision of tanks rolling through Washington DC—not unlike what he witnessed in France during its Bastille Day celebration, or what occurs in North Korea, China and Russia—though a Pentagon memo originally obtained by CNN on Friday nixed the use of heavy military vehicles.
Though not an exact science—parade cost estimates included using tanks et al., and it's impossible to determine exact figures of homelessness by nature of their transience—these numbers provide a financial comparison and a look at the Trump administration's priorities.
Using the most conservative estimates available from federal agencies and non-profit organizations, Newsweek found Trump could completely eliminate hunger among homeless veterans, serving them three meals a day, for at least 14 days.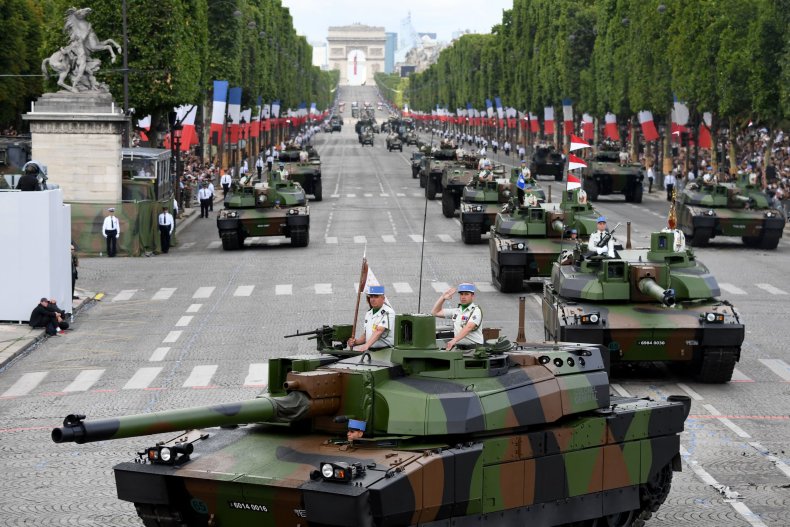 The Numbers
There were 40,056 homeless veterans in the United States in 2017, according to a Department of Housing and Urban Development report published last December. The finding marked a 1.5 percent increase from the 39,471 homeless veterans in 2016—the first such increase in seven years.
Feeding America, a non-profit organization and the nation's largest hunger-relief and food rescue group, found the average cost-per-meal in the U.S. was $2.94 in 2015, the latest data available. The organization culled data from several organizations and agencies, including the Bureau of Labor Statistics, and found the cost-per-meal ranged from a low of $2.04 in Maverick County, Texas to a high of $5.61 in Crook County, Oregon.
A $10 million military parade—Mulvaney's lowest estimate, granted it included tanks—could provide $249.65 for all 40,056 homeless veterans. That could provide each of those veterans 44.5 meals priced at $5.61 per meal—the highest national cost estimate, according to Feeding America—enough for three meals a day for 14.8 days.
Adjusting the cost per meal to the national average of $2.94, homeless veterans could eat three meals a day for nearly a month, 28.3 days.
In February, Trump told Fox News he wouldn't hold the parade if the cost was exorbitant.
"We'll see if we can do it at a reasonable cost, and if we can't, we won't do it, but the generals would love to do it, I can tell you, and so would I," he said.
On Thursday, the Pentagon sent the chairman of the Joint Chiefs of Staff a memo saying the military showcase would be integrated with the annual Veterans Day parade in DC and have an "an emphasis on the price of freedom."