Nearly Half of Donald Trump's 2020 Campaign Contributions This Year Came From Female Donors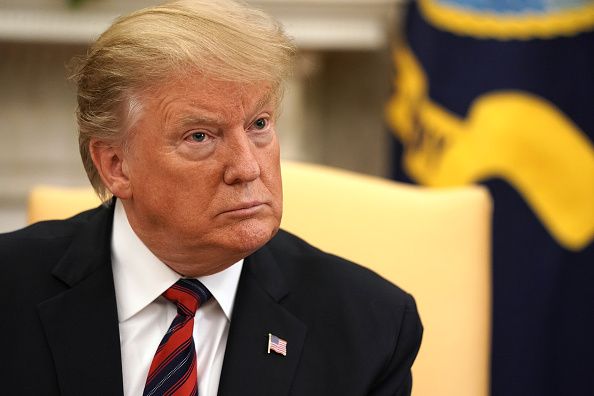 Despite Donald Trump's often rocky relationship with women, nearly half of the president's 2020 campaign contributions this year have come from female donors, putting him in third place out of 15 candidates in terms of total percentage of donations from women.
Trump's campaign raised $1.47 million in donations from women across the country in the first quarter of 2019, according to an analysis by the Center for Responsive Politics. The report is based only on donors who made itemized contributions of over $200.
Of the president's campaign contributions, 45 percent came from women, while 55 percent came from men.
That's a significant increase from 2016, when only 28 percent of Trump's total campaign contributions during the election came from women. Hillary Clinton's campaign had over 52 percent of their donations come from women.
Of the 15 presidential candidates analyzed by the nonprofit research group, Trump rankedthird when it came to percentage of total funds from female donors, and fifth in terms of the amount of money contributed by women. New York Democrat Kirsten Gillibrand had the highest percentage of funds from women contributors with 52.5 percent, followed by California Democrat Kamala Harris with 49.2 percent.
But when it came to how much money was contributed by female donors, Harris took the lead with $3.6 million. Behind her was New Jersey's Cory Booker, whose campaign raised $2.2 million from women.
In total, the five female Democrats running for president who were analyzed by the group—Gillibrand, Harris, Amy Klobuchar, Elizabeth Warren and Tulsi Gabbard—raised more money from female donors than the 11 male candidates studied.
The amount of campaign money contributed by female donors has skyrocketed since the start of Trump's presidency, according to the Center for Responsive Politics.
In 2016, women gave more money than ever before to federal candidates as they donated over $273 million. During the 2018 election cycle, that amount nearly doubled, with female donors contributing over $517 million to candidates.
The fact that nearly half of the president's campaign contributions in the first quarter of 2019 came from women is at odds with polls that show both Trump and the Republican Party to be losing favor with female voters.
Sixty-two percent of female voters disapprove of President Trump, while 34 percent approve, according to a recent poll by Quinnipiac University. Of the men surveyed, 48 percent approve of the president, while 46 percent disapprove.
After the 2016 election, Trump inaccurately boasted that he won the female vote. In fact, he received 41 percent of the female vote, as opposed to Clinton's 54 percent. Though he did receive a majority of the vote—52 percent—among white women, his numbers among women of color were much lower.
But now, two years into Trump's presidency, his advisers are reportedly worried about his growing unpopularity among female and suburban voters—especially in areas that helped him win in 2016, like Pennsylvania, Florida and the upper Midwest.
The president seems unfazed, however, and continues to claim that he will easily be re-elected come 2020. In a 45-minute phone interview with Sean Hannity last month, Trump slammed Democratic candidates like Joe Biden, Kamala Harris and Pete Buttigieg, claiming that none of them had what it took to win the election.
Correction: 3:30 p.m., May 7 — An earlier version of this story stated that Trump ranked third when it came to the percentage of female donors who contributed to his 2020 campaign this year. That data, however, pertains to the percentages of the total funds coming from female donors. The article has been updated to reflect that information.