Donald Trump Says Ron DeSantis Feud Claims 'Totally Fake News'
Donald Trump has denied reports of a rift with Governor Ron DeSantis, insisting the claims are "totally fake news."
Speaking to Fox News' Sean Hannity, the former president said: "I get along great with Ron," adding that the governor was doing a "terrific job" in Florida.
"Ron was very good on the [Special Counsel Robert] Mueller hoax. He was right up front along with Jim Jordan and all of the rest, they were fantastic. The Republicans really stuck together and it was a great thing," Trump said.
"He's been a friend of mine for a long time. It's totally fake news. I think Ron said last week, he said it very publicly. The press is never going to get in the middle of my friendship with Donald Trump," he added.
"He said that, and I agree with him on that 100 percent. I have a very good relationship with Ron and I intend to have it for a long time."
In a statement to Newsweek, DeSantis' press secretary Christina Pushaw also denied there was ever a rift between the pair.
"All these stories were merely attempts by corporate media activists to distract from President Biden's failures," Pushaw said.
"It is not a coincidence that this fabricated media narrative emerged during perhaps the worst week of Biden's presidency, as it became clear last week that Biden would not be able to deliver on Build Back Better, enact sweeping legislation to federalize elections, or 'shut down the virus,' as he had promised repeatedly during the 2020 campaign."
Reports that the former president is starting to turn on one of his biggest allies in the GOP have spread in recent weeks.
Just days ago Axios, citing unnamed sources, reported that Trump doesn't consider DeSantis a threat for the 2024 Republican presidential nomination if they both decide to run, allegedly saying he has "no personal charisma and has a dull personality."
Trump is also said to be unhappy with the governor for refusing to rule out a run, when others "have stated pretty clearly" that they will not challenge him.
Although Trump is still the overwhelming favorite to be the next Republican candidate, DeSantis frequently stands as the second choice of voters and has been closing the gap on the former president in polls.
Trump also appeared to make a thinly veiled attack on DeSantis during an interview with the One America News Network earlier in January, when he criticized "gutless" politicians who won't confirm or deny whether they have received a COVID vaccine booster.
Although the former president didn't mention DeSantis by name, the governor has dodged questions on whether he has received the third dose in recent weeks.
Trump said: "I've had the booster. Many politicians—I watched a couple of politicians be interviewed and one of the questions was, 'Did you get the booster?' because they had the vaccine, and they're answering like… In other words, the answer is 'yes' but they don't want to say it because they're gutless."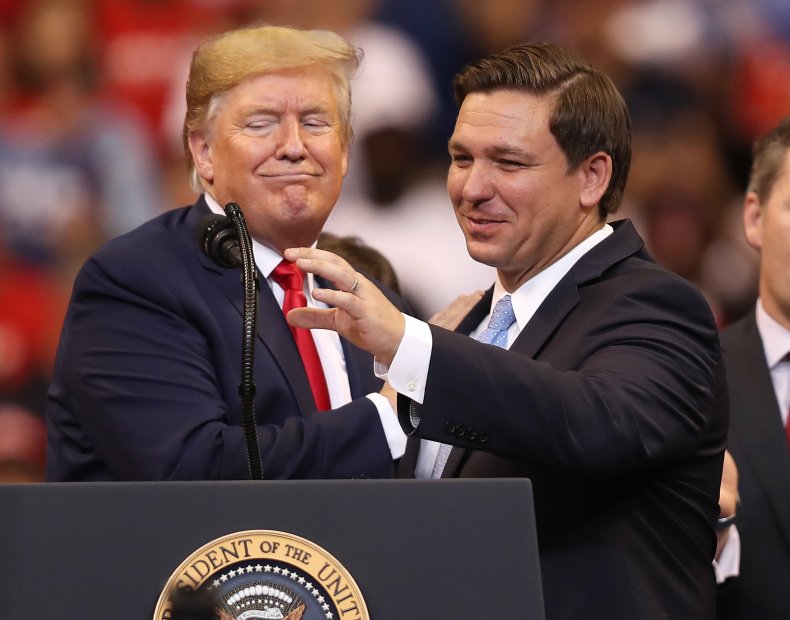 Update 01/21/2022 9:50 a.m. ET: This article was updated with comments from Christina Pushaw, Ron DeSantis' press secretary.