Trump's Harsh New Sanctions on COVID-Stricken Iran Leave Diplomatic Wreckage for Next President
President Donald Trump's administration, which cites Iran as the number one destabilizing factor in the Middle East, took on the mission of neutering the regime. Now, Trump's window of opportunity to take on Iran is closing.
The commander-in-chief has spent much of his term trying to muzzle the Iranian regime, which, despite ever-tougher American sanctions, and more recently the coronavirus pandemic, has retained power and thumbed its nose at the White House.
Director of National Intelligence John Ratcliffe said this week Iran is working to prevent another four years of Trump. Tehran obtained voter details and contacted registered Democrats, posing as the white supremacist Proud Boys group and threatening violence unless recipients voted for the president.
National security officials, Ratcliffe said, have "seen Iran sending spoofed emails designed to intimidate voters, incite social unrest, and damage President Trump." Iran dismissed the accusation as an administration effort to undermine the vote.
The Trump administration has been tough on Tehran, but was unable to force the regime back to the negotiating table on the Obama-era Joint Comprehensive Plan of Action, widely known as the Iran nuclear deal.
Trump is demanding a new, tighter nuclear deal. This would include restrictions on Iran's ballistic missile research and its network of regional proxies, used to spread violence, chaos and Iranian ideology across the Middle East.
The U.S. president has deployed thousands of American troops to the Persian Gulf region to give his sanctions campaign an edge and even assassinated the man considered the second most powerful in Iran—covert operations chief Major General Qassem Soleimani.
Faced with a looming election—one Trump looks increasingly in danger of losing—the administration has imposed new sanctions on 18 Iranian banks that had previously been spared some measures, effectively cutting Iran off from global financial markets.
Treasury Secretary Steve Mnuchin said the action "reflects our commitment to stop illicit access to U.S. dollars."
The latest sanctions are Trump's "Hail Mary" to cripple Tehran before the November poll, or convince them that further resistance is futile in the event of his second term.
But critics have long argued the sanctions impact the general population far more than they do the regime, and that voters in Iran are as likely to be pushed toward more conservative politicians perceived as standing up to American pressure as they are toward compromise.
Iranian conservatives who warned against trusting the U.S. feel vindicated by Trump's truculent policy on Iran. They argue that the collapsed JCPOA is testament to the naivety of President Hassan Rouhani's moderate government.
The narrative in Iran is reverting back to the hardliners, who are forecasted to win the presidency in June, replacing moderate Rouhani. If this happens, a future Biden administration will struggle to make a deal as good as the JCPOA. Even if he doesn't win, Trump may have pre-emptively torpedoed American diplomacy for the next president.
Iranian officials and international analysts warn that escalating sanctions are exacerbating the coronavirus crisis. But the Trump administration's stance is unwavering. "Our sanctions programs will continue until Iran stops its support of terrorist activities and ends its nuclear programs," Mnuchin said when announcing the new measures.
A COVID Epicenter
Iran was the first nation to be overwhelmed by the coronavirus pandemic, quickly, if only briefly, becoming the center of its global spread. So far, there have been more than 550,000 confirmed cases in Iran and more than 31,000 deaths, according to Johns Hopkins University.
Like other nations, Iran struggled with the speed and severity of the COVID-19 outbreak. Significant nationwide restrictions were eventually introduced on public gatherings and later on travel between cities, but the cash-strapped government was hesitant to order a full lockdown.
The virus spread to the upper echelons of the regime, infecting and killing officials including Mohammad Mirmohammadi—a member of the council that advises Iran's supreme leader Ayatollah Ali Khamenei. Ayatollah Seyed Hashem Bathaee—a member of the council that chooses the next supreme leader—is also among the dead.
The pandemic has also claimed the lives of many veterans of the ruinous Iran-Iraq War that stretched through the 1980s and killed more than 500,000 people. War survivors living with scarred lungs are particularly susceptible; a legacy of Saddam Hussein's chemical weapon attacks.
"The country never really went into a national lockdown because the economic trade-off was something that the state simply couldn't afford given they were already starting from—in early 2020—with the rial in freefall, with sanctions, plus a whole other load of issues with corruption domestically," said Ellie Geranmayeh, an analyst at the European Council on Foreign Relations and an expert in U.S. sanction policy on Iran.
Amid rising infections in June, President Hassan Rouhani said: "We have no other choice—that is, there is no second option. We have to work, our factories have to be active, our shops have to be open, and there has to be movement in the country as far as it is necessary."
"It's basically a gamble between thousands of people getting infected versus millions of people not having enough food," said Vira Ameli, a PhD researcher at Oxford University focused on the COVID-19 pandemic in Iran.
Speaking to Newsweek from Tehran, Ameli said: "If it was possible to have a few weeks of lockdown, I think that would have changed it completely."
Unlike many other countries, the cases in Iran never dipped over the summer, plateauing instead. Now, the pace of the crisis is accelerating.
On Monday, Iran recorded its highest ever 24-hour coronavirus death toll of 337 people. The country on Wednesday registered more than 5,600 new cases—the highest since the start of the pandemic.
As winter approaches and a vaccine remains out of reach, medical staff in Iran and analysts told Newsweek that 2021 could prove even deadlier than 2020.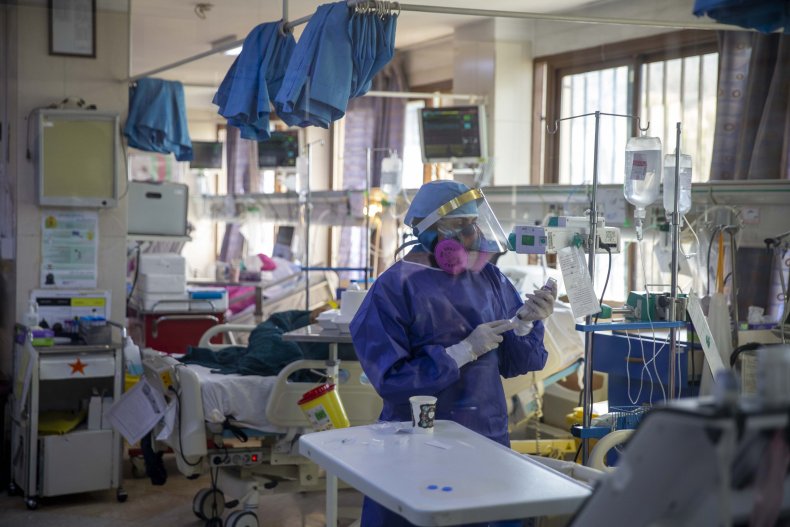 'The Medical System Has Collapsed'
"Iran is not only struggling to put a lid on the infection, but at the same time it has an even bigger challenge on the economic versus health trade offs," Geranmayeh said. "The government purses just cannot carry the burden of furlough schemes or a government stimulus. There is no cash injection that they can put into the country."
But some medical workers on the ground place at least a portion of the blame at the door of what they consider a corrupt regime that has put its own political interests ahead of public health.
One Tehran doctor—who did not wish to be named for fear of reprisal and is referred to here only as Dr B—told Newsweek: "The medical staff in Iran are very tired, medical equipment is worn out, and a lack of specialized equipment may lead to the collapse of the treatment system in Iran."
Dr B said equipment shortages have left as many as four patients connected to a single ventilator.
Dr J, a doctor in northern Iran who also spoke to Newsweek on the condition of anonymity, said: "Hospitals don't have enough beds, supplies, medicine, protection gear."
The doctor added that colleagues are "wavering and shattered under the extreme pressure of the pandemic even though they have successfully suppressed two major peaks in the past months."
"The government is trying to blame the people for this situation," Dr B said. "Medical professionals want to blame the government for any wrongdoing, and any protest against the government's actions will be severely suppressed."
Regardless, medical staff have been staging protests—largely tolerated by security forces—demanding unpaid salaries and criticizing the government for failing to provide sufficient protective equipment for those fighting the virus.
"In the face of coronavirus, the government has taken an approach of self-interest, against the interests of the people and for its survival," Dr B said.
Another Tehran doctor who did not wish to be named—referred to here only as Dr G—said the government did nothing to help medical staff in the early days of the pandemic, leaving medical workers to source their own protective equipment.
"The government never coordinated to solve the problems," the doctor said. "The facilities were almost zero, except for those shown on TV; they only lie."
"No doubt about it, the medical system has collapsed," Dr G continued. "The reduction of the number of deaths is due to the sacrifice of medical staff and their experience, not the support of the government."
Some foreign observers have suggested that the true death toll in Iran is much higher. Reports of inundated hospitals, mass burial grounds and the lack of basic medical supplies all pointed to a graver situation than the regime admitted, Tehran critics have argued.
Excess deaths in winter and spring totalled around 25,100—higher than the 9,392 fatalities Iran reported to the World Health Organization in the same period.
Dr B claimed the regime has engaged in "statistical manipulation" that attributes COVID-19 deaths to other causes, like respiratory and heart diseases. Dr G concurred, accusing the government of doing "everything to hide the truth in the past seven months."
Dr G suggested the true daily national death toll could be five times as high as the official figures, which they dismissed as "a pure lie."
Any dissidents who end up political prisoners are in additional danger, Dr B said. "Many prisoners are reported to be infected with coronavirus,'" the doctor said. Among them are jailed Instagram influencer Fatemeh Khishvand, who became internationally famous for undergoing extensive plastic surgery to look like Hollywood star Angelina Jolie.
The doctors laid the blame at the regime's door, rather than Washington's. "The government wants to attribute its incompetence to sanctions. It is a kind of constant blaming others," Dr B said. "The government is spending on its adventures in this critical situation instead of helping the people," the doctor added, referring to Iran's regional foreign policy.
The regime was slow to announce measures to try and halt the virus spreading and, according to Dr J, "had a childish resistance to accept recommendations from experts. The medical board constantly advised the government to do quarantine, mass testing and other necessary actions but they called quarantine 'medieval.'"
Dr G. added: "The government always takes responsibility off its shoulders and blames foreign enemies. The culprit is incompetence and theft and embezzlement."
This "dysfunction," he said, "causes anger, disappointment and depression in Iranian society. The community is in a powder keg situation."
Ameli—who is in touch with health officials at the Imam Khomeini Hospital in Tehran, including some involved in the national COVID-19 taskforce—said the dispute over the death toll is no surprise given the nature of the disease.
Many victims have comorbidities and it is not always clear that those dying with coronavirus were killed by the disease itself. The large number of faulty tests can also lead to confusion, Ameli said.
"It's an epistemological issue," she told Newsweek, noting that many other nations have also struggled to decide how best to count and report coronavirus infections and deaths.
"This focus on trying to say that Iran has been trying to hide the numbers is very political and is very politicised from outside Iran as well," Ameli said. "But in fact, now that the numbers are high, no one is saying that all their numbers are wrong."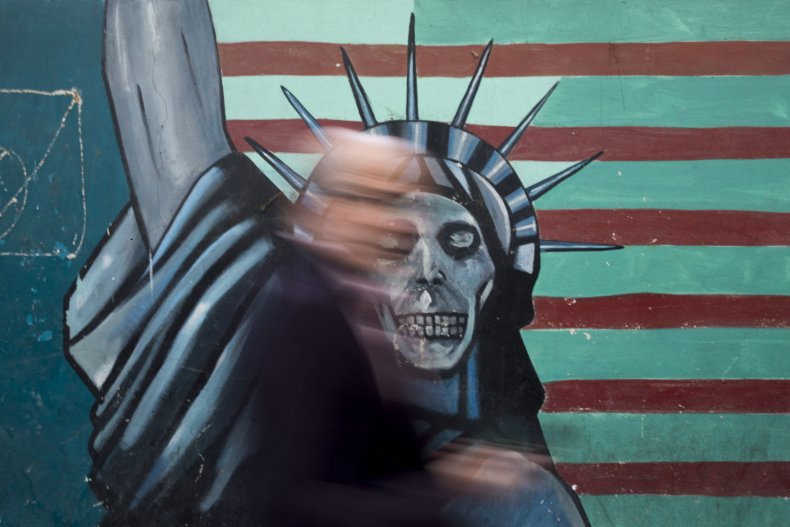 Trump's last play
Iranian officials say the U.S. sanctions are undermining Tehran's ability to fight coronavirus. The Iranian mission to the UN in Geneva, Switzerland, told Newsweek that American sanctions now risk ending its participation in the Vaccine Alliance's COVAX coronavirus treatment project. The mission also said that sanctions have impeded the importation of two million flu vaccine doses into Iran.
The Trump Administration has repeatedly dismissed concerns about the human impact of the sanctions, noting the measures have a loophole allowing humanitarian aid and medical supplies into the country.
A State Department spokesperson told Newsweek: "It's unfortunate that the Iranian government turned down our offer of assistance for coronavirus. Our priority has been to stand with the Iranian people—and this offer is still on the table."
Iran, for its part, rejects this position out of hand, saying Washington's loophole is so narrowly defined as to render it useless.
"The U.S. is gaslighting the whole world by giving an arbitrary minimal definition of 'humanitarian,' suggesting that having bread and butter to survive is enough," the Iranian mission in Geneva told Newsweek.
"The U.S.'s pathological addiction to chastising other people by denying them their inherent right to thrive is criminal and wrongful entailing its international responsibility. This U.S. claim is a typical manifestation of an 'Orwellian' twisted narrative propagated in order to quell any objection to its criminal inhuman sanctions.
"Any reasonable person with basic human conscience can straightforwardly see the consequences of U.S. sanctions on the targeted populations. They amount to crimes against humanity as they directly violate the basic human rights of huge numbers of people to health and to life."
The State Department spokesperson would not say whether the administration would ease sanctions if the COVID-19 situation in Iran deteriorates further.
European nations have set up the INSTEX payment system to facilitate "legitimate" international transactions with Iran without breaking U.S. sanctions. The U.S., too, has established the Swiss Humanitarian Trade Arrangement mechanism to deliver humanitarian aid without breaking sanctions.
"The very fact that the U.S. has had to set up this Swiss humanitarian channel is a reflection that they recognize a problem with the banking channels," Geranmayeh said.
But Geranmayeh and other observers warn that even if medical equipment is ostensibly exempt from the sanctions, companies producing the technologies are wary of engaging with Iran, fearful of intense U.S. scrutiny merely for doing any business with Tehran whatsoever.
Geranmayeh told Newsweek: "The cost-benefit for a bank to basically process these transactions is just not worthwhile. So they basically just turn down processing these transactions, unless in the case of major pharma companies that have quite substantive accounts with these banks.
"And now a lot of major pharma companies have also become increasingly hesitant of having any operations in Iran—even though humanitarian trade is exempted from sanctions—because they just don't want to expose themselves to additional oversight by the U.S. Treasury because they've got Iran on their books."
A smothered banking sector leaves Iran with even less money and fewer conduits through which to import supplies. "These handful of banks were facilitating the bulk of Iran's humanitarian trade to import food, medicine and medical equipment," Geranmayeh said.
A Human Rights Watch report published in October said exemptions in the American measures "have failed to offset the strong reluctance of U.S. and European companies and banks to risk incurring sanctions and legal action by exporting or financing exempted humanitarian goods."
Iran has already been struggling to make the cancer drugs it needs, France 24 reported earlier this year, and since 2016 there has been a significant fall in the number of U.S. export licenses approved for specialist medical equipment, The Washington Post reported, which may include goods used to treat COVD-19.
The latest round of sanctions will make a difficult situation worse. "We are likely to see potential bigger hits to Iran's ability to access food and medicine in the coming months ahead as it's trying to manage the next wave of epidemic," Geranmayeh said. "The U.S. administration has taken quite a draconian step here."
Sina Toossi, an analyst at the National Iranian-American Council, told Newsweek the sanctions "are creating an added hardship on top of this pandemic," and described the new measures as "incredibly cruel."
Regime critics point to Iran's continued refusal to comply with the transparency regulations of the Financial Action Task Force—an intergovernmental body set up by the G7 nations to combat money laundering and terrorist financing—as proof that Tehran is putting its own ideological interests ahead of its economy and people.
Kirsten Fontenrose, the senior director for Gulf affairs at the National Security Council until 2018, and now the director of the Atlantic Council's Scowcroft Middle East Security Initiative, told Newsweek: "The landscape has been so murky for businesses because Iran has refused to comply with FATF regulations.
"If Iran would comply with international FATF standards like every other pertinent country does, we might not need the SHTA. The other country that chooses not to comply with the FATF is North Korea. That should tell you something."
Regardless, both workaround payment systems have barely been used. Each channel has processed just one transaction each as of October 2020, delivering COVID-19 supplies and other medicines to the country. "Even mechanisms that are specific for humanitarian trade are struggling to meet the needs of ordinary Iranians on the ground," Geranmayeh said.
The U.S. also ignored appeals from its allies and used its political clout at the International Monetary Fund to block Iran's application for a $5 billion loan the regime said would be used to fight coronavirus.
"Iran is suffering under the dual kind of pressures of these unprecedented, severe draconian sanctions and this pandemic," Toossi said. "The only result is that the Iranian people are stuck between this repressive, authoritarian government there and these very aggressive, bellicose U.S. policies. They're the ones who are suffering."
"It's going to be very tricky in the next few months," Ameli said. "I think that this is Donald Trump's last push for making maximum pressure work, just before he's out of office in January, knowing that it will be winter and that the pandemic is going to put much more strain on the healthcare system and on the country in general.
"It is very worrying, and it's a concern that everyone shares here. In terms of whether the sanctions are having more of an impact or the mismanagement: it's definitely both.
"The sanctions impact is much more severe but there's also that corruption and mismanagement. Both of these things need to be talked about."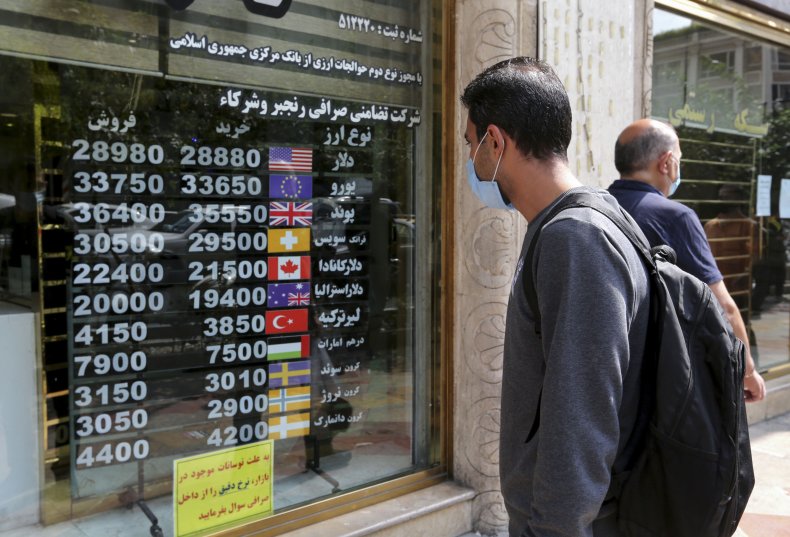 The Return of the Hardliners
A Biden victory in November may bring some limited sanctions relief to Iran. But the chances for a new U.S.-Iran deal looks slim regardless of who sits in the Oval Office come January.
Trump's term has collapsed the policies of the Obama-Biden years. If Biden does win, he will inherit diplomatic wreckage. Not only will the Iranians be less trusting of the U.S., but the conservatives inside the country are already poised to take back control.
Iran will have a new president in June, and all indications are the regime will ensure that a hardliner succeeds moderate Rouhani. Some of those in contention are even from the powerful Islamic Revolutionary Guard Corps.
"The moderates and reformers within that regime have been politically decimated, and they have no more political capital," Toossi explained. "The hardliners have been vindicated in their warnings not to trust the U.S."
He added: "They've been on the ascendancy. And I think, almost assuredly, we're going to have a hardline president next June."
The conservative Guardian Council vets electoral candidates, and, as for the parliamentary election in February, is expected to exclude many moderates and reformists. This effect could be magnified by an apathetic public—February's election saw a record low turnout of 42.6 percent.
"Many people are genuinely also fed up with the reformist moderates," Toossi said. "It's not that they would necessarily support some of these conservative, 'hardliners' that do have a constituency, do have support, obviously. But I think many people are willing to say, 'Let's just see what they do at this point, diplomacy didn't work.'"
This has been the tragedy of U.S.-Iran relations. Rarely have moderates been in power in both countries at the same time. Reformist President Mohammad Khatami provided assistance to America's invasion of Afghanistan, but President George W. Bush still included Iran in his "Axis of Evil."
Obama's first term overlapped with conservative President Mahmoud Ahmadinejad's second, in which the regime put down mass protests known as the Green Movement and Ahmadinejad threatened to destroy Israel. Obama's second term saw him line up briefly with Rouhani, producing the nuclear deal.
"When Biden comes we're going to have a conservative there, and that's going to get a lot more complicated," Toossi said. "This tragedy may continue."
For Iran's doctors and medical staff, the battle against the virus—and the deaths—goes on.
"Death is a great event in Iran, greater than marriage or birth," Dr G told Newsweek. "Now in conversations between families we hear a lot of news of death. The city walls and doors are covered in death announcements."
The description of the NIAC in this article has been corrected.