Donald Trump Finally Gets His State Visit to Britain
U.K. Prime Minister Theresa May has confirmed that Donald Trump will be undertaking a state visit to the country, despite fears the president will be met with mass protests.
May said in a Sunday interview on the BBC's Andrew Marr Show that she believed the president had the best interests of America at heart, dismissing concerns raised by the explosive book Fire and Fury about Trump's mental state.
"Obviously I have worked with President Trump on a number of issues, as we continue to work with the United States on a number of issues," May said. "What I make of him is somebody who is taking decisions on what he believes is in the best interests on the U.S. The United Kingdom government and I will take decisions here on what we believe is in the best interests of the U.K."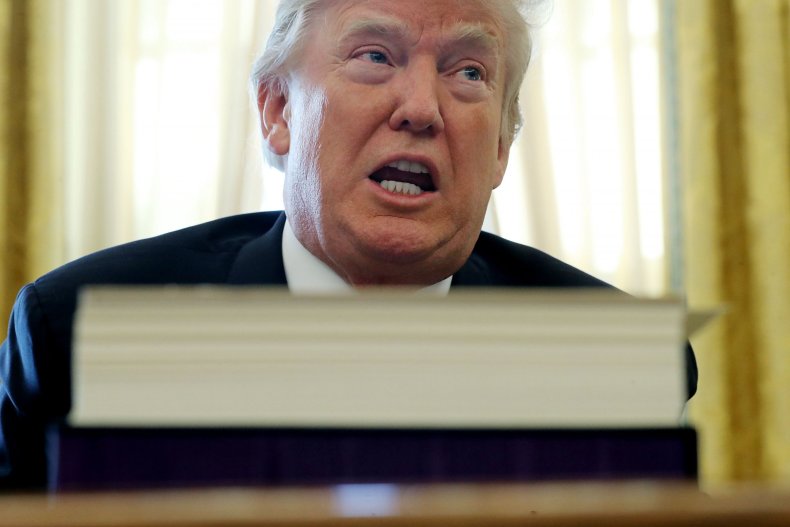 When asked about his mental state, May added: "When I deal with President Trump, what I see is somebody who is committed to ensuring he is taking decisions in the best interests of the U.S."
She also confirmed the president's state visit, adding: "He will be coming to this country."
Last year, it was rumored that Trump was considering postponing a visit to the U.K. over concerns he would be met with widespread protests, his reconsideration reportedly coming following his online spat with London Mayor Sadiq Khan over the London Bridge terror attack, in which Trump suggested Khan was not taking the attack seriously after he reassured Londoners not to be alarmed by additional police on the streets.
Following the June incident, Labour leader Jeremy Corbyn cheered the possibility of Trump's visit being canceled, saying in a statement on Twitter that it would be "welcome, especially after his attack on London's mayor & withdrawal from #ParisClimateDeal."
Despite some time having passed since the incident, May's announcement over the weekend that Trump would be visiting the U.K. is likely to prompt objection and protest from some members of the public.