Donald Trump Will Fire Jeff Sessions After Midterms, Republicans Say
After Attorney General Jeff Sessions's latest spat with President Donald Trump, Republicans in Congress predict that Sessions will be fired after the midterm elections.
Conservative lawmakers are gearing up for Sessions's possible removal after repeatedly defending the attorney general from Trump, who distanced himself from Sessions after he recused himself from Robert Mueller's special counsel investigation into Russian election meddling.
Senator Bob Corker told Politico on Thursday that "it's apparent that after the midterms, [Trump] will make a change and choose someone to do what he wants done."
Lindsey Graham echoed that view, telling reporters on Capitol Hill that he would encourage the president to fire Sessions and that he was open to confirming a new attorney general, Reuters reported. Republicans in Washington previously feared that firing Sessions would lead to allegations that Trump was obstructing justice by trying to end the Mueller probe. Graham said that argument was no longer sufficient.
"To those who believe that the only way that you can protect Mueller is to keep Jeff Sessions as attorney general forever, I don't buy it," Graham said on Thursday. He went on to say that the president is "entitled to an attorney general he has faith in, somebody that's qualified for the job, and I think there will come a time, sooner rather than later, where it will be time to have a new face and a fresh voice at the Department of Justice."
The comments came just a day after the latest feud between Trump and Sessions.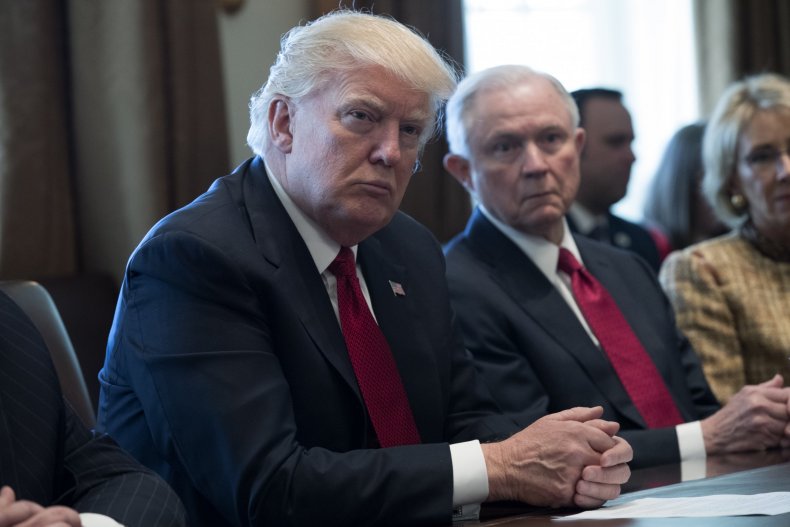 In an exclusive interview on Fox & Friends on Thursday, the president told co-host Ainsley Earhardt that he was still furious over Sessions's recusal from the special counsel investigation. In the exchange, Trump also lamented the fact that Sessions and the Department of Justice were not investigating Hillary Clinton and the Democratic Party for possible surveillance done on the Trump campaign during the 2016 election.
"Even my enemies say that Jeff Sessions should have told you that he was going to recuse himself and then you wouldn't have put him in," Trump said. "He took the job and then he said, 'I'm going to recuse myself.' I said, 'What kind of a man is this?'"
Sessions fired back at the president, releasing a statement saying, "While I am Attorney General, the actions of the Department of Justice will not be improperly influenced by political considerations. I demand the highest standards, and where they are not met, I take action."
Sessions added that since taking the office of the attorney general, he also has taken "control of the Department of Justice," which is why the agency has been able to "have unprecedented success at effectuating the President's agenda."
On Friday morning, Trump continued goading Sessions, writing on Twitter: "Come on, Jeff, you can do it, the country is waiting!"