The First 100 Days: How Have Trump and Gambia's President Adama Barrow Fared?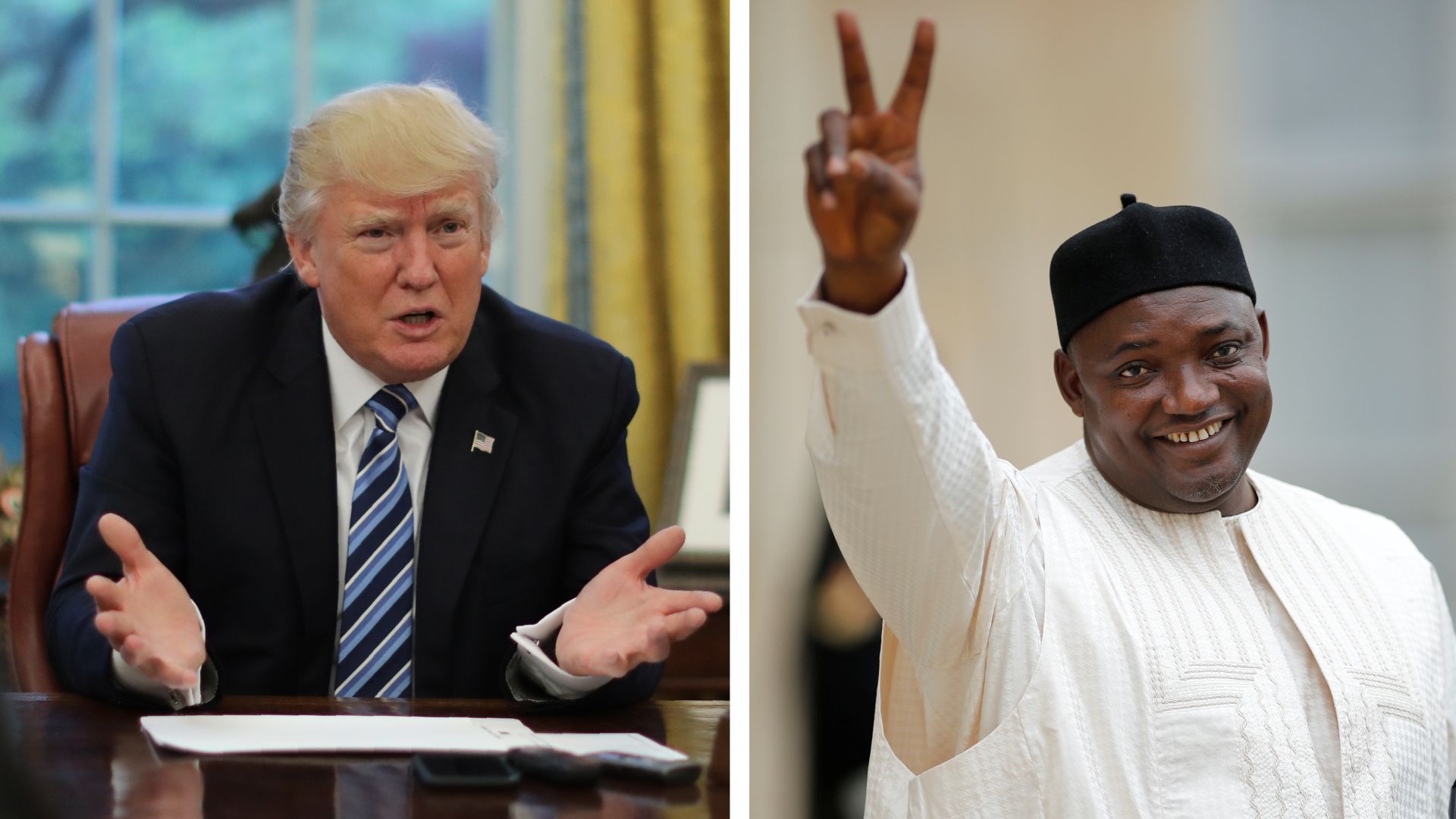 President Donald Trump will celebrate 100 days at the White House on Saturday. But on Friday, another head of state, albeit lesser-known, celebrated the conclusion of his first 100 days in office, too.
Gambia's President Adama Barrow was inaugurated at his country's embassy in Dakar, the capital of neighboring Senegal, on January 19—one day before Trump was sworn in as the 45th president of the United States.
The two presidents' jobs couldn't be more different. Trump took control of a population of almost 325 million; an economy worth $18 trillion; and a land mass more than double the size of the European Union. Gambia, a tiny sliver of a country in West Africa that is completely encapsulated by Senegal, has a total population of just under 2 million; a total GDP of slightly less than $1 billion; and a total land area that is almost twice the size of Delaware, the second-smallest state in the U.S.
But some of the broad challenges faced by a head of state—securing the safety of their people; keeping the economy running; and forming an effective government—are common to both Trump and Barrow. As such, Newsweek compares the main achievements of the two coincidentally-linked heads of state.
Security
As commander-in-chief of the world's largest and best-funded military, Trump has had to get used to the United States' role as the world's policeman. Despite his campaign promise to put America first and not get the country involved in foreign conflicts, Trump launched unilateral strikes on an airbase belonging to the Assad regime in Syria in April following a suspected chemical attack by that regime on citizens in a rebel-held town. Trump has continued the fight against Islamist militancy, dropping the so-called "mother of all bombs" on a cave system suspected of belonging to the Islamic State militant group (ISIS) in Afghanistan. And the U.S. president has talked a tough line on North Korea, warning that his country could become embroiled in a "major, major conflict" with the pariah state if it persists in developing its nuclear and missile programs.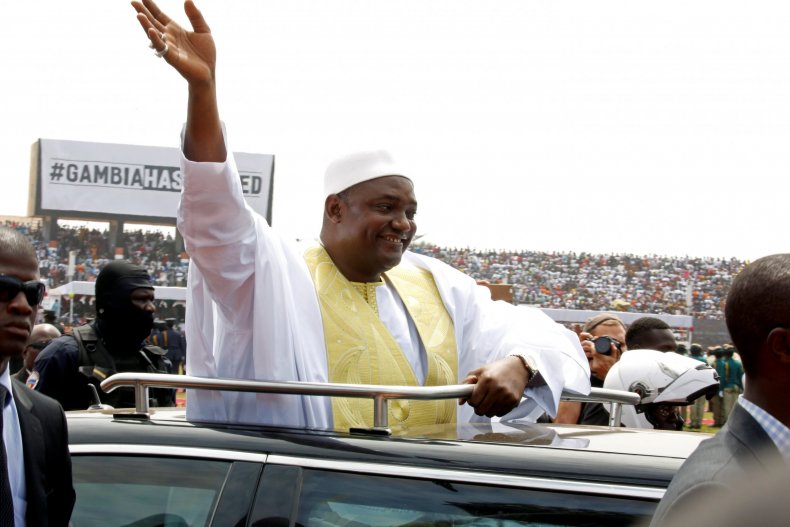 For Barrow, the major security challenge of his first 100 days came at the very beginning of his administration and consisted of removing his stubborn predecessor, Yahya Jammeh, so that he could safely return to Gambia from Senegal. Barrow had to rely on troops from regional body the Economic Community of West African States (ECOWAS), to threaten Jammeh with forced removal, since much of Gambia's military remained loyal to the longtime ruler. Finally, after a tense three-day standoff and diplomatic interventions by several African heads of state, Jammeh left his post for exile in Equatorial Guinea. The Barrow administration has pledged to set up a truth and reconciliation commission to investigate the widespread abuses reported during Jammeh's 22-year reign.
Economy
Trump has made several high-profile economic decisions since taking office. On his first day at work on January 23, the president signed an executive order to withdraw from the Trans-Pacific Partnership, a global trade pact that encompasses about 40 percent of the world economy. In March, Trump put forward a controversial budget proposal that, among other things, called for a 28 percent cut in funding to the State Department while proposing a $54 billion boost to military spending. Significantly, however, Trump has backed down ( at least temporarily ) on withdrawing from the North American Free Trade Agreement (NAFTA)—which he previously described as the "worst trade deal in the history of the world"—in favor of an attempted renegotiation.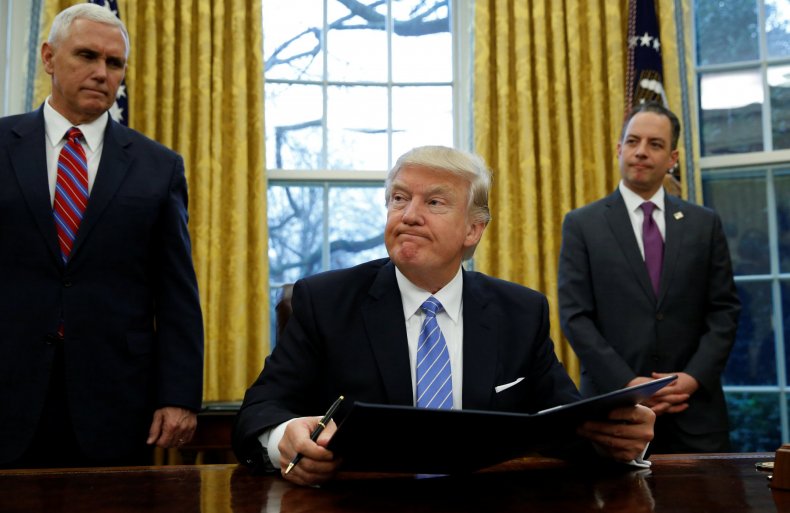 Barrow inherited an economy broken by years of isolation and mismanagement under Jammeh, and heavily reliant on tourism, which dipped during peak season due to the political crisis. Gambia's national debt exceeds its GDP and average income fell by 20 percent between 2013 and 2016, suggesting a significant increase in the number of people living in poverty, according to the World Bank.
Barrow has sought to engage with international partners to get the economy back on track: The European Union announced in February that it would release $35.6 million in aid that was frozen due to human rights concerns under Jammeh. Following a recent visit to Gambia, the International Monetary Fund (IMF) indicated it would consider setting up a new credit facility to support the country's development. While acknowledging that "significant economic challenges lie ahead," the leader of the IMF delegation said that Barrow's transition to power constituted a "historical turning point" for the country.
Diplomacy
In his first 100 days, Trump has reinforced the so-called special relationship between America and the U.K. British Prime Minister Theresa May visited the White House in January in his first week in office and invited Trump to undertake a state visit to the U.K.; former U.S. presidents have had to wait much longer for such invitations. Despite his hardline rhetoric during the presidential campaign, Trump has struck up a relationship with Chinese President Xi Jinping, whom he has described as "a very good man" and urged to use its influence over North Korea to halt the latter's nuclear march. And surprisingly, Trump's relationship with Russia, which showed much promise during his presidential campaign, has not flourished: On the eve of Trump's 100th day, Russian lawmakers suggested that Democratic rival Hillary Clinton would have been proud of his record so far in office.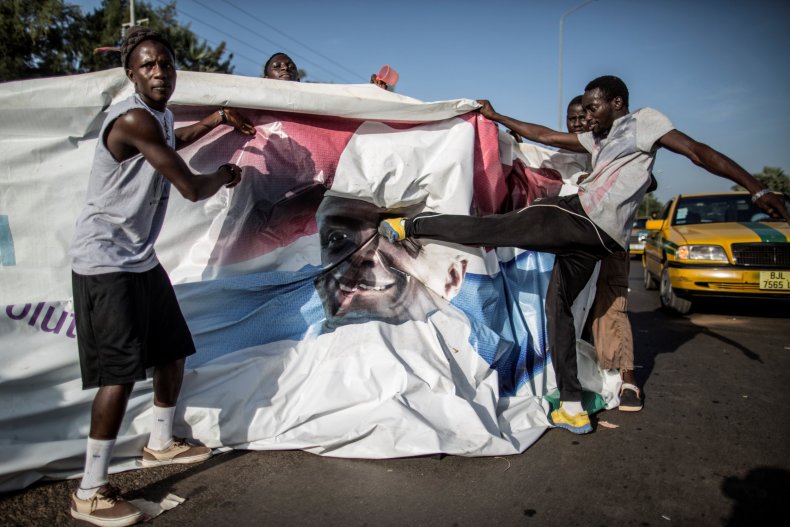 Gambia's president has focused diplomatic efforts on regaining recognition for his country from the international community. During his tenure, Jammeh adopted an anti-West stance, pulling Gambia out of the Commonwealth, which he described as "a neo-colonial institution,"—and starting the process of withdrawing the country from the International Criminal Court (ICC), branding it "an international Caucasian court for the persecution and humiliation of people of color." Barrow has canceled the ICC withdrawal, and has told British Foreign Secretary Boris Johnson of his intention to return Gambia to the Commonwealth when Johnson visited Gambia in February. Barrow has also sought to rebuild regional relations damaged by Jammeh, visiting Sierra Leone, Liberia and Ghana in the past week.