Donald Trump, in First Interview Since Leaving Office, Credits Limbaugh With Helping His Political Career
A year after awarding Rush Limbaugh the Presidential Medal of Freedom, former President Donald Trump praised the late conservative radio host for being a "legend," "irreplaceable," and helpful to his political career.
On Wednesday, Limbaugh's wife Kathryn announced that the media personality had died after a yearlong battle with advanced lung cancer.
Limbaugh was well known as one of the most influential conservative voices and a staunch supporter of the president since his 2016 campaign.
Asked if Limbaugh, who promoted the former president's positions and policies, made a "difference" to him, Trump told Fox News' Outnumbered: "I think he did."
The former president added: "I've heard as many as 39 million people [listen to his show]. He is a legend. There aren't too many legends around, and to those people who listen to him every day, it was like a religious experience for a lot of people."
Limbaugh had the largest audience of any conservative radio host. In May, he said model projections from the EIB network found 43 million people listened to his show over a three-hour stretch. Nielsen put his listeners at about 15.5 million.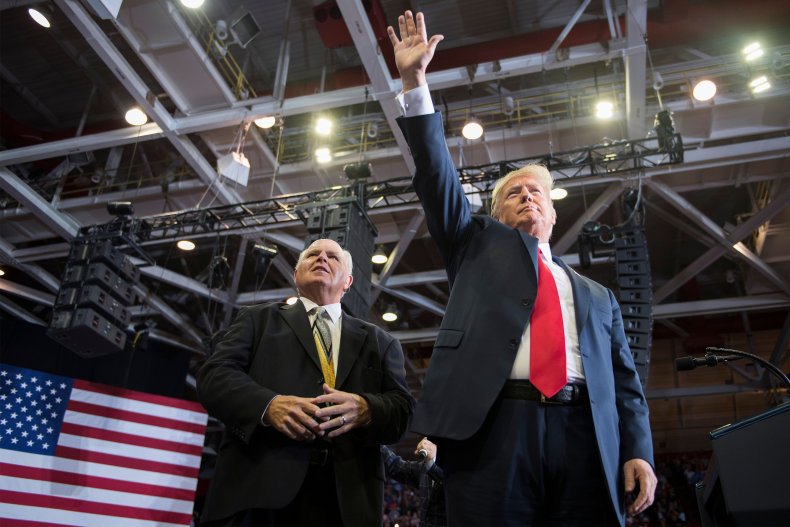 The conservative radio host faced criticism for devoting airtime to Trump's campaign in 2015, although he expected former Florida Governor Jeb Bush to take the Republican nomination in 2016, because the establishment wouldn't put Trump on the ballot.
"If you look at the coalition Trump has put together, it is everything that the Republican Party claims they want, and they don't want it with Trump in charge of it," Limbaugh said in January 2016. "They don't want it with Trump being the guy that attracts it. So it's more than just anti-conservatism and anti-base. It's also anti-Trump."
Despite not explicitly endorsing Trump, who he said was not a conservative, for the nomination, Limbaugh saw the potential the campaign had to become successful. He told listeners Trump had the "largest bloc of voters" that Republicans claim they need to win—but they rejected him because "they are content to lose if winning means conservatives dominate the party."
After Trump became the nominee in May 2016, Limbaugh jumped on board, predicting that he would beat former Secretary of State Hillary Clinton "in a landslide."
Trump didn't know Limbaugh well before entering the political race, but the two developed a "very good friendship," over the years, as he recounted during his interview on Outnumbered.
"He was there right from the beginning," Trump said. "He was one of the people who said we were going to win [in 2016] ...he just had an incredible instinct for politics and an incredible instinct for life."
Limbaugh remained a staunch supporter of Trump after the 2016 election and campaigned with the former president during his bid for reelection, including giving him two hours of uninterrupted air time for a radio rally in October.
The last time the two spoke, according to Trump, was three or four days ago, when the former president called to check up on Limbaugh. Trump said Limbaugh was "fighting until the very end."