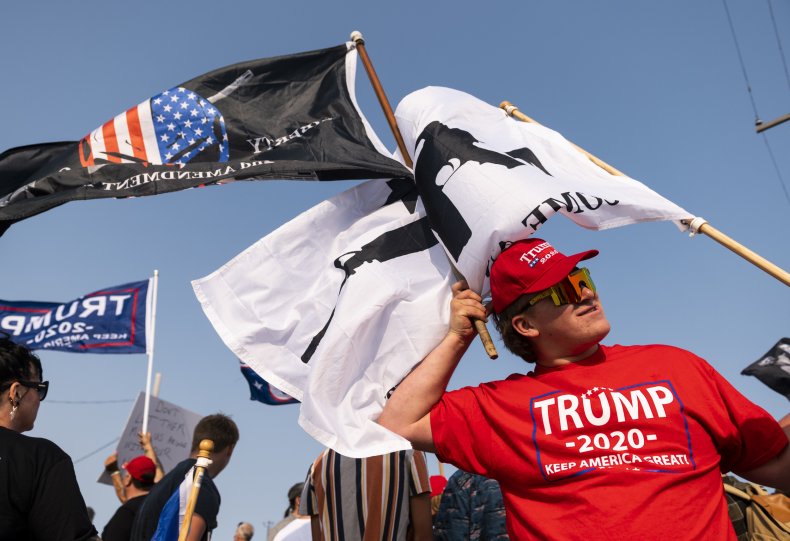 Adams County, in the battleground state of Wisconsin, is home to a battle of its own: Disappearing lawn signs.
Officials from both local parties, whose headquarters are located right across the street from one another on Main Street, are pointing the finger at the other side.
"They're stealing big yard signs that show support for Joe Biden and Kamala Harris," said Gregory Kobs, the chairman of the Adams County Democratic Party. "The party of law and order isn't very law and orderly here."
Peter Church, chairman of the county's Republican Party, said much of the same for their Donald Trump paraphernalia: "We're dealing with it every day and the Democrats are behind it."
The rivalry is not entirely unexpected given the county's voting history. Adams County saw one of the biggest swings of any Wisconsin area from 2012 to 2016. There was a 30-point swing for the Republican candidate, resulting in victory for Trump after the county went for Barack Obama twice. Trump eked out a win in the Badger State by less than 1 percent, which helped seal his Electoral College sweep.
While on paper the shift was tremendous, supporters of both parties in Adams County said they weren't entirely shocked by the election result four years ago. They described an electorate who was ready to break from the status quo of the political establishment.
"Donald Trump really struck a chord with individuals due to the fact that he was an outsider and someone who wanted to put America first, and I think it really resonated with people in rural areas—especially our farmers," said Patrick Testin, a Republican state senator whose legislative district includes Adams County.
Testin, who was on the campaign trail himself four years ago running for the state legislature, said he could feel the "seismic shift" happening when he was going door to door as a candidate.
Mark Jefferson, the executive director of the Wisconsin Republican Party who grew up in Adams County, said the shift in 2016 was accelerated by the neglect rural communities received from the Democratic Party.
"You see a lot of disillusionment with establishment and institutions," Jefferson said of his hometown. "Then President Trump came along and defied all of the norms that people have come to expect from politicians."
The president's economic agenda, his opposition to Obama-era trade deals and his tough stance on immigration policy were just some of the proposals that appealed to rural, blue-collar residents.
Bob Goff, the general manager of the county's local radio station WCW1-FM, supported the Democratic candidates in past presidential elections but said he had never seen the local GOP as mobilized as they became in 2016.
He also noted that Trump's persona as a reality television star made him more recognizable as "a lot more people would watch an episode of The Apprentice than would sit down for the evening news and see Hillary Clinton."
"I know Wisconsin is the birthplace of the Republican Party, but I hadn't seen that much of the party until Donald Trump ran for president," Goff said. "And then all of a sudden everybody has signs, everybody's got bumper stickers and putting flags on the back of UTVS and ATVs. And they're doing it again right now."
Testin said the support for Trump heading into the 2020 election has only intensified: "People are coming in left and right they want signs, they want hats, they want the Trump T-shirt—you name it. It's been unlike anything I've seen in politics."
On the Democratic side, Kobs said there may be more yard signs for Trump but that he has a lot of people who will actually go out and vote. The local party has no shortage of volunteers who over the next few weeks will be doing phone banking and literature drops to reach out to voters.
One example of the enthusiasm for the Biden-Harris ticket, he said, was the increase in demand for yard signs. The local Democratic Party handed out 200 signs for Clinton in 2016. This year, they've already given out over 700 signs.
"I think that might be an indication of the interest that the Biden group has here," Kobs said. "Hopefully it will make a difference."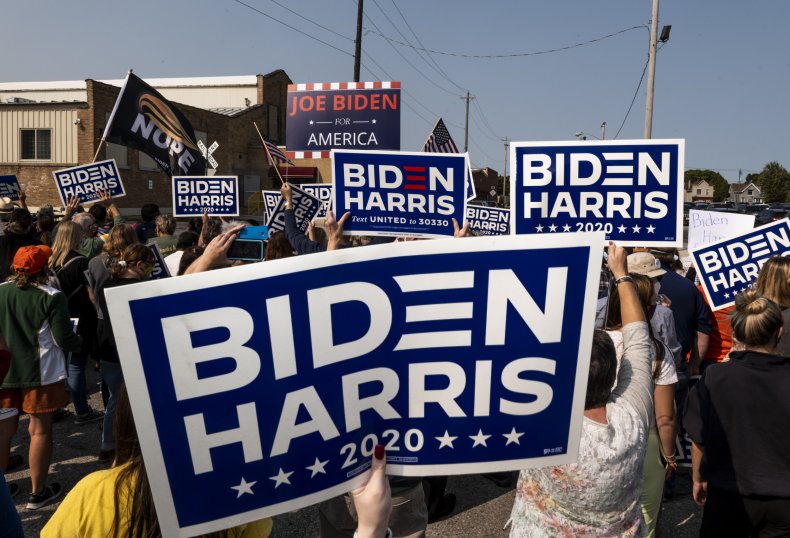 But unlike in years past, due to COVID-19 concerns the party will not be canvassing door to door or holding in-person events. Many progressive organizations throughout the state, including Citizens Action of Wisconsin, have effectively put a moratorium on in-person campaigns amid the health crisis.
For much of September, Wisconsin has struggled with a rising number of coronavirus cases. Earlier this week, the state reported its fourth-highest daily coronavirus case count ever with more than 1,700 new cases. Wisconsin does have a mask mandate, but residents say it's rarely enforced.
Goff said the virus has been a big topic for residents heading into the final weeks of the 2020 campaign, but it's not always from a concerned outlook. Many people in the area don't wear masks, he said, and there are even businesses that have signs up that read: "You don't have to wear a mask in here, this is America."
It's a scene that echoes the president's own events, where he and many of his supporters go maskless. After headlining two large indoor rallies in Nevada, Trump said he wasn't worried about contracting the virus because he speaks on stage "very far away" from attendees.
While the local Democratic Party has put a moratorium on in-person campaigning, the Republican Party has been forging ahead. Church said he's "holding events all the time and person" and doing some door to door canvassing. Earlier this month, the party helped host a Trump boat parade that attracted 275 boats and more than 1,000 people.
"I'm not sure how effective all this is," Church said. "You take a drive down Main Street and you can tell voters have pretty much made up their mind."
Thomas Wermuth, the superintendent of the school district that covers 90 percent of Adams County, said on his daily commute he sees seven or eight Trump signs for every one Biden sign.
"I would say that's where a majority of our county is right now," Wermuth said, noting that the area is older and less diverse than other parts of the state. "I think all those factors play into this election cycle to a certain extent."
Goff, who plans to vote for Biden in November, also predicts that Adams County will go Republican again in 2020.
"I have a feeling there are a few more Trump supporters than there are Biden supporters," he said.