Donald Trump Greeted by Crowds of Florida Supporters as He Moves into Mar-a-Lago
Donald Trump was welcomed back to Florida by a small group of supporters Wednesday where, away from the grandeur of Joe Biden's inauguration ceremony, his presidency came to a subdued end.
The former president's neighbors are reported to have petitioned local officials in Palm Beach to block his residency at Mar-a-Lago, which they argued was a social club and therefore unsuitable for use as a permanent home.
A group of Trump supporters holding signs saying "Pres. Trump Won," "We Love You" and "Welcome Home" lined the street as his motorcade passed by on their way to his South Florida estate.
"God Bless the USA" was heard blaring from cars with Trump reportedly fist pumping and giving a double thumbs-up from behind the closed window of the presidential state car—otherwise known as the Beast—his last trip in the vehicle before it returned to Washington.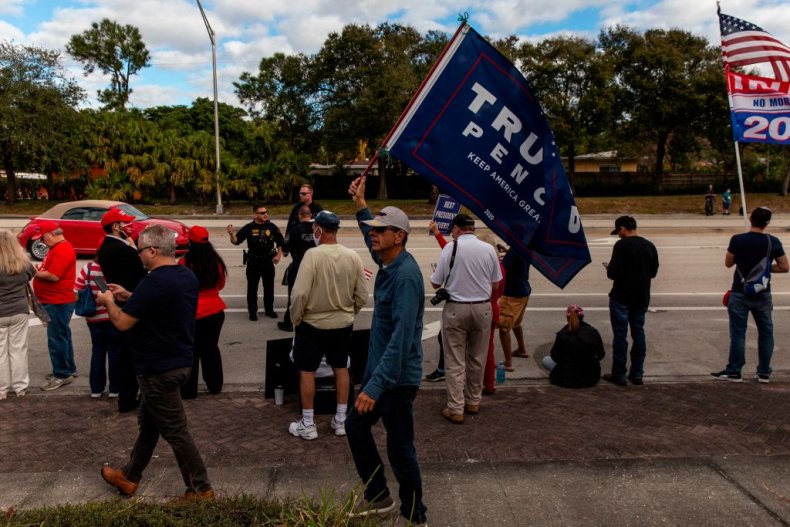 "I have never been more proud to be an American," Kathy Vaughan told Bay News 9. "I felt like it was my best friend going by."
Another described the gathering of the former president's supporters as "like the Super Bowl." Josias Citta said: "It's the day he leaves office but he's done so much for us."
Trump spent the final hour of his presidency inside Mar-a-Lago before Biden was sworn in as 46th president.
In the days leading up to Inauguration Day, moving trucks were seen at the Mar-a-Lago club.
Weeks earlier, some of Trump's soon-to-be neighbors were petitioning local officials to block his move, saying that as Mar-a-Lago was a social club, the Republican businessman should not be able to call it home.
In a letter to the Town of Palm Beach and the U.S. Secret Service, first reported by the Washington Post, they argued that an agreement Trump signed in 1993, when the estate was converted to a private club, removed his legal right to live there.
"To avoid an embarrassing situation for everyone and to give the president time to make other living arrangements in the area, we trust you will work with his team to remind them of the use agreement parameters," wrote Reginald Stambaugh, a lawyer representing the residents of a property neighboring Mar-a-Lago.
"Palm Beach has many lovely estates for sale, and surely he can find one which meets his needs."
Trump's daughter, Ivanka, and son-in-law, Jared Kushner, are also expected to settle in South Florida.
According to the Wall Street Journal, the couple have signed a deal to lease a condominium in Miami for at least a year while they build a house on a plot of land they recently bought on nearby Indian Creek Island for $32 million.