Trump Lawyer Suggests Florida Vote Fraud Possible After President's Praise
A senior legal adviser to the Trump campaign has suggested there could still be election fraud in Florida despite the president's suggestion the state's election system is "Tried and True."
The president has long spoken against mail-in voting but suggested its use in Florida would run smoothly, encouraging people to request to cast their ballot in that manner.
"Whether you call it Vote by Mail or Absentee Voting, in Florida the election system is Safe and Secure, Tried and True," he tweeted. "Florida's Voting system has been cleaned up (we defeated Democrats attempts at change), so in Florida I encourage all to request a Ballot & Vote by Mail!"
This comes after his campaign filed a lawsuit against Nevada over its expansion of mail-in voting, in which it intends to offer all registered voters mail-in ballots.
Trump had also criticized voting in Florida in 2018, suggesting the Senate race there could be subject to fraud and branding the situation "a disgrace" ahead of a recount.
Asked what prompted the shift from Trump to support mail-in voting in Florida, adviser Jenna Ellis suggested that he did not mean there was no possibility of fraud there whatsoever.
"I think that you are taking his words tried and true to mean that he thinks that there is 100 percent perfection in Florida and that's not the case," she said when asked by Dan Abrams on SiriusXM.
"It's simply a contrast between the Florida system that has taken measures to hopefully make sure that they're reducing the opportunity for fraud, and the systems like Nevada that are pushing it through and they're intentionally removing safeguards."
She said if Florida were to act in the same way as Nevada "we would likely challenge that."
"There is a contrast between the state of Florida and reducing the opportunity versus Nevada," she said.
Asked again what makes the president think now "everything's good," she said: "I think that you're reading that into the context of his statement.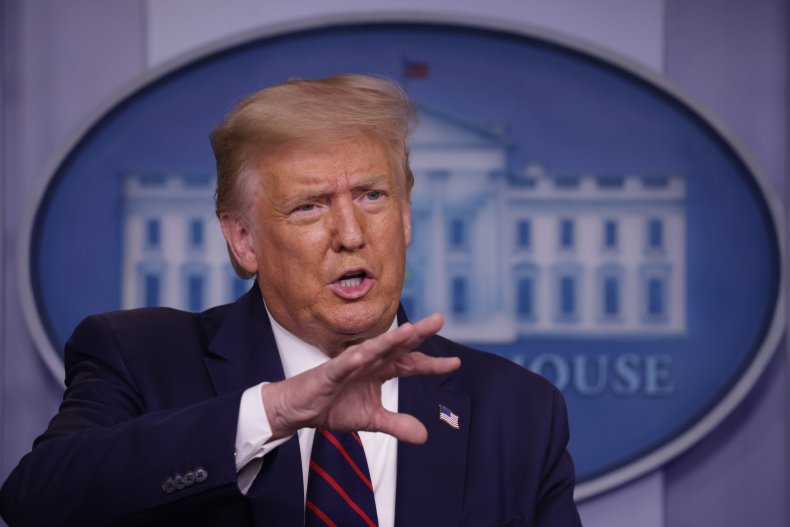 "I think that the only appropriate way to read that statement in context is the contrast.
"If in 2020 there is a possibility of fraud, or there is some reason to believe that, something like look at what happened in Florida in 200 in Bush versus Gore, there may be something to challenge for either party.
"It's not to say that President Trump is convinced that there is absolutely no fraud that will occur."
Newsweek has contacted the Trump campaign and the governments of Florida and Nevada for comment.
Trump's encouragement of mail-in voting in the state came as figures showed hundreds of thousands more Democratic voters were signed up to cast their ballot by this method in Florida than their Republican counterparts across the state.
Democrats have around 1.9 million Floridians signed up to this method compared to 1.3 million for Republicans.
As well as pivoting to approve of it in Florida, he has also done so for Arizona—suggesting this was because the state was better equipped to facilitate the process than Nevada.
"Arizona's been doing this for a long time and it has been refined," the president previously told reporters. "Even if Nevada wanted to do it well, they wouldn't have enough time. I'm sure the post office doesn't have enough time. Millions of ballots all of a sudden coming out of nowhere? You know, voting starts in a very short period of time."