Trump's Foe-Turned-Friend Flips on Him Once Again for DeSantis
It seemed like former President Donald Trump and Ken Cuccinelli had put their differences aside when Trump recruited him to the administration four years ago, but Cuccinelli's newest political action committee (PAC) reveals he's far from being on Trump's team.
On Thursday, Cuccinelli, a former Virginia attorney general and Department of Homeland Security (DHS) official under the Trump administration, announced the launch of Never Back Down, a PAC aimed at persuading Florida Governor Ron DeSantis to jump into the 2024 race against Trump.
"America's future is Ron DeSantis. Ron DeSantis doesn't just talk, he acts. But most of all, he never backs down," Cuccinelli said in a video for the PAC's launch. "Governor DeSantis, today, I'm asking you to run for president. You've had our back, now we will have yours."
DeSantis, who is heavily favored to be the top GOP challenge to Trump's bid, has yet to make an announcement about running for the White House. Newsweek reached out to DeSantis' political team for comment.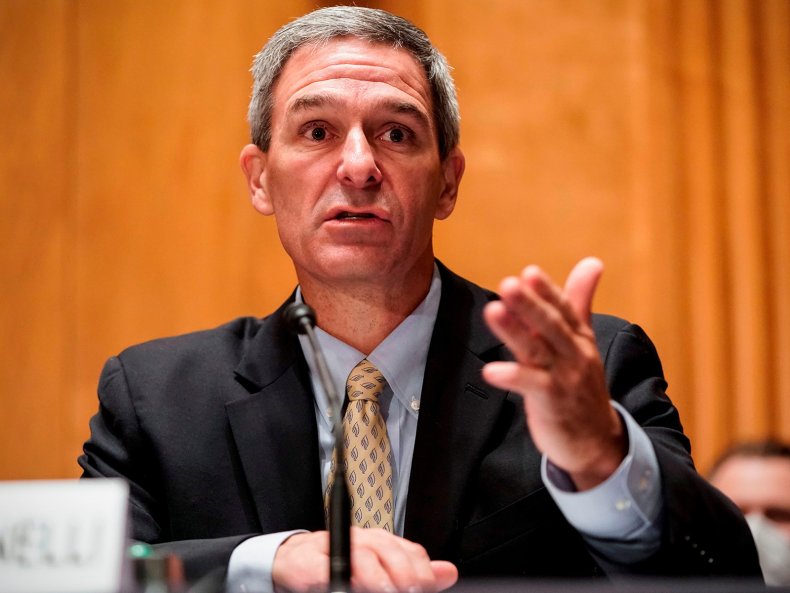 Cuccinelli's decision to launch a PAC calling on DeSantis to run for 2024 is notably a return to his opposition to Trump and a departure from their former alliance.
While Cuccinelli served under the Trump administration, both as acting DHS secretary and as a member of the White House Coronavirus Task Force, he had previously been a vocal opponent of Trump's White House ambitions.
In 2016, Cuccinelli was a staunch supporter of Senator Ted Cruz in the Republican primaries. During the Republican National Convention that year, Cuccinelli led an intra-party effort to block Trump from receiving the GOP nomination after Trump won enough delegates, even throwing his ID badge on the floor in revolt.
Although Cuccinelli opposed Trump's 2016 bid, the attorney general did support Trump's anti-immigration agenda. But immigration policy alone doesn't seem to be enough to sway the conservative hardliner into endorsing Trump for the next presidential election.
In a statement made Thursday, Cuccinelli said that the grassroots conservative activists he's spoken to are "enthusiastic" about the possibility of a DeSantis 2024 campaign.
"The energy is there, grassroots conservatives see the Governor as a leader and a fighter with a winning conservative track record who will lead the Republican Party to victory in 2024," the former Trump official said.
Cuccinelli has been a divisive figure throughout his political career. He has described himself as an opponent of homosexuality, rejected the scientific consensus on climate change, and previously promoted birtherism theories about former President Barack Obama, a claim he later retracted.
As a state lawmaker in Virginia, he sought to repeal birthright citizenship and force employees to speak English in the workplace.
Since making an early announcement in November, Trump has been joined in the race by other prominent Republicans, like former South Carolina Governor Nikki Haley and biotech millionaire Vivek Ramaswamy. Others, like former Vice President Mike Pence and Senator Tim Scott, are also expected to announce their bids soon.
Several polls show that the only potential candidate that would pose a real threat to Trump's bid is DeSantis. In multi-candidate surveys, the Florida governor is the only name besides Trump to see double-digit support.
"For all of you watching today, I'm asking you to join us in calling on Governor DeSantis to run to become President DeSantis," Cuccinelli said on Thursday.
The launch of Cuccinelli's PAC marks the latest Trump 2024 snub and joins a growing chorus of voices calling on DeSantis.
Since the former president announced his candidacy, a number of prominent Republicans, like Representative Ralph Norman, and GOP donors, including media mogul Rupert Murdoch, Ronald Lauder of Estée Lauder and Blackstone CEO Stephen Schwarzman, have retreated from Trump, opting to back other candidates instead.