The Trump administration proposed a new rule Tuesday that could cut more than 3 million people off of food stamps, according to officials at The U.S. Department of Agriculture.
The rule change would tighten eligibility requirements for the Supplemental Nutrition Assistance Program, which the Trump administration says would reduce costs and limit abuse and fraud.
All but seven states currently allow families who are enrolled to receive Temporary Assistance for Needy Families (TANF) benefits, a welfare program similar to food stamps, to automatically enroll for SNAP benefits. The change would now require TANF-enrolled families to pass an audit of their income and assets before becoming eligible for SNAP.
The Trump administration predicts these audits would kick 3.1 million Americans off of food stamps and save about $2.5 billion each year.
"Some states are taking advantage of loopholes that allow people to receive the SNAP benefits who would otherwise not qualify and for which they are not entitled," said USDA Secretary Sonny Perdue on a press call this week.
On the call, Brandon Lipps, USDA acting deputy undersecretary, said that the Trump administration did not need congressional approval to limit the eligibility requirements.
"Unfortunately, automatic eligibility has expanded to allow even millionaires and others who simply receive a TANF-funded brochure to become eligible for SNAP when they clearly don't need it," said Lipps.
The rule would work to eliminate something states use to approve families for multiple welfare programs at once called broad-based categorical eligibility (BBCE). The administration, in its explanation of the shift, claimed that this protocol doesn't actually check the incomes or food insecurity of the families who become eligible for SNAP.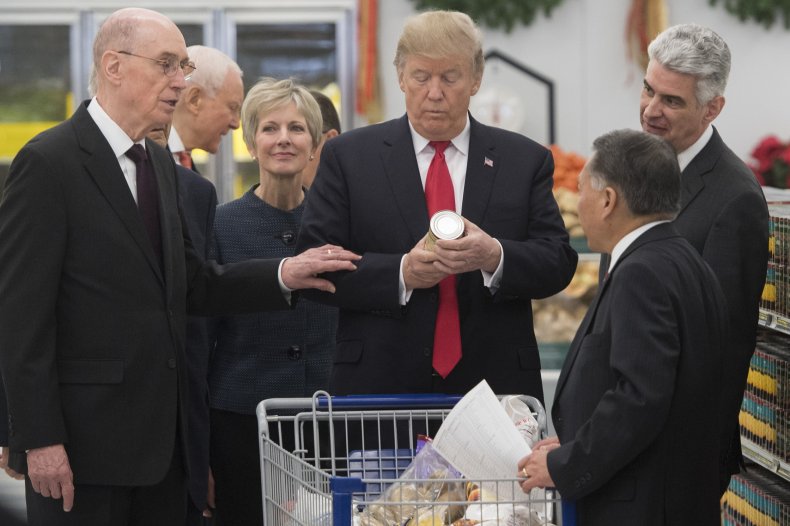 But in reality, all families who receive SNAP, even those who receive it under BBCE programs, go through a lengthy application process, are interviewed and have their monthly incomes and expenses reviewed.
The president has also long-claimed that welfare programs like food stamps are riddled with abuse and used by fraudsters who simply don't want to work and has long attempted to limit or even end the program with budget cuts. Last year, he proposed replacing the program with a Blue Apron-like food box delivery service. He has spoken in the past of a "food stamp crime wave" that needs to be stopped.
Food stamp enrollment is now at its lowest level in eight years. SNAP has one of the lowest rates of abuse of any welfare program, and is highly cost-efficient. Less than 7 percent of the SNAP budget goes towards administrative costs and each dollar spent on SNAP benefits generates about $1.70 in economic activity.
Under the current SNAP system, able-bodied adults are only eligible to receive three months of food assistance every three years unless they can prove that they work 80 hours per week or attend 80 hours of job training or educational programs. States, however, do qualify for waivers from the rule if their unemployment rate is above 10 percent or if there is a lack of sufficient employment.
Last year, about 0.2 percent of SNAP benefits went to households that had monthly disposable incomes above the poverty line.
"With this rule, the Administration is seeking to implement through executive action a harsh policy that Congress rejected in the 2018 farm bill," wrote Robert Greenstein, president of progressive think tank The Center on Budget and Policy Priorities. "Instead of punishing working families if they work more hours or must incur high child care costs in order to work, or penalizing seniors and people with disabilities who save a modest amount for emergencies, the President should seek to assist them with policies that help them afford the basics and save for the future."