Trump Foreign Policy Adviser's Firm Sued for Sex Discrimination, Harassment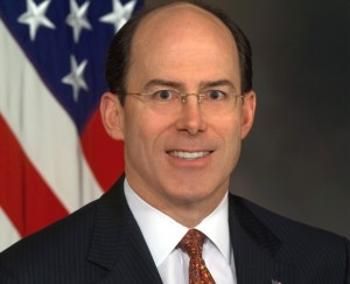 A Virginia woman has filed a federal sex discrimination and harassment suit against a company chaired by Joseph Schmitz, a senior foreign policy adviser to Donald Trump. Schmitz's son, Philip, is the company's founder and chief executive.
Patricia Varieur, a veteran software executive, claims that BIS Global, a McLean, Virginia based company, paid her less than men doing equivalent work, berated her in front of a client, told her she needed to be more "warm and fuzzy" with customers and effectively held a business meeting at a strip club. Those and other incidents added up to a "hostile work environment," she says in her suit, filed September 8 in the U.S. District Court for Maryland.
Major firms have taken a dim view of such male-oriented outings since a flurry of gender-discrimination suits going back over a decade. In 2006, for example, the Wall Street firm Morgan Stanley, which had settled a sex discrimination case two years earlier, fired three executives after they accompanied clients to an "adult entertainment club," according to an account in The Wall Street Journal. "It's not a question of morality, it's the disparity in the opportunity for those [females] who are excluded," a lawyer for a woman who sued Morgan Stanley for sex discrimination said.
Asked for comment on Varieur's suit, a lawyer for BIS, Michael P. Socarras, responded by email that the company had not seen the federal complaint and "therefore cannot and will not speculate as to its existence or contents." But he called an earlier complaint that Varieur filed with the federal Equal Employment Opportunity Commission "entirely without merit" and asserted that "the EEOC investigated the charge and dismissed it for lack of evidence."
The EEOC has not yet made a finding, the record shows. Having not completed its investigation in 180 days, it "closed" its case but issued Varieur a so-called right to sue letter. "That is completely different from a dismissal," says Varieur's attorney Glenn Stephens, a former investigations supervisor at the U.S. Department of Agriculture and senior counsel at the National Labor Relations Board. "A dismissal either happens at intake or if the investigation finds no evidence."
Socarras said he would comment further only on an off-the-record basis, which Newsweek declined. BIS Global's outside counsel, John Scalia (a son of the late, conservative Supreme Court justice Antonin Scalia) did not respond to requests for comment.
BIS Global was the "dorm room brainchild" of Philip Schmitz and fellow University of Maryland computer science students in 1999, according to the company website. Founded originally under the name Millennium Technology Group in Rockville, Maryland, the company says it "delivers secure, flexible, cost-effective hosting for business-critical applications—from corporate email and intranets to high-volume transaction oriented web services."
Varieur's lawsuit does not say what, if any, involvement the elder Schmitz, who also serves as BIS Global's general counsel, had with the incidents in question. The company employs between 11 and 50 people, according its LinkedIn page.
At the time of its startup, Joseph Schmitz was also chief executive officer and general counsel of the Prince Group, owner of the controversial military contractor company Blackwater USA.
In March, Trump named Schmitz as one of his five top foreign policy advisers, calling the group "a top-of-the-line team." Asked about his top criteria for selecting senior officials in a future Trump administration, the candidate recently listed "a great track record" along with "great competence, a love of what they're doing, how they are getting along with people."
"You need people who are truly, truly capable," Trump added in a September 15 CNBC interview with hedge fund manager John Paulson, "and I think so much has to do with past history, how they've done, how it's all worked out.… And," he said, "we can no longer be so politically correct" in selecting officials.
On that count, Schmitz seems a good fit for Trump, who has repeatedly warned of the dangers Muslims pose to the United States. In 2010, Schmitz co-authored a paper arguing that Sharia, i.e., Islamic law, is a "threat to America."
But complaints about his judgment and conduct have been surfacing since his tenure as the Defense Department's inspector general in the George W. Bush administration. He was questioned about his ties to lobbyists and accused of blocking investigations into officials tied to war contracts in Iraq and Afghanistan during his 2002–2005 tenure. A review of the allegations by the President's Council on Integrity & Efficiency exonerated him of any wrongdoing.
In August, two news organizations, McClatchy DC and Government Executive, a beltway insider publication, reported allegations depicting Schmitz as an anti-semite and Holocaust denier when he was inspector general. He strenuously denounced the allegations as lies, but they fed a perception, fanned by Trump critics, that the Republican candidate has not distanced himself from hate groups.
Then in May 2013, the CIA derailed an unauthorized, Saudi-financed effort by Schmitz to provide 70,000 Russian-produced assault rifles and 21 million rounds of ammunition to the Free Syrian Army, a U.S.-backed group fighting to overthrow Syrian President Bashar al-Assad. Schmitz told The Wall Street Journal that he was "just trying to be helpful to some people that our government supports."
Varieur's suit asks for a variety of financial remedies, including back pay she would have earned as a director, pay for the market value of lost stock options, compensation for about $44,000 worth of medical expenses and "compensatory damages" of $50,000, plus her attorney's fees.
Trump Foreign Policy Adviser's Firm Sued for Sex Discrimination, Harassment | U.S.