On Donald Trump, Former CIA Official Says He 'Struggled In Persuading The President To Recognize The Most Important Threats'
A retired senior CIA officer warned that President Donald Trump was more focused on "celebrity" and "headlines" when working with the intelligence agency, and often did not "recognize the most important threats."
Douglas London, who retired during Trump's tenure after a 34-year career in the CIA's Clandestine Service, penned the editorial published Wednesday for the news site Just Security. In his article, London, an adjunct associate professor at Georgetown University's Center for Security Studies, warned that the president was more focused on garnering attention than national security.
"When it comes to intelligence, like with so much else, President Donald Trump likes big names," the former intelligence officer wrote. "It's this focus on celebrity, headlines, and immediate gratification — versus substance, impact, and consequences — that so often motivates him."
He went on to explain that the president had repeatedly urged CIA operatives to pursue Hamza bin Laden, the son of Osama bin Laden, who masterminded the September 11 terrorist attacks and was killed under the administration of former President Barack Obama. London noted that the CIA had more serious threats on its radar, but was forced to divert resources to pursue Hamza bin Laden, even though he did not pose as significant of a risk.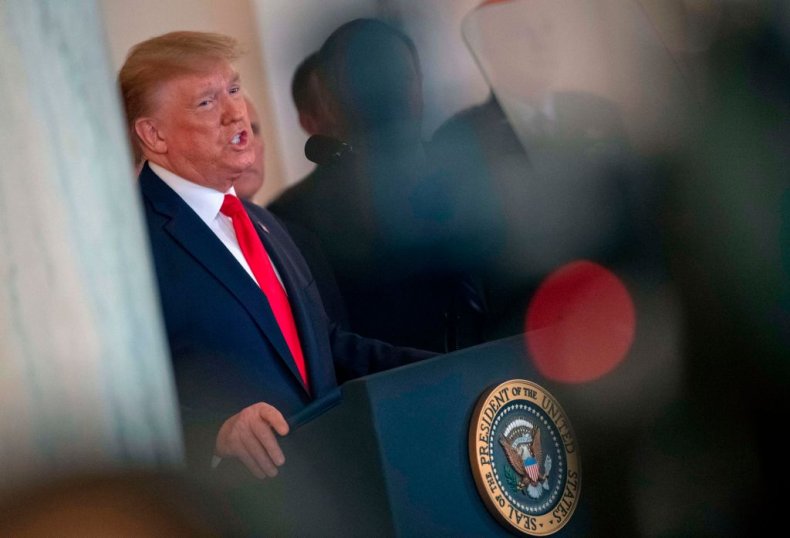 "My team and I often struggled in persuading the president to recognize the most important threats," London wrote.
Additionally, when it came to pursuing leaders of the militant extremist group the Islamic State (ISIS), the former CIA officer noted that Trump showed little interest in successful strikes against prominent targets that did not have widespread name recognition. He noted that the president's focus was on the group's leader, Abu Bakr al-Baghdadi.
Under Trump, the U.S. successfully carried out operations that led to the death of both Baghdadi and the younger Bin Laden. More recently, Trump has touted his decision to order a strike that killed Iran's top military commander Qassem Soleimani on January 3. The controversial decision led many lawmakers, including some Republicans, to strongly criticize the president and question the justification for taking out an official of a sovereign government.
London questioned reporting that suggested CIA director Gina Haspel had supported the president's decision. "It would be rather uncharacteristic and incongruous for her to endorse an action that the press similarly reported she advised would prompt Iran to unleash its ballistic missiles against the 5,000-plus U.S. troops deployed in Iraq," the retired officer noted.
Newsweek has reached out to the White House for comment on London's criticism.
While the successful U.S. operation that led to the death of Baghdadi was widely praised, by progressive and centrist Democrats, as well as Republicans, the decision to take out Soleimani has drawn a significant different reaction. Critics of Trump's decision have questioned the legality of the strike in addition to the administration's inconsistent narrative justifying the killing of the Iranian leader.
While Trump and his administration have repeatedly claimed that Soleimani was planning "imminent" attacks on Americans in the Middle East, Secretary of State Mike Pompeo said last week that he did not know "where" or "when" the strikes would occur. Many quickly pointed out that this did not meet the definition of "imminent."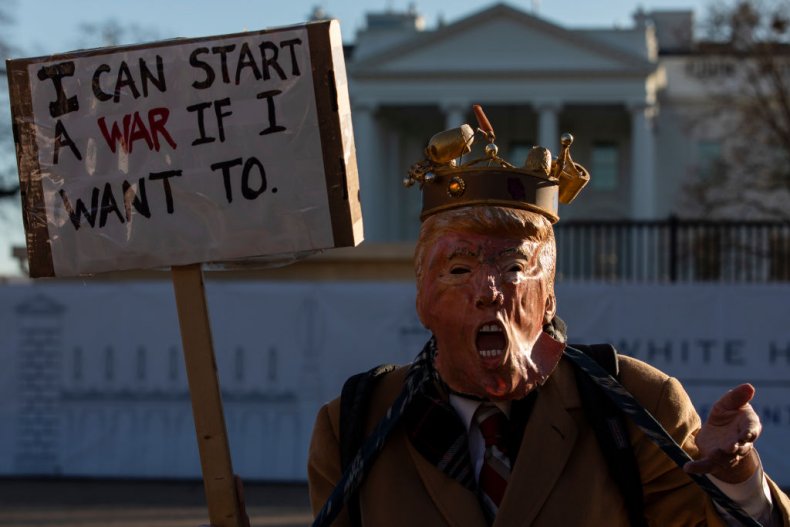 Trump then on Friday said he believed Soleimani would carry out attacks on four U.S. embassies. But on Sunday, his secretary of defense, Mark Esper, said he "didn't see" specific intelligence about embassy attacks. This week, Trump reasserted that the attack was "imminent," but then argued it "doesn't really matter" in a Twitter post.
While Republicans have largely stood behind the president, several have broken ranks with their GOP colleagues and endorsed Democratic legislation in the House and Senate to curb Trump's ability to carry out acts of war against Iran.
"Ours is not a system in which we can be taken into war by the executive, and it never should be," GOP Senator Mike Lee of Utah said in an interview with NPR last Thursday. He also stated that he would co-sponsor Senate legislation to block Trump from carrying out further attacks against Iran without congressional approval.
Recent polls have shown that the majority of Americans do not approve of Trump's handling of tensions with Iran, with a majority also believing the president's actions made the U.S. less safe. Relatedly, consumer confidence in the U.S. economy, among the president's supporters and critics, declined last week, according to Morning Consult data, as the tensions between Tehran and Washington flared.
"The president's decision to kill Soleimani reflects his propensity to play a good hand badly and respond from ego rather than pragmatism and the country's best interests," London argued.