Donald Trump's Favorite Fox News Gets 0 Emmys While CNN, MSNBC, Obama NBC Episode Win Awards
President Donald Trump's favorite media outlet, Fox News, went home empty-handed at the 39th Annual News and Documentary Emmys on Monday, whereas his least favorites—CNN, MSNBC and NBC, with an episode on ex-President Barack Obama no less—all took home awards.
While Fox News won no awards for 2018, CNN, which Trump regularly calls "fake news," nabbed three Emmys, CNN International got three, NBC got two, The New York Times got two, MSNBC got one and ABC got one, among other recipients. PBS took the biggest haul, with seven Emmys.
NBC won in the outstanding edited interview category for its Dateline NBC episode, "Barack Obama: The Reality of Hope," in which Trump's predecessor revealed how he felt he delivered on the promises he made at the start of his presidency and his hope for the U.S. after his tenure.
Vice News Tonight on HBO won in the categories of outstanding coverage of a breaking news story in a newscast, best story in a newscast, outstanding video journalism and outstanding editing for its episode "Charlottesville: Race and Terror," which went behind the scenes with white nationalist leaders and counter-protesters. Trump was widely criticized for blaming both sides for the deadly rally.
CNN won in the outstanding live interview category for a segment by Anderson Cooper, who regularly rips Trump, on the Sutherland Springs church mass shooting.
MSNBC won in the outstanding news discussion and analysis category for All In with Chris Hayes who spent a year delving into violence in Chicago.
Trump was the subject of one winning entry but not in a way he might have hoped. Univison Noticias Digital won in the outstanding feature story in Spanish category for a piece on the American city with the highest proportion of undocumented immigrants and fear of Trump there.
"I'm particularly proud to be here for tonight's celebration of News and Documentaries, given the intersection at which we find journalism and political discourse these days," National Academy of Television Arts & Sciences chairman Terry O'Reilly said at the awards ceremony. "At a time when some seek to perpetuate politically useful falsehoods in the furtherance of partisan ideology, we have never needed our nation's journalists and documentarians more."
Trump has not given much credence to Emmys in the past. Last September, after the awards show included humor at his expense, he tweeted: "I was saddened to see how bad the ratings were on the Emmys last night - the worst ever. Smartest people of them all are the 'DEPLORABLES.'"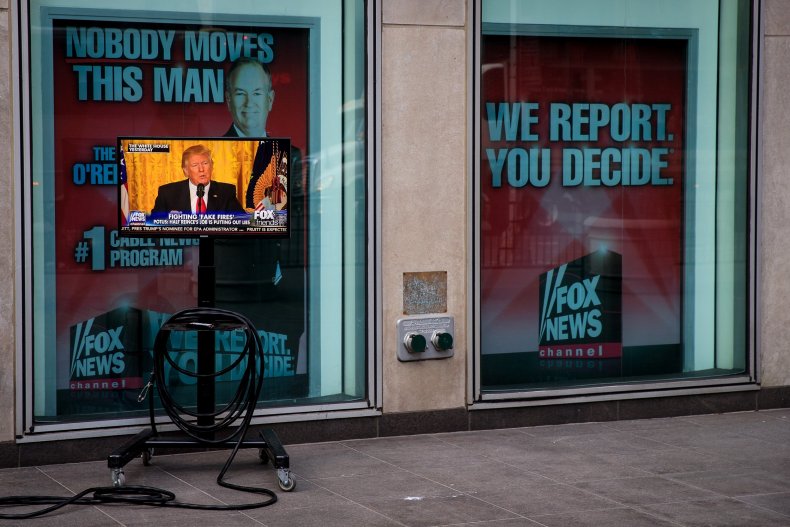 Though Fox News won no Emmys on Monday, it retains some of the highest ratings. The channel's Hannity show, hosted by Trump's friend Sean Hannity, was the number one cable news program for the fifth consecutive month in August.