Donald Trump Lists All of His 'Friends' at Fox News During Iowa Rally: 'We Have a Lot of Good People'
President Donald Trump took a detour during his campaign rally in Iowa on Tuesday to list all of his "great friends" at Fox News. Trump, who has received notably positive coverage from many of the personalities at the cable news network, was starting to make a point about Democrats during his latest pre-midterm rally when he veered off course to credit a number of Fox News hosts.
"Now the Democrats, or as some people would say 'the dims,'" Trump began. "'The dims,' who says that? Lou Dobbs, the great Lou Dobbs, he says that, right? Sean Hannity says that. 'The dims.' Sean Hannity. Judge Jeanine [Pirro] says that, doesn't she? Laura [Ingraham]. Laura, how good has Laura been, right? We got a lot of good people. Do we like Tucker [Carlson]? I like Tucker. How about Steve Doocey, how about Ainsley [Earhardt], Brian [Kilmeade]? We got a lot of great friends."
Doocey, Earhardt and Kilmeade host Fox News' morning show, Fox & Friends, which Trump frequently pays tribute to on Twitter and regularly tweets about while watching. Earlier on Tuesday, Trump tweeted a confusing comment about paid protesters against Brett Kavanaugh, seemingly referencing an interview that appeared on the show just minutes earlier.
Dobbs, who hosts a nightly show on Fox Business, has also had an immediate influence on Trump. After Dobbs highlighted an unsubstantiated claim about Google search results being biased against the president, Trump tweeted about it, prompting his chief economic adviser Larry Kudlow to say that they were investigating.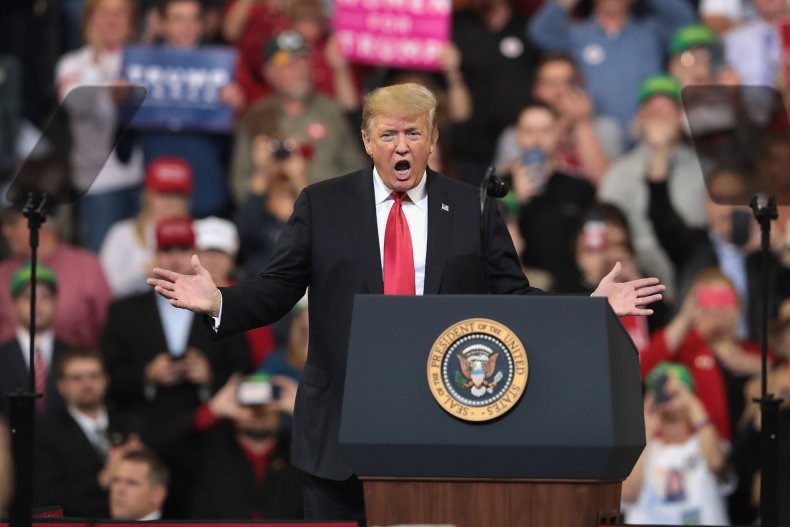 Carlson, who has parroted a number of white nationalist talking points on his show and has been hailed by those who hold such views, has also been a fierce defender of Trump. In August, after Carlson highlighted a white nationalist conspiracy theory about large numbers of white farmers being murdered in South Africa, Trump told his Secretary of State Mike Pompeo to investigate.
Trump's closest relationship with a Fox News personality, however, is reported to be with Hannity. So frequent is the communication between the pair that one Trump adviser told The Washington Post earlier this year that Hannity "basically has a desk in the place." Some White House aides reportedly even refer to Hannity as the unofficial chief of staff.
Trump's relationship with Fox News grew closer still when former network executive Bill Shine was appointed as White House communications director in July.
But Trump is not getting as much attention from Fox News as he once enjoyed. As their frequency have increased ahead of the midterms, in the past week Fox News has stopped devoting key chunks of its primetime schedule to Trump's rallies.