Donald Trump Too Busy Watching Fox News to Contact Nancy Pelosi About Ending Government Shutdown, Senator Suggests
President Donald Trump may have been too busy watching Fox News to contact Democratic House Minority Leader Nancy Pelosi in order to try to end a government shutdown, one Democratic senator quipped Saturday. The shutdown has now entered its second week as Trump continues to hold out for billions of dollars of funding for his border wall, something which Democrats have insisted they will not provide.
Trump has continued to make a big play on Twitter of the fact that he has remained in Washington, rather than vacationing in Florida, since the shutdown began on December 21. Yet Trump, nor Vice President Mike Pence or acting chief of staff Mick Mulvaney, has not reached out to Pelosi since December 11, according to Politico on Saturday.
Responding to that report, Democratic Senator Sheldon Whitehouse, of Rhode Island, suggested that Trump may have been otherwise occupied watching his favorite cable news morning show.
"Wow. Too busy with @foxandfriends?" Whitehouse pondered.
Trump has frequently called into the daily Fox News show and regularly tweets reactions to segments and interviews that appear on the program.
Trump was certainly watching Fox & Friends on Friday.
"Thank you to Sean Parnell for the nice comments on @foxandfriends about the troops wonderful reaction to Melania and I in Iraq and Germany. Great things are happening!" he tweeted, referencing acclaim for his one trip away from the White House during the shutdown, when he visited an active war zone for the first time as president.
Trump's last discussion with Pelosi came during a heated meeting in front of the cameras alongside Senate Minority Leader Chuck Schumer and a silent Pence. An agitated Trump insisted during the tense exchange in front of the cameras that he would be proud to own a shutdown but has since changed tack and attempted to place responsibility firmly at the doors of Democrats.
"I am in the White House waiting for the Democrats to come on over and make a deal on Border Security," Trump tweeted on Saturday morning. "From what I hear, they are spending so much time on Presidential Harassment that they have little time left for things like stopping crime and our military!"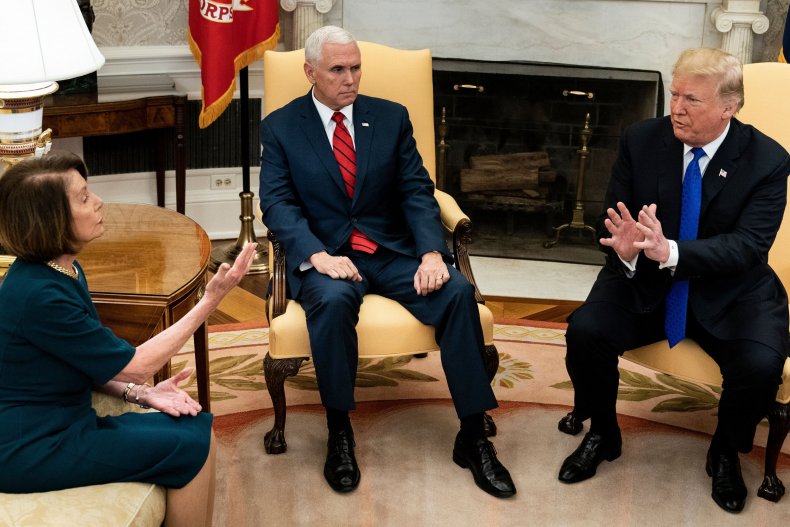 The president has demanded $5 billion to fund a wall along the southern border, despite promising during his campaign that it would be paid for by Mexico.
Attempting to ratchet up the pressure on Democrats Saturday, Trump apportioned blame for the recent deaths of two migrant children while in the custody of U.S. Border Patrol.
"Any deaths of children or others at the Border are strictly the fault of the Democrats and their pathetic immigration policies that allow people to make the long trek thinking they can enter our country illegally. They can't. If we had a Wall, they wouldn't even try!" Trump tweeted. "The two children in question were very sick before they were given over to Border Patrol. The father of the young girl said it was not their fault, he hadn't given her water in days. Border Patrol needs the Wall and it will all end. They are working so hard & getting so little credit!"
The father of an 8-year-old Guatemalan boy who died in U.S. government custody has said that his child was not sick before being detained, according to the Associated Press.
Trump's prospects for getting what he wants from the shutdown appear to be diminishing by the day. On January 3, Democrats will take control of the House of Representatives, with Pelosi set to be voted in as speaker.