Donald Trump Rages Against 'Grating and Unendurable' Fox News Host
Donald Trump has lashed out at Fox News' Jessica Tarlov and accused her of presenting "knowingly wrong'' information hours after she criticized the former president on air.
In a post of Truth Social, Trump accused Tarlov, a co-host of Fox News' The Five, of having a "grating and unendurable" voice while giving a review of the channel's daily weekday show.
The attacks towards Tarlov, who offers a more liberal and opposing voice on the conservative news network, arrived after she criticized Trump during Thursday's edition of The Five for keeping classified materials at his Mar-a-Lago resort, and inaccurately claimed the former president is "personally responsible for 30 percent" of the current national debt.
The actual figure is around low to mid 20 percent, depending on how and when you measure the total debt.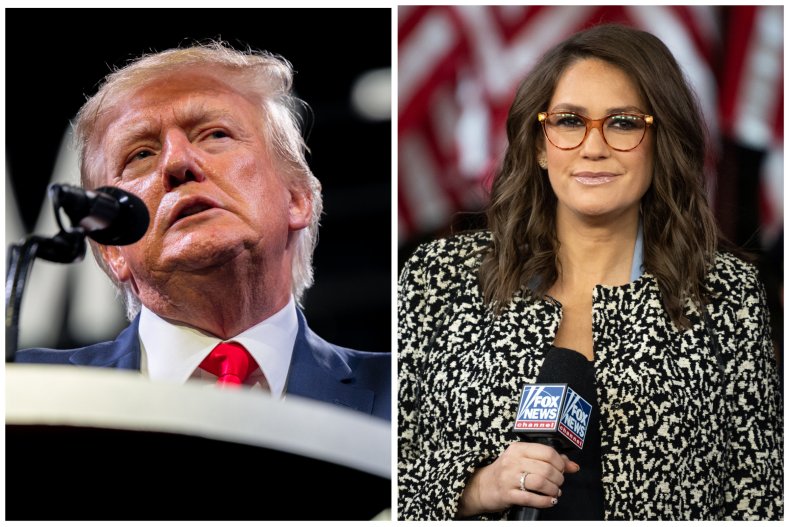 "I really like The Five on FoxNews, especially the hosts, with the exception of wacky Jessica Tarlov, who is absolutely terrible," Trump said.
"Her facts are knowingly wrong, her jittery presentation is horrendous and, forgive me, her VOICE is grating and unendurable. Juan Williams was terrible, but better than her. I know the show is doing well, but no thanks to Jessica.
"I find her impossible to take in large doses, & put out this 'REVIEW' because it is important to expose Fake News, & Fake People!"
The criticism arrived after Tarlov got into a heated disagreement with fellow The Five co-host Jeanine Pirro during a discussion about the appearance of classified materials at Trump's Florida resort and President Joe Biden's Delaware home.
Tarlov suggested that one of the key differences between the two investigations is that Trump risked top secret documents being exposed, seeing as he frequently hosts parties and events at his Florida estate.
"Mar-a-Lago is a place where there are people being entertained. There are parties there every single night, and that was cause for concern about how things were being kept," Tarlov said.
"I understand that Hunter Biden is a big party animal, but it's not the same thing. President Trump is in a tuxedo all the time, entertaining tons of foreign nationals."
Pirro then asked Tarlov if she had even been to Mar-a-Lago. Tarlov said she hasn't because she's "not invited," to which Pirro replied "so then don't assume what you don't know."
Pirro then told Tarlov "don't point your finger" as the host continued to argue her case.
In a September 2022 interview with the Los Angeles Times, Tarlov said that the interruptions and arguments from her co-hosts on The Five are part of the program's appeal.
"The point of the show is that it mimics real life," Tarlov said. "And when you're talking to people in your life, whether it's family or friends, especially people with different points of views, all aspects of your personality are heaped into it.
"I find it funny," she said. "As long as I can ensure that I am not actually thrown off and don't get to finish my point, I like the back-and-forth."
Fox News has been contacted for comment.