In Trump's Defense, Fox News Says It Would Meet With the Devil for Opposition Research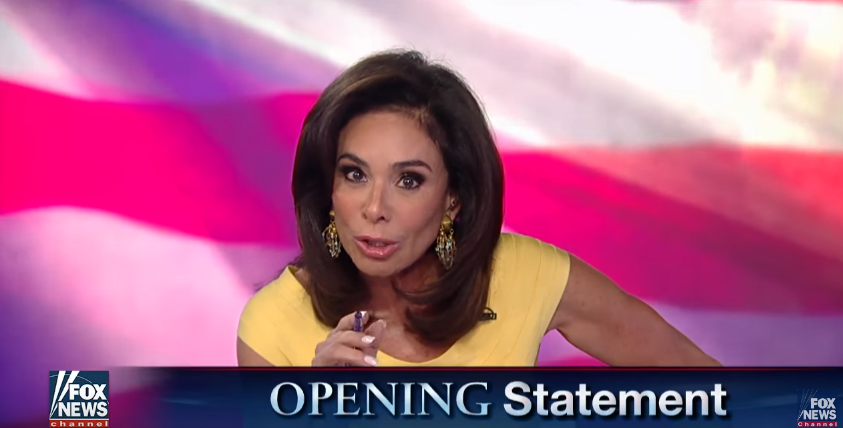 As President Donald Trump's White House battles against allegations of obstruction and collusion, Fox News host Judge Jeanine Pirro has remained steadfastly loyal to the president and first family. Occasionally, she has even gone as far as putting her own feet to the fire with bizarre excuses for new developments in the Russian controversy consuming Washington.
Her commitment to see this scandal through alongside the Trumps hasn't wavered after the president's son tweeted screenshots last week of his emails seeking Russian dirt on Hillary Clinton, his father's Democratic opponent in the presidential election.
Related: Here's how Trump could actually be impeached
The Fox News personality rebuked accusations that Donald Trump Jr. could be guilty of collusion and treason, claiming she—a former New York state district attorney—would go so far as to meet with the devil to gain opposition research on a political opponent.
"Donald Trump Jr., a political neophyte, gets an email from a friend saying he has information that would incriminate Hillary in her dealings with Russia, that would be useful to his then-candidate father running for president," Pirro said Saturday night during her show, Justice With Judge Jeanine. "For you geniuses out there, there can be no treason since we're not at war with Russia!"
"As someone who's run for office five times, if the devil called me and said he wanted to set up a meeting to give me opposition research on my opponent I'd be on the first trolley to hell to get it. And any politician who tells you otherwise is a bald-faced liar."
That defense on Fox News arrived after multiple former White House ethics chiefs (under Republican and Democratic presidents) spoke out on the latest evidence supporting the Trump campaign's suspected collusion with the Kremlin. Former President George W. Bush's ethics tsar, Richard Painter, described the developments as "treasonous," suggesting Trump Jr. and others face prosecution for their actions.
"Our elections are supposed to be decided by the American people without foreign interference," Painter said Wednesday in a BBC interview. "Someone who works with a foreign government in order to win an election here is really viewed as having betrayed their country. It is treason, whether it's prosecuted under a treason statute or whether we use other statutes. We usually use other statutes."