Donald Trump Is so Angry With Jeff Sessions He Un-Muted Fox News When an Aide Brought up His Name: Report
President Donald Trump's vocal distaste for Attorney General Jeff Sessions has been well known for over a year now. But the president's apparent contempt for Sessions has reportedly reached a point where Trump would prefer to watch Fox News rather than even hear the former Alabama U.S. senator's name.
Trump reportedly un-muted a television playing Fox News after an aide brought up Sessions during the president's trip back to the White House aboard Air Force One Thursday, following his short trump to Texas, the Associated Press reported Wednesday citing an unnamed person trip with the exchange.
The president was apparently in good spirits at the time after holding a fundraiser in the Lone Star State and receiving a positive jobs report from top economic adviser Larry Kudlow. But Sessions's name soured Trump's mood, according to the report.
Trump reportedly dismissed the staffer and returned to watching his preferred cable news outlet.
The president has repeatedly made it known the degree to which Sessions has angered him, stepping up his attacks again in recent days. The attorney general's decision to recuse himself in March of last year from any Justice Department investigation involving Russia's interference in the 2016 election has led Trump to publicly, and repeatedly, bash the top law enforcement official in the United States.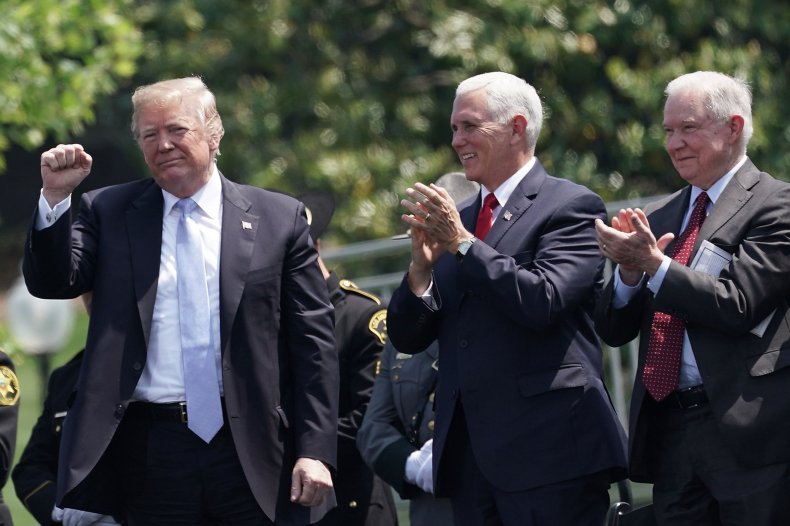 Deriding Sessions's decision, Trump has stated that he would never have appointed the long-time Republican lawmaker to head up the nation's main law enforcement arm if he had known Session would recuse himself. On Tuesday, Trump claimed Sessions, who endorsed the president's campaign and helped his transition team, "knew better than most that there was No Collusion!"
"The Russian Witch Hunt Hoax continues, all because Jeff Sessions didn't tell me he was going to recuse himself...I would have quickly picked someone else. So much time and money wasted, so many lives ruined...and Sessions knew better than most that there was No Collusion!" the president said.
The AP's report delved into Trump's eagerness for the release of the Justice Department Inspector General's report over the FBI's, and former director James Comey's, handling of Hillary Clinton's private email server investigation. The president and his allies are hoping to use the government watchdog's report as a means to discredit both Comey and possibly Special Counsel Robert Mueller's probe of Russia's meddling.
The president expressed impatience Tuesday that the inspector general's report had yet to be released.
"What is taking so long with the Inspector General's Report on Crooked Hillary and Slippery James Comey. Numerous delays. Hope Report is not being changed and made weaker! There are so many horrible things to tell, the public has the right to know. Transparency!" Trump tweeted.