French Dislike Donald Trump Even More Than Putin, Xi and Merkel, Poll Finds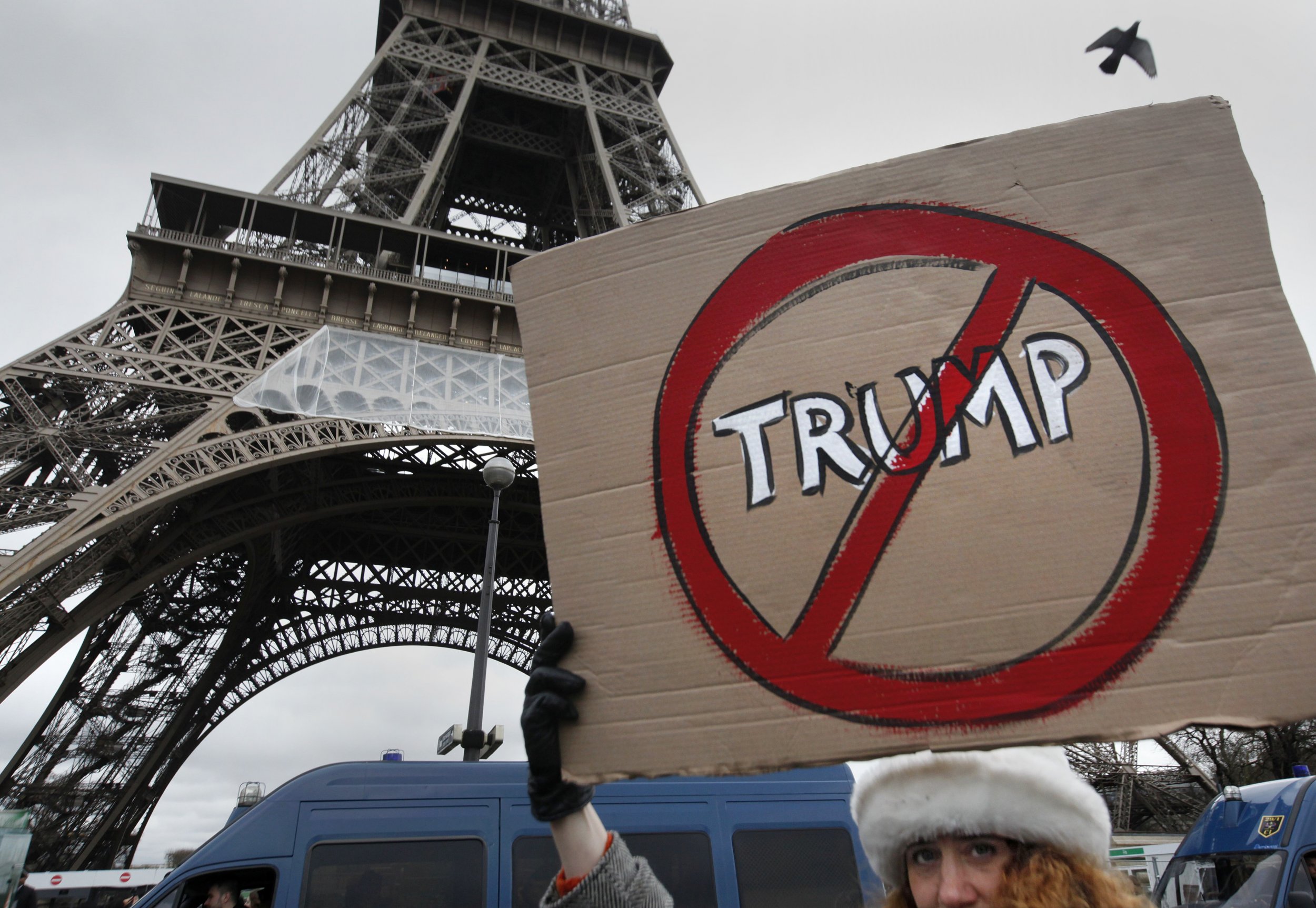 While President Donald Trump isn't exactly well liked in the United States, he's viewed even more unfavorably in France, a new poll released Thursday found.
Some 82 percent of French people view him unfavorably, more than any other politician included in the Suffolk University poll. About 13 percent view Trump favorably and 5 percent were undecided. Some 0.27 percent—or three of the 1,094 people surveyed—had never heard of Trump (bless their hearts).
The poll found Trump was loathed more than Russian President Vladimir Putin (71 percent unfavorable), Chinese President Xi Jinping (43 percent unfavorable) and German Chancellor Angela Merkel, who was viewed unfavorably by just 23 percent of respondents and viewed favorably by 70 percent.
The French also aren't particularly pleased with their options for president in the midst of a key election that's being watched carefully by the world at large. Emmanuel Macron, a centrist, establishment candidate, was viewed favorably by about 42 percent of respondents and unfavorably by 52 percent. His opponent in the second round of voting, far-right nationalist Marine Le Pen, was viewed favorably by just 27 percent of respondents and unfavorably by 69 percent of respondents.
Trump has expressed support for Le Pen in the election, while not giving an actual endorsement, which is something typically avoided by sitting presidents. "She's the strongest on borders, and she's the strongest on what's been going on in France," Trump told the Associated Press before the first round of voting last month. "Whoever is the toughest on radical Islamic terrorism, and whoever is the toughest at the borders, will do well in the election."
Former President Barack Obama—who was largely viewed favorably in France toward the end of his time in office—meanwhile, endorsed Macron in a video Thursday.
"[Macron] has stood up for liberal values, he put forward a vision for the important role that France plays in Europe and around the world," Obama said. "And he is committed to a better future for the French people. He appeals to people's hopes and not their fears."
The Suffolk survey polled 1,094 French voters from April 28 through May 2 and had a margin of error of three percentage points.