What Donald Trump Learned From His Alcoholic Brother Fred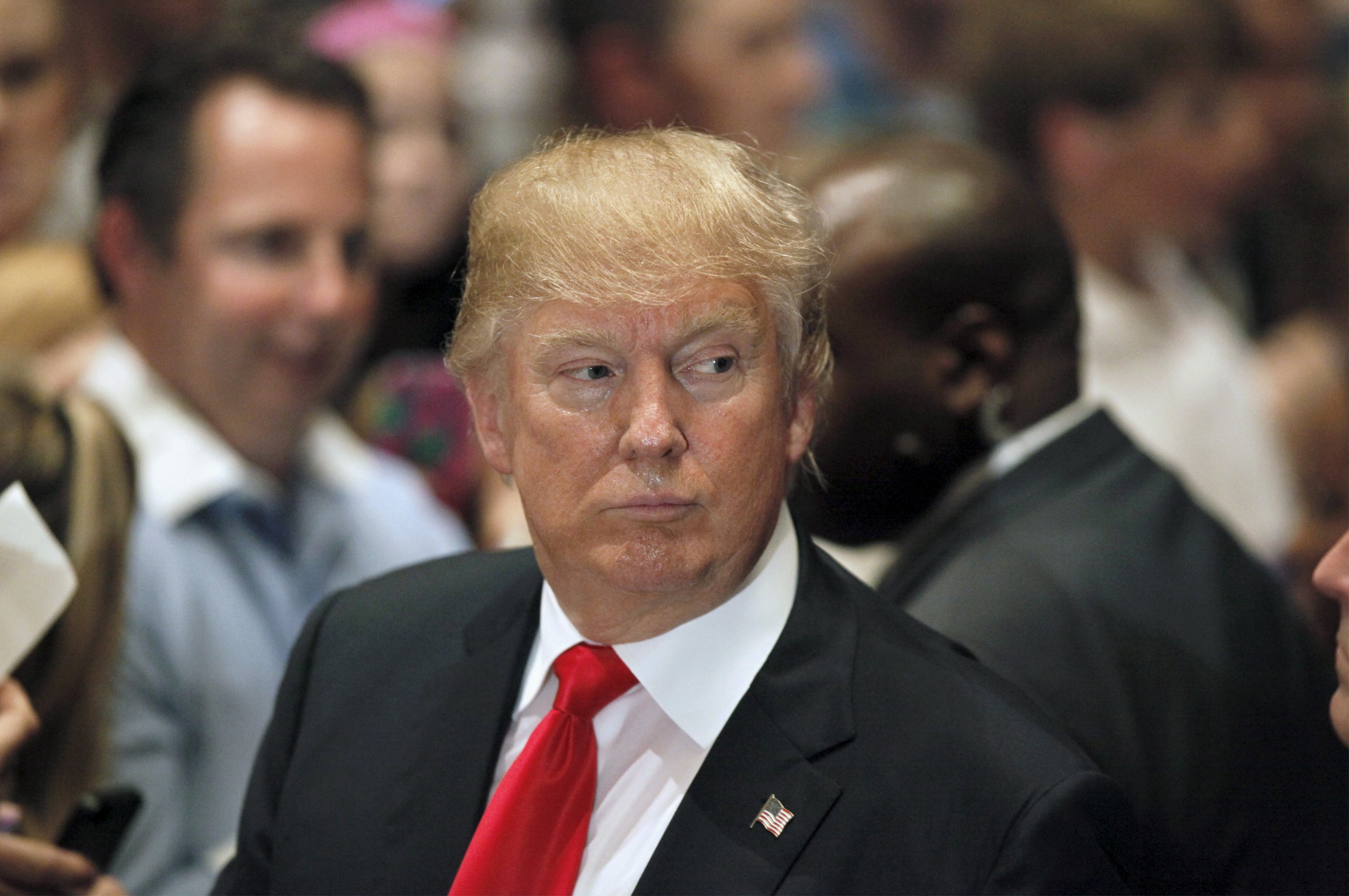 We all know family drunks—red-nosed, slurring and a little bit out of control. But in an alcoholic family, the nondrinkers are sometimes as irrational as the drinkers.
After Bill Wilson, the co-founder of Alcoholics Anonymous, stopped drinking, his wife, Lois. found him so annoying that she threw a shoe at his head. "This unexpected display of anger surprised me even more than it did him," she writes in her memoir.
The annoying behavior of the nondrinker from a drinking family is flagrantly on display these days in the person of Republican candidate Donald Trump.
Trump's adored older brother Fred was one of those heart-breaking men who could not stop drinking. Fred, Trump has said, was, "the best guy. He just had everything."
But Fred was an alcoholic. When he went off to college, according to his younger brother, he started to drink too much. "He would tell me, 'Don't ever drink. Don't ever drink.'"
Fred Trump could not take his own advice. He died at 42. For Fred's kid brother Donald, it was a defining moment. "Because you're so closely tied to your sibling, it's not always easy to remain detached and impassive," write Patricia Olsen and Dr. Petros Levounis in their book Sober Siblings, in which they urge the nondrinkers in a drinking family to get treatment.
Untreated, teetotalers like the Diet Coke–swilling Donald are often control freaks, hyper-competent because somebody has to get things done in an alcoholic household, shockingly honest and occasionally suffused with rage—all scars from the family tragedies that have led to their not drinking.
"The family is also directly affected by the alcoholic's behavior," writes Janet Woititz in Adult Children of Alcoholics, her classic book about the alcoholic family. "Unable, without help, to counteract this, the family members get caught up in the consequences of the illness and become emotionally ill themselves."
One of the horrors of alcoholism is the distortion and damage it can visit on the innocent—those who don't drink. "Years of living with an alcoholic is almost sure to make any wife or child neurotic," explains the book Alcoholics Anonymous. "The entire family is to some extent, ill."
Caretaker—the responsible one—hero—the one whose success distracts from the family problem—scapegoat—the one who speaks the truth others are afraid to mention—cheerleader and lost child: An alcoholic family creates a group of archetypes, according to therapist Sharon Wegsheider, as well as Woititz and others.
Donald Trump plays at least four of these roles. He is a proud patriarch who looks after his children and grandchildren; he gives them jobs, he urges them not to drink. His success, especially in the last few months, has obsessed the news cycle—his brother's death is forgotten.
Trump has "opened up" to reporters about Fred's death from alcoholism, but the actual cause of death is not on the record. (In fact, no one dies of alcoholism, they die from alcohol poisoning or liver disease, heart attacks or car accidents or suicide.) Fred Trump's cause of death is never mentioned by his brother.
Most of all, Trump is the scapegoat, a man who "tells it like it is," as his followers often say admiringly. Although drinkers often say what they think—in vino veritas—their rule-breaking family members are even more likely to say what they think.
Like alcoholism, the characteristics of an alcoholic family member do not respect circumstances. Dr. A. Thomas McClellan, the former deputy director of the White House Office of National Drug Control Policy (ONDCP), is a classic nondrinker in a drinking family. "I can't stand the idea of giving up control," he tells me in a conversation about the effects on drinkers of their nondrinking family members.
McLellan retired from government, he explains, partially because of his rage levels; things which were typical of government work—bureaucracy and compromise—made him furious.
Trump is not alone in his determination not to be like his drinking family member. Many American leaders from Alexander Hamilton to John Quincy Adams to George W. Bush have been changed as a result of the tragedies drinking has caused them and their families. But the effect of no liquor is as marked as the effect of too much liquor.
Passionate teetotaling temperance is as much a part of American history as intemperate drinking. (The word teetotal is a stuttered version of total, as in total abstinence.) Susan B. Anthony and Elizabeth Cady Stanton, for instance, started out as temperance crusaders. Phineas T. Barnum was so hooked on temperance that he offered to pay New York City taxes, send every child to school and present every family with a library and other goodies if the city would declare prohibition. The city was not interested.
In my father John Cheever's drinking days, he judged people's character by the strength of the drinks they mixed. Someone who produced watery Manhattans or Martinis with too much Vermouth was hardly worth talking to.
In a way, he was right. One way of understanding a man is by understanding his attitude toward drinking. It's a useful way to look at history. So let's raise a glass—of water, Diet Coke, wine or whiskey—to understanding American politicians through their drinking habits.
Susan Cheever is the author of Drinking in America: Our Secret History. Her numerous other books include E.E. Cummings. A Life, My Name Is Bill: Bill Wilson—His Life and the Creation of Alcoholics Anonymous, Louisa May Alcott A Personal Biography, American Bloomsbury: Louisa May Alcott, Ralph Waldo Emerson, Margaret Fuller, Nathaniel Hawthorne and Henry David Thoreau, Desire: Where Sex Meets Addiction, memoirs As Good As I Could Be, Home Before Dark, Note Found in a Bottle and Treetops, as well as novels Elizabeth Cole, Doctors and Women, The Cage, A Handsome Man and Looking for Work.