He's Back! Donald Trump's Full State Visit to the U.K. Could Happen Sooner Than You Think
President Donald Trump's recent visit to the U.K. was almost impossible to ignore, given that he managed to insult the queen, slammed Prime Minister Theresa May's Brexit plans and was greeted by thousands of protesters and a giant "Trump baby" blimp in London.
But it seems all the excitement wasn't enough for the president. U.S. Ambassador to the U.K. Woody Johnson is suggesting Trump could return to the U.K. for a full state visit next spring or even sooner.
Speaking on Channel 4's "When Trump Came to Town: Inside the American Embassy," Johnson said another visit could soon be in the cards. "Well, it's hard to know, but well, yeah, I mean a state visit next spring would be, I think, kind of the next step on his visits. But he might visit before that, who knows?" he said.
"I think everybody in this embassy saw this as a great honor to actually be around and plan for the president's first visit. And I think we did it, and with flying colors. And the president left accomplishing, I think, what he wanted to accomplish," Johnson added.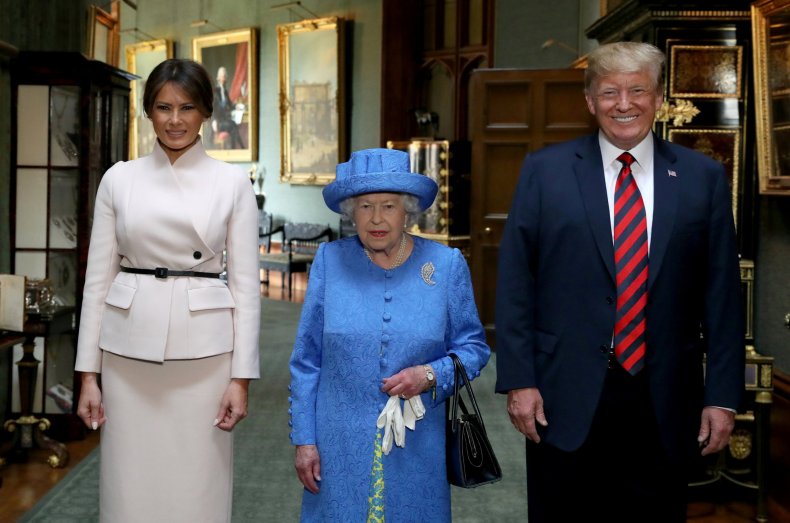 The president's eventful trip to the U.K. was a working visit rather than a full state visit—meaning he was in the country for a shorter length of time and missed out on some of the pomp and circumstance afforded to world leaders on such an occasion.
The president certainly made his time in Britain count, He dominated the headlines after he suggested in an exclusive interview with British tabloid The Sun that May had ignored his advice on Brexit, and that her Brexit white paper proposals could threaten trade with the U.S.
Trump also managed to flout royal protocol and walked ahead of Queen Elizabeth II when he visited Windsor Castle to meet Her Majesty and inspect the Guard of Honor.
Later, the president wrongly claimed that the queen had inspected the Guard of Honor for the first time in 70 years—appearing to forget the queen has not been on the throne for that long.
"We met with the queen, who is absolutely a terrific person, where she reviewed her Honor Guard for the first time in 70 years, they tell me," Trump told reporters at the White House.
He added, "We walked in front of the Honor Guard, and that was very inspiring to see and be with her. And I think the relationship, I can truly say, is a good one. But she was very, very inspiring indeed."
A full state visit would see Trump spend more time with the queen than he did this July. We imagine she can hardly wait.