After New York officials certified the presidential election results in the state, New York City saw a 4.4-point increase in support for President Donald Trump in the 2020 election, compared with the 2016 race, according to data from the New York State Board of Elections.
City ballots cast for Trump increased from 18.2 percent in 2016 to 22.6 percent in 2020 on the Republican and Conservative Party lines.
Trump, who was born in Queens and lived in Manhattan before changing his primary residency to Florida's Palm Beach last year, gained traction among voters in four of the five boroughs during the 2020 election: Manhattan, Brooklyn, Queens and the Bronx. He remained relatively steady in Republican-led Staten Island, although the number of ballots cast for him decreased by approximately 1 percent.
Meanwhile, there was a 3.4-point decrease on the Democratic and Working Families Party lines, with President-elect Joe Biden receiving 75.7 percent of city ballots, compared with Democratic nominee Hillary Clinton's 79.1 percent of city votes in 2016.
The Bronx saw the steepest increase in support for Trump, going from just 9.4 percent in 2016 to 15.7 percent in 2020, followed by Queens with 21.8 percent in 2016 versus 26.8 percent this year.
Manhattan's support for Trump grew by 2.1 points this year, compared with 2016, while Brooklyn went up by 4.5 points.
New York state slightly favored Biden this year over Clinton in 2016—60.9 percent versus 59.0 percent—while support for Trump decreased by about 1 point, despite a large number of red counties throughout upstate New York and Suffolk County on Long Island.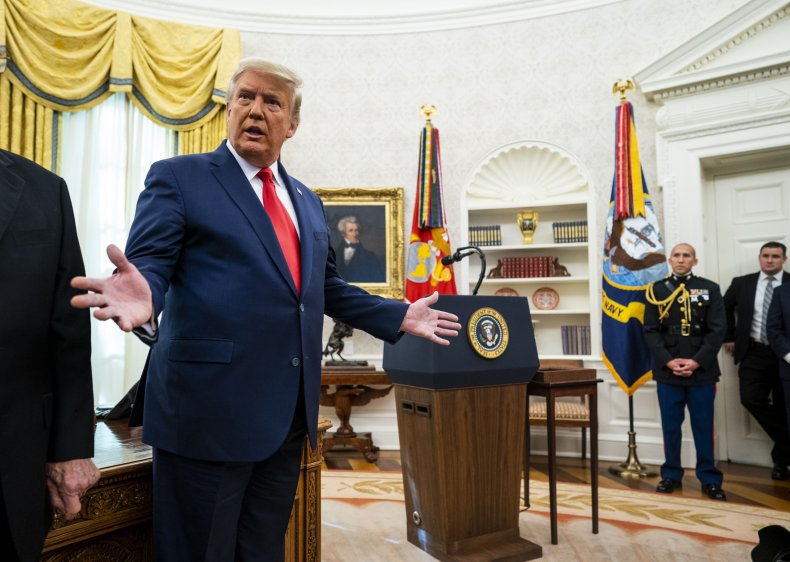 A variety of factors could have contributed to a slightly larger voter turnout for Trump in 2020, although the lack of reliable and detailed exit polls makes it difficult to determine the exact cause. Trump's national numbers proved strong among nonwhite voters throughout the United States, allowing for the analysis that minority groups in New York City may have favored Trump more than they did in the last presidential election.
Additionally, Hasidic neighborhoods in Brooklyn voted overwhelmingly for Trump in 2016, and that trend appeared to continue in 2020, according to a map of NYC's voting precincts for this year's election.
City Councilman Joe Borelli, a Republican from Staten Island and co-chair of the Trump campaign in New York, told NY1 that the difference may stem from certain voters flipping to Trump during his presidency.
"Donald Trump picked up more voters in different constituencies than we would expect. It wasn't just the embassy that moved to Jerusalem. I think a lot of Jews were moved from the Democratic Party to the Republican Party under Donald Trump," Borelli said. "Additionally, you see a lot of labor, you see a lot of daylight now between the members of labor organizations and where their leadership seems to go in terms of electoral politics."
Bronx Republican Party Chairman Michael Rendino said that the voter turnout and increase in voter registration was a large factor in the growth of support for Trump throughout the city.
"We've increased our voter registration 18 percent in four years, which is phenomenal," Rendino told NY1. He added that Trump appeared to gain support from the Latino and Bengali communities in the Bronx.
On par with the increase in voter turnout nationwide, approximately 307,000 more New Yorkers cast their ballots in this year's general election than they did in 2016, pushing the total number of voters in the city to almost 3,067,000. Almost 1.1 million New Yorkers chose to vote early, and 660,000 sent absentee ballots.
While Biden holds the record for the most number of ballots cast for a presidential candidate in history, he and Vice President-elect Kamala Harris gained approximately 5.2 million votes throughout the state and 2.3 million votes in New York City alone. Trump and Vice President Mike Pence gained 3.2 million votes in the state and about 690,000 in the city.