Donald Trump Rails Against Gary Cohn: 'I Could Tell Stories About Him Like You Couldn't Believe'
Calling in to his favorite morning news show, Fox & Friends, to give a lengthy phone interview Thursday morning, President Donald Trump left no topics off the table. Everything from tariffs to the stock market to reports he wants to fire and replace Attorney General Jeff Sessions was discussed.
One of Trump's targets during the call was the critical coverage of his presidency. He made the unsubstantiated claim that many anonymous sources in news articles and books simply don't exist—singling out the bombshell New York Times op-ed penned by a senior member of his administration—while also speculating that his former chief economic adviser Gary Cohn could have been a real anonymous source for Bob Woodward's recent book about the Trump White House.
"They say 'sources say'…. There are no sources. They make it up. They're like novelists. There are no sources," Trump said. "One of the things I have done is I've educated the public as to the dishonesty of the 'fake news' media. You have a big percentage of the media that way."
Trump said he "wouldn't be surprised" if the Times story was falsified. "It could have been The New York Times who wrote it, to be honest. They're a very dishonest paper," the president said. "It probably wasn't, but it could have been."
The president also questioned the accuracy of Woodward's Fear: Trump in the White House, which gave an insider look at the administration. "But I will say you have some incredible people in your profession," said Trump. "Some of these books that are written, they don't have sources for these quotes. They make them up. They literally will make up a quote and say it's a source, and it's disgusting."
There is no evidence to support the president's claim that Woodward's book, the Times article or the vast majority of other reports that use anonymous sources are fake and concocted by their respective publications.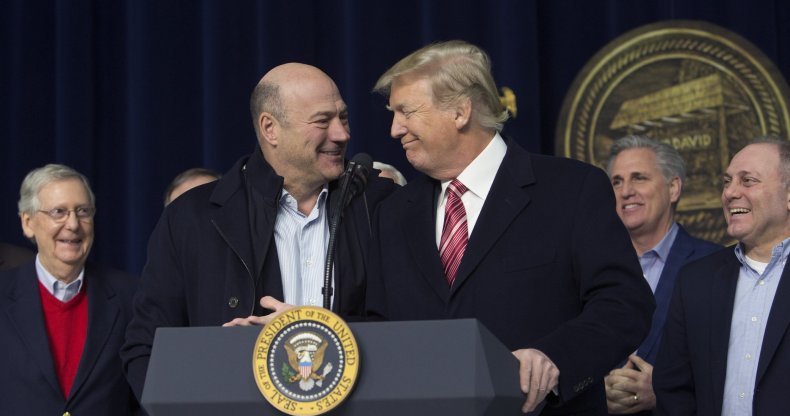 Fox & Friends host Brian Kilmeade suggested two of Woodward's sources could have been Cohn and former White House staff secretary Rob Porter. Trump seemed to agree with that theory.
"I was very good to both of them. It could have been [them], a lot of people have said that," Trump said. "Gary Cohn, I could tell stories about him like you couldn't believe. Although he issued a statement that he oh, jeez, has great respect for the administration and etc., etc., but what does that mean?"
Trump has become known for responding to critical news coverage by calling it "fake news." He frequently villainizes the media and uses the term at rallies to draw cheers from his supporters.
"I think a lot of leaks are not leaks. They're made up by newspapers," Trump said. "The media is very dishonest, but Fox & Friends is excluded, OK. I won't exclude Fox totally, but I will exclude Fox & Friends. The media is very, very dishonest, beyond anything that anybody can understand."
Both the Woodward book and the anonymous Times op-ed offered revealed reports of chaos, unrest and resistance from within the Trump administration and its officials.
Woodward's 448-page book cited numerous current and former White House and administration staff members who questioned the president's actions and his intelligence. Woodward's book quoted anonymous sources, but it also quoted named officials like Chief of Staff John Kelly, Trump's former lawyer John Dowd and Defense Secretary Jim Mattis, who reportedly referred to Trump as an "idiot" and a "goddamn dumbbell," and said he "acted like—and had the understanding of—'a fifth- or sixth-grader.'"
The Times op-ed, written by an unnamed senior official in the Trump administration, claimed to be part of a "quiet resistance" that is acting as "unsung heroes" to battle the "erratic behavior" of the president. The senior official wrote of meetings with Trump that often veered "off topic and off the rails," adding that he engaged in "repetitive rants, and his impulsiveness results in half-baked, ill-informed and occasionally reckless decisions that have to be walked back."
The administration official also wrote that "given the instability many witnessed," some within Trump's Cabinet considered invoking the 25th Amendment to potentially remove him from office. The Times later reported that Deputy Attorney General Rod Rosenstein discussed invoking the 25th Amendment and wearing a wire to secretly record the president.
In the wake of the anonymous op-ed, Trump said he wanted Attorney General Jeff Sessions to investigate who wrote the story and to possibly seek legal action against the Times. Neither action is believed to have taken place thus far.
Trump's Fox & Friends interview also touched on how great a job he believes he's doing as president, his replacement for U.S. Ambassador to the United Nations Nikki Haley and the U.S.-Saudi Arabia relationship after a Washington Post opinion writer was believed to have been killed by the Saudi government.