Donald Trump Gave Joe Biden 'Hospital Pass' on Afghanistan, Says Tony Blair's Defense Secretary
Geoff Hoon, the British defense secretary who oversaw the invasions of Afghanistan and Iraq under then prime minister Tony Blair, has defended President Joe Biden over the disastrous allied exit from Afghanistan.
Hoon, who served as U.K. defense secretary from October 1999 to May 2005, suggested that former President Donald Trump bears much of the blame for the chaotic scenes under Biden that have humiliated the U.S. and its allies.
This weekend, Blair broke his silence on the Afghanistan debacle by criticizing Biden's "obedience to an imbecilic political slogan about ending 'the forever wars.'" But Hoon told Newsweek he was sympathetic to Biden's situation.
"I really think President Biden was given a hospital pass by his predecessor—he could hardly turn that policy on its head...I think it was an impossible situation for him to inherit," Hoon said.
Trump—who has criticized Biden for his handling of the Afghanistan withdrawal—was in favor of ending America's longest war throughout his time in office.
The former president reportedly clashed repeatedly with Pentagon officials over his exit orders, and before leaving office Trump set a deadline of full American withdrawal by May 1, 2021, one he later tried to move forwards to December 2020.
Some observers have blamed Trump, rather than Biden, for sending a signal to the Taliban that American forces would leave Afghanistan regardless of the outcome of peace talks with the U.S.-backed government in Kabul.
Trump has also faced criticism for his administration's role in releasing thousands of Taliban prisoners before and during U.S.-Taliban peace talks.
Among those released ahead of the peace talks in Doha was Taliban co-founder Mullah Abdul Ghani Baradar, arrested by the U.S. in 2010 and imprisoned in Pakistan. Baradar has now returned to Kabul to help set up the Taliban's new government.
"The last administration sent such a clear signal that there has to be an American withdrawal," Hoon said.
"The Taliban, who are patient people, waited 20 years for this opportunity. They were certainly capable of waiting a few more months, which is all it seemed to them to require once the signal had been sent that the Americans were leaving.
"[Biden's] predecessor, I think, bears most of the blame for sending such unequivocal signals so soon."
Biden has dismissed the suggestion that the U.S. and its allies are abandoning the Afghan people. American and allied evacuations from Kabul airport are ongoing as Kabulites once again face life under the Taliban.
Last week, the president said: "I will not repeat the mistakes we've made in the past. The mistake of staying and fighting indefinitely in a conflict that is not in the national interest of the United States, of doubling down on a civil war in a foreign country, of attempting to remake a country through the endless military deployments of U.S. forces."
The government in Kabul collapsed faster than most expected. The Biden Administration was preparing for Kabul to fall within 90 days of the American withdrawal, according to an intelligence report leaked to Reuters, but deposed President Ashraf Ghani's administration proved even weaker than observers thought.
"Clearly, there has been some wilful optimism over the years about the ability of the Afghan military to fight their own fight," Hoon said.
The Afghan Armed Forces have been supported with billions of dollars in weapons and vehicles but collapsed in the face of a Taliban offensive underpinned by a raft of quiet deals with local leaders.
"My guess is that the Afghan army have never felt as committed to the government as the Taliban are for their cause," Hoon said. "I suspect in [Biden's] mind there's a feeling that, at some point, the Afghans have got to be able to run their own show."
During last week's address, Biden asked: "How many more generations of America's daughters and sons would you have me send to fight Afghanistan's civil war when Afghan troops will not?"
The president was condemned for the suggestion that Afghans did not fight. Between 66,000 and 69,000 Afghan soldiers have been killed fighting the Taliban, far more than the 2,372 American combat deaths since 2001, per Brown University's Costs of War Project.
Another 77,000 civilians are believed to have been killed in the Afghanistan-Pakistan war zone since 2001.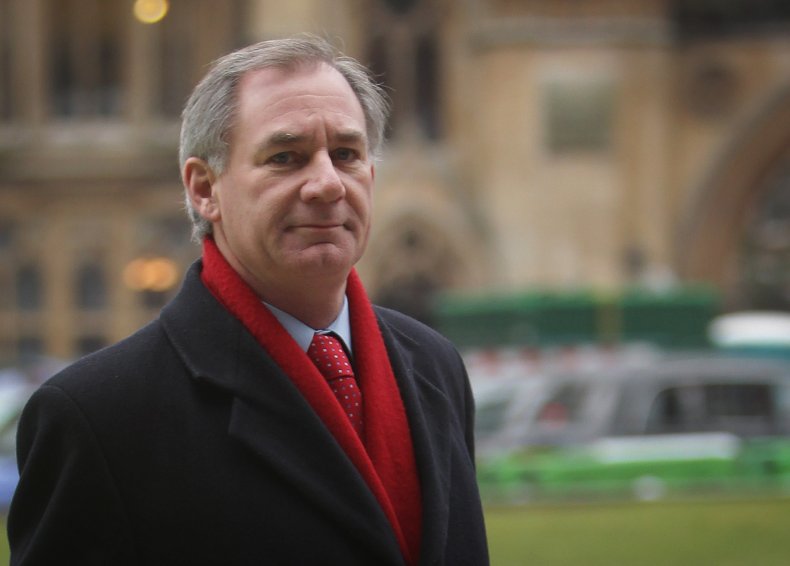 The civilian government's quick collapse stands as an indictment of the American-led nation-building effort.
"I think we have to be honest with ourselves," Hoon said. "After 20 years, if it's possible for the Taliban to take the country in a matter of days, then something more difficult than a failure of nation-building or a failure of the military, or whatever, is operating there."
"If you can't withstand that kind of relatively unsophisticated military response after 20 years of trying, then something more fundamental is going on.
"Afghanistan is a country that is divided by ethnicity, by religion, by region, but actually by valleys too—the next valley may be your enemy. This is not a coherent country in the way that we think about the United States or the United Kingdom."
The withdrawal, Hoon said, "should have been dealt with over perhaps a rather longer period." But, he added, civilian leaders would have been advised by military officials to commit to a clear and disciplined process: "My guess would be that the military advice was: 'Set the date and stick to it, rather than gradually withdraw.'"
The Afghanistan fiasco is a reflection of two decades of shifting policy goalposts. America demanded justice for Osama Bin Laden and his lieutenants, but the longer-term problems of stability, democracy, and the economy loomed above the hunt for Al-Qaeda's top brass.
"In the very early days, there was clearly a very different emphasis between the United States and its allies, including the United Kingdom," Hoon said.
"The U.S. were focused on getting Osama Bin Laden and his henchmen; that was their absolute preoccupation. I'm sure I would have felt exactly the same—this was was a man who wreaked terrible destruction on the United States on U.S. soil.
"The European approach was probably more nuanced in terms of thinking through the strategic consequences of our forces being there and recognizing, even in those early days, that we couldn't do that forever."
For all the blood and treasure spent in Afghanistan in the past two decades, Hoon told Newsweek that the decision to invade was the right one at that time.
"The whole world wanted to do something to help the United States after 9/11," he said.
"I had calls from virtually every defense minister at some stage in the free world, all of whom had been told by their president or prime minister that they had to do something to assist the United States. This was a popular feeling that something had to be done.
"So the idea—that has been canvassed by a number of commentators over the last few days—that we should never have got in there in the first place, I just don't think that was realistic after 3,000 people were killed in New York.
"I can't see any American administration ever being able to sit back and allow what happened on the streets of New York and Washington to occur without responding.
"It would have been extraordinary, and I think the administration would have fallen if they had not taken action."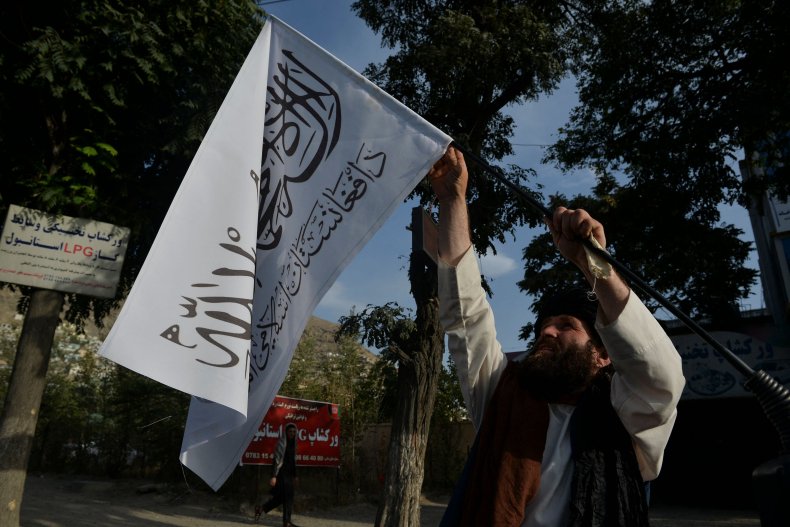 It remains to be seen whether the Taliban will return to the authoritarianism and extremism that characterized their rule before 2001. Its spokesmen have tried hard to present a more moderate, palatable public image in recent weeks, encouraging women to join the new government and vowing that there will be no reprisals.
But those adjusting to life under the Taliban's new rule tell a different story. Reports from major cities including Herat, Kandahar, and Kabul suggest the Taliban are already kidnapping young girls to marry off to fighters, executing local leaders deemed threats to their power, and killing former Afghan soldiers and other suspected collaborators.
The Taliban is not a monolith. Its leaders are already jockeying for influence in Kabul, and the months and years to come will likely bring internal power struggles of varying severity between blocks with different methods, ideologies, and goals.
Meanwhile, American and allied officials are continuing their airport evacuations under an ad hoc truce with the Taliban. For now, the necessity of the evacuation will trump any wish to undermine Afghanistan's new leaders. But this uneasy detente is unlikely to prove permanent.
"They've obviously got a more sophisticated PR operation than they ever had prior to 2001, but I'm pretty doubtful at the moment that they are capable of being as moderate and reasonable as they suggest," Hoon said.
The Taliban will also have to restrain foreign fighters and transnational terrorist groups operating in Afghanistan if they want to avoid fresh conflict with the West. Taliban leaders have repeatedly claimed they will not offer terrorists haven in Afghanistan as they did before 9/11, though the sincerity of these promises is in question.
Islamic State-Khorasan Province has been operating in Afghanistan for several years, fighting Taliban, Afghan, and American forces. It will be difficult for the Taliban to oust tenacious IS-KP fighters, though the group has already put down a marker by executing jailed IS-KP leader Abu Omar Khorasani within days of taking Kabul.
Western officials are most worried about the return of Al-Qaeda to Afghanistan, where its leaders cut their teeth in jihad against the Soviets and later planned the 9/11 attacks.
Al-Qaeda fighters are already in the country, despite Biden's claims to the contrary last week, and a United Nations report from June warned: "The Taliban and Al-Qaeda remain closely aligned and show no indication of breaking ties."
"One of the successes of the Taliban will be to have under arms a lot of tough, hard veterans of guerrilla warfare, and I don't think those people are simply going to fade away once the Taliban are in power." Hoon told Newsweek.
"A training base for a guerrilla organization doesn't need to have buildings, it doesn't need to have sophisticated headquarters. It's simply a place they can train, and the more remote, the more difficult the environment, the better the training.
"I just don't believe that the Taliban will be able to exert any control over those people, and those people will sit there for as long as they feel that there's an opportunity of carrying on the fight against the West that they've been pursuing now for a very long time."
While the Taliban PR war begins in Kabul, Afghanistan's decades-long ebb and flow of civil war continues in the far northeast of the country.
The remnants of the Afghan Armed Forces have fled to the Panjshir Valley to join with fighters loyal to Ahmad Massoud, the son of the legendary mujahideen commander Ahmad Shah Massoud who battled the Soviets and the Taliban before being assassinated in September 2001.
The Taliban are now massing near Panjshir for an expected attack on the last bastion of anti-Taliban resistance.
"We have stores of ammunition and arms that we have patiently collected since my father's time, because we knew this day might come," Massoud wrote in The Washington Post last week.
Massoud has called on the U.S. and its allies to arm his forces. "We know that our military forces and logistics will not be sufficient. They will be rapidly depleted unless our friends in the West can find a way to supply us without delay," he wrote in the Post.
"America can still be a great arsenal of democracy. America and its democratic allies do not just have the fight against terrorism in common with Afghans.
"We now have a long history made up of shared ideals and struggles. There is still much that you can do to aid the cause of freedom. You are our only remaining hope."
But throwing U.S. might behind Massoud would risk a deterioration of an already tense situation in Kabul. Still, if the Taliban do revert to their traditional abuses Western politicians will be under pressure to act.
"I think there will be a lot of pressure, even for some degree of covert assistance. I don't think we're talking ever about foreign troops on the ground, partly for the reason that would damage resistance in the present situation," Hoon said.
"But certainly I think if the Taliban do not follow through on their various, current promises—and I don't believe they will, I don't believe they're capable of doing it—then I think you might well see some covert support, some financial or military assistance. But it's much too soon to speculate about that."