Donald Trump and Republicans Fall Short on Their Economic Promises: New GDP Report
President Donald Trump, who has overseen record unemployment rates, has fallen short of his economic promise of 3 percent growth every year he has been in office, revised economic figures show.
During his campaign days, Trump often claimed that "we think [economic growth] could be 5 or even 6" percent if he were elected. And early in Trump's presidency, then-budget director Mick Mulvaney told Congress that "the foundation for the plan is 3 percent growth. In fact, that IS Trumponomics."
But Commerce Department data released Friday revised gross domestic product (GDP), a major measure of economic growth, had actually grown 2.5 percent in 2018 instead of the initially projected 3 percent. GDP during the president's first year in office was upwardly revised to 2.8 percent but still fell short of the 3 percent goal.
Growth has also slowed significantly this year, from 3.1 percent in the first quarter of the year to 2.1 percent in the spring.
The president brushed off the drop and blamed the Federal Reserve despite often taking credit in the past for any economic growth.
"Q2 GDP Up 2.1 percent," he tweeted Friday morning. "Not bad considering we have the very heavy weight of the Federal Reserve anchor wrapped around our neck. Almost no inflation. USA is set to Zoom!"
The president has long claimed that his tax cuts, regulation-cutting and the renegotiation of long-established international trade deals would lead to economic growth at or above 3 percent, something that many economists said could not be done.
And with the corrected growth numbers, the U.S. now hasn't seen an annual GDP rate higher than 3 percent since 2005, under former president George W. Bush.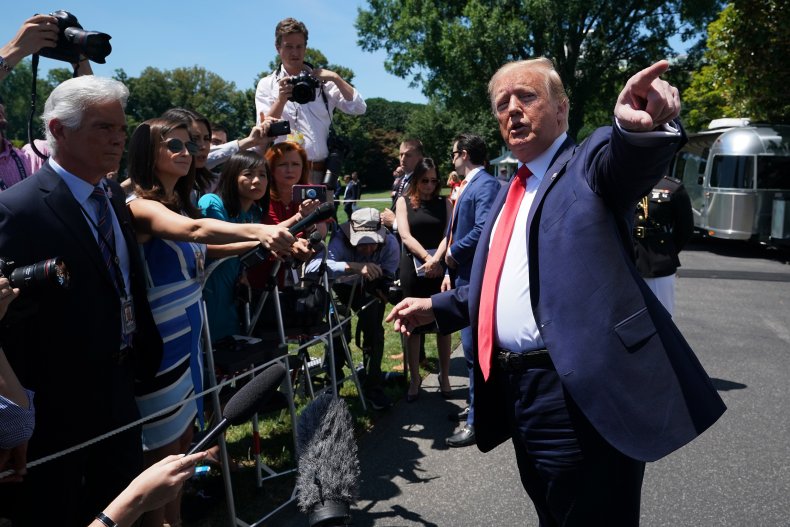 In reality, even with his rule-slashing policies, economic growth under President Trump is about the same as it was under former President Barack Obama. In his final two years in office, Obama experienced growth of 2.9 percent and 2.5 percent. At the time, those numbers were celebrated as strong economic growth because the economy was still recovering from the Great Recession.
Experts predict that the growth during Trump's first two years in office may be hard to beat. Economist Mark Zandi of Moody's Analytics told CNBC that "2018 will be the high-water mark for growth in the Trump administration," he expects economic growth to slow to 1.1 percent by 2020.