Donald Trump Says George Washington 'May Have Had a Bad Past. Who Knows?'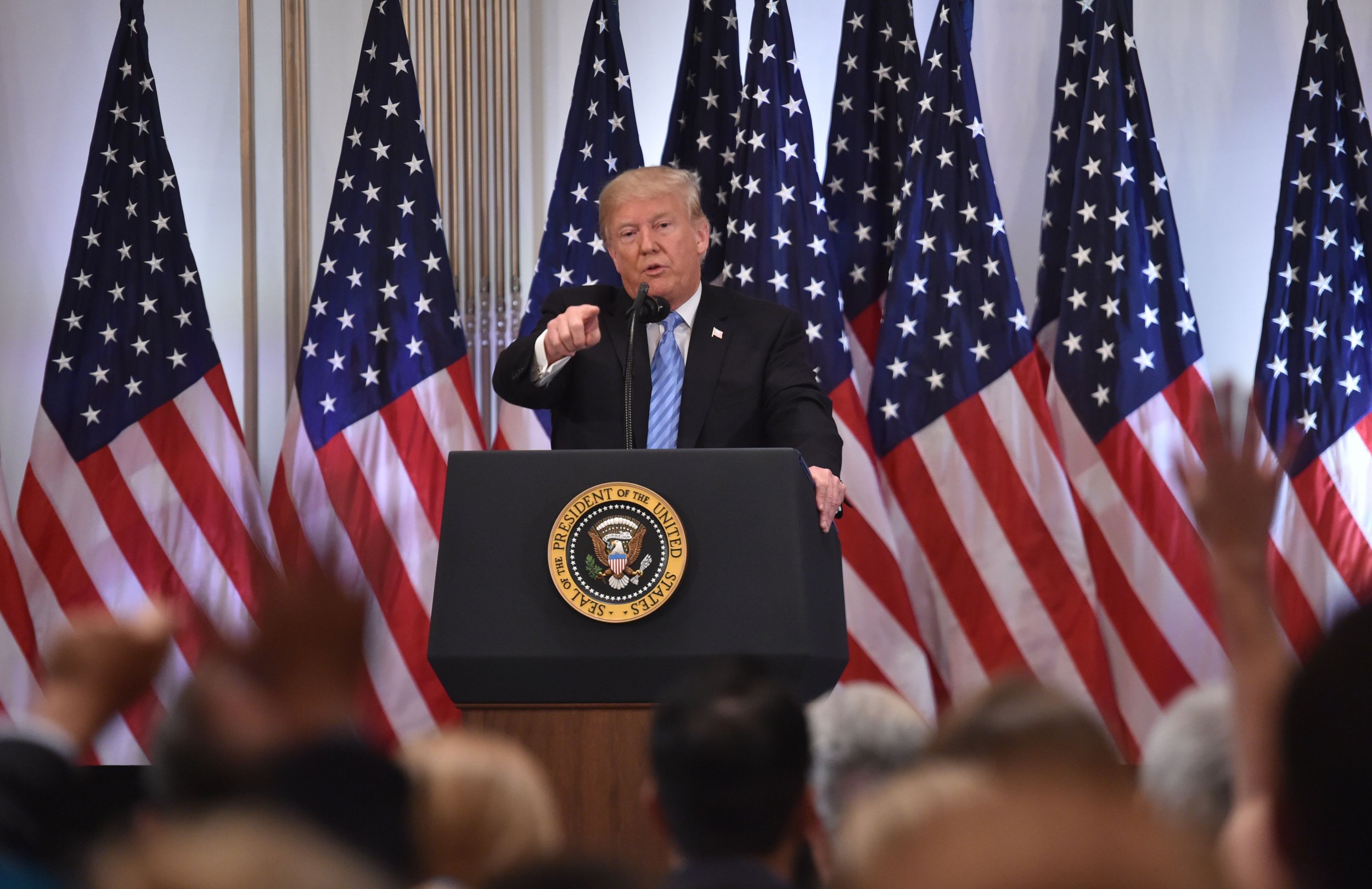 President Donald Trump defended Brett Kavanaugh at a press conference Wednesday, stating that even if George Washington was put forward as a nominee Democrats would vote against him. Trump also questioned whether Washington "may have had a bad past."
"If we brought George Washington here, and we say this is George Washington, the Democrats would vote against him," Trump said. "He may have had a bad past. Who knows?"
Trump continued: "He may have had some—I think accusations made. Didn't he have a couple of things in his past?" George Washington would be voted against 100 percent by [Senate Minority Leader, Chuck] Schumer and the con artists."
It is unclear what Trump was referring to with regard to Washington. He may have been referring to the fact that at one time Washington held slaves.
Kavanaugh has been accused of sexual misconduct by three women. One of those women, Christine Blasey Ford, will testify before the Senate Judiciary Committee on Thursday. Ford has alleged that Kavanaugh sexually assaulted her at a high school party in the early 1980s. Another women, Deborah Ramirez, has said that Kavanaugh exposed himself to her and thrust his penis in her face, causing her to touch it, at a college party. A third accuser, Julie Swetnick, came forward on Wednesday to claim in an affidavit that Kavanaugh participated in drugging women at parties in order for a group of boys to "gang rape" them.
Swetnick is being represented by lawyer Michael Avenatti, who Trump said at the press conference had a "bad reputation." He added: "Take a look at his past."
The comments echoed those he made earlier in the day on Twitter.
"Avenatti is a third rate lawyer who is good at making false accusations, like he did on me and like he is now doing on Judge Brett Kavanaugh. He is just looking for attention and doesn't want people to look at his past record and relationships - a total low-life!" he tweeted.
Trump was also asked during the press conference whether the number of allegations of sexual misconduct made against him affected his view of Kavanaugh.
"When you say does it affect me? Absolutely. Because I've had it many times," Trump responded.
Trump continued: "I was accused by, I believe it was four women…who got paid a lot of money to make up stories about me."
Trump has been accused of sexual misconduct by more than a dozen women.