Donald Trump's Georgia Call Sparks Demands for Second Impeachment
President Donald Trump faced calls for a second impeachment over the weekend after it was revealed that he had tried to pressure Georgia's Republican secretary of state to "find" votes that would have overturned the result of the presidential election in the state.
The commander-in-chief told Brad Raffensperger to find the votes and insisted that he won Georgia on November 3, a recording of the call obtained by The Washington Post revealed. The Georgia Republican replied that the president's data was "wrong" as he pushed back on the demand.
As he sought to lean on the Georgia secretary of state, Trump also made baseless claims of voter and election fraud in the state, and threatened Raffensperger with a supposed "criminal offense" for not reporting it.
The audio of the phone call went viral and sparked widespread reaction on Sunday night, prompting at least one lawmaker to push for a second impeachment process against the president.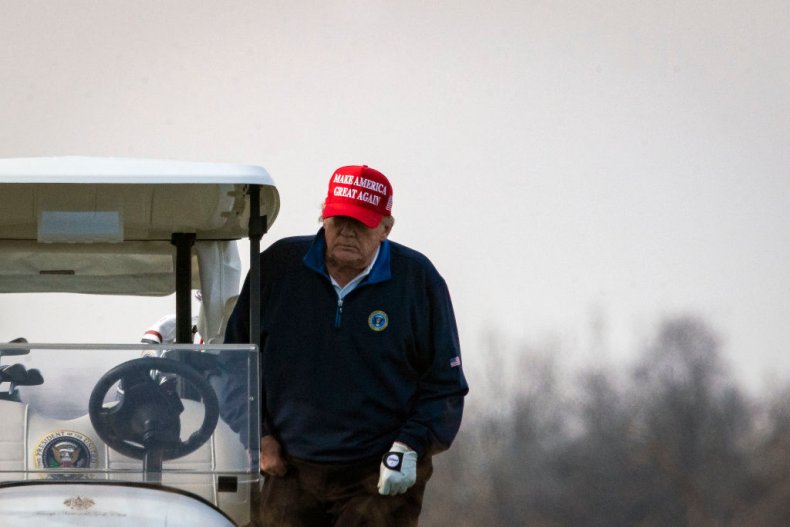 Speaking to Bloomberg about the president's phone call, Rep. Alexandria Ocasio-Cortez (D-NY) said: "I absolutely think it's an impeachable offense and if it was up to me, there would be articles on the floor, quite quickly."
The Citizens for Ethics watchdog non-profit tweeted: "If you didn't think there was clear enough evidence to impeach Trump before, well, now you have it on tape. If someone in the House of Representatives could file an impeachment resolution, that'd be great."
Brian Klaas, an associate professor at University College London, with expert knowledge on American politics, said Trump's push for Raffensperger to "find" additional votes in Georgia was an impeachable offense
"Perhaps a more sensible approach would be to formally censure Trump, but something official needs to be done to make clear that such corrupt, illegal, authoritarian conduct will result in formal consequences," the professor tweeted. He also said there was a debate to be had about the "utility or political risk" of trying to impeach President Trump so shortly before his exit.
Progressive and never-Trumper commentators added further calls for the president to be impeached for the second time in the space of two years. Trump was first impeached in December 2019 over the nature of a phone call with Ukrainian President Volodymyr Zelensky
"Can you still impeach a Lame Duck President with 20 days to go before he's dropped into the compost heap of history?" Author Neil Gaiman tweeted. "Asking for a friend."
Dan Shapiro, a former U.S. Ambassador to Israel, said a second impeachment of Trump could be the first act of the new Congress. "You can argue that it's not worth it with 17 days to go," he tweeted. "But it would be entirely justified."
The former Republican congressman David Jolly told MSNBC on Sunday night that the Democratic-controlled House should hold a vote on whether or not to impeach Trump when they returned from recess. "What stands on the line in this moment is not just Donald Trump," he said. "It is the integrity of the House of Representatives as an institution, whether or not they will allow this behaviour to go checked or unchecked."
Newsweek has contacted the White House for comment. This article will be updated with any response.