Trump Suggests He'll Stay in Power if Georgia Officials 'Permit a Simple Signature Verification'
In another attempt to prove that voter fraud cost him the election, President Donald Trump said on Saturday that Georgia Governor Brian Kemp and Secretary of State Brad Raffensperger should allow a signature verification, which will "show large scale discrepancies."
"I will easily & quickly win Georgia if Governor @BrianKempGA or the Secretary of State permit a simple signature verification. Has not been done and will show large scale discrepancies. Why are these two 'Republicans' saying no? If we win Georgia, everything else falls in place," he tweeted.
Meanwhile, Kemp quote-tweeted the president, saying that he backed the verification on a number of occasions: "As I told the President this morning, I've publicly called for a signature audit three times (11/20, 11/24, 12/3) to restore confidence in our election process and to ensure that only legal votes are counted in Georgia. #gapol"
Later on Saturday, Trump responded to Kemp's tweet, calling on the governor for transparency and blaming him for the lack of a signature verification. "Your people are refusing to do what you ask. What are they hiding? At least immediately ask for a Special Session of the Legislature. That you can easily, and immediately, do," Trump wrote in the tweet.
In a November 23 press release, the governor said that a sample of signatures would clear up any discrepancies from the audit of ballots. "It seems simple enough to conduct a sample audit of signatures on the absentee ballot envelopes and compare those to the signatures on applications and on file at the Secretary of State's Office," he said in the statement.
In the statement, Kemp also called for strengthening photo ID requirements and reasons for any discrepancies. "We demand complete explanations for all the discrepancies identified so that our citizens will have complete confidence in our elections," he said.
Kemp had also spoken about his support for a signature audit in a Thursday interview with host Laura Ingraham on Fox News.
"I think it should be done. I think especially [given] what we saw today... it raises more questions," Kemp said during the interview.
Trump had previously called for signatures and envelopes to be shown to allegedly "expose the massive voter fraud."
Despite the multiple calls for the signature verifications, CNN reported that the signature verification isn't nearly as simple as the president's tweets make it seem to be. Raffensperger said that a signature verification would need to be court-ordered to be performed. According to the media outlet, signature verification had already been performed, and matching any discrepancies with a ballot would not be doable.
In a November interview with 11 Alive, Georgia voting systems implementation manager Gabriel Sterling explained why a signature verification wasn't included in the audit. He said that after signatures are verified between the ballot's envelope and the voter registration system, the secrecy envelope and ballot are separated.
"There's no way to tie the actual ballot back to that original signature anymore, because Georgia law does not allow for that," he said.
Sterling did say that Trump campaign was well within their right to file a lawsuit to examine the envelopes, which are kept on record for two years, along with the requests. "If somebody was to file a lawsuit and go look at those things, there's nothing stopping them from doing that if they can show any evidence to do that," he said.
The Trump campaign, the Georgia governor's office, and the Georgia secretary of state did not respond to Newsweek's emailed requests for comment in time for publication.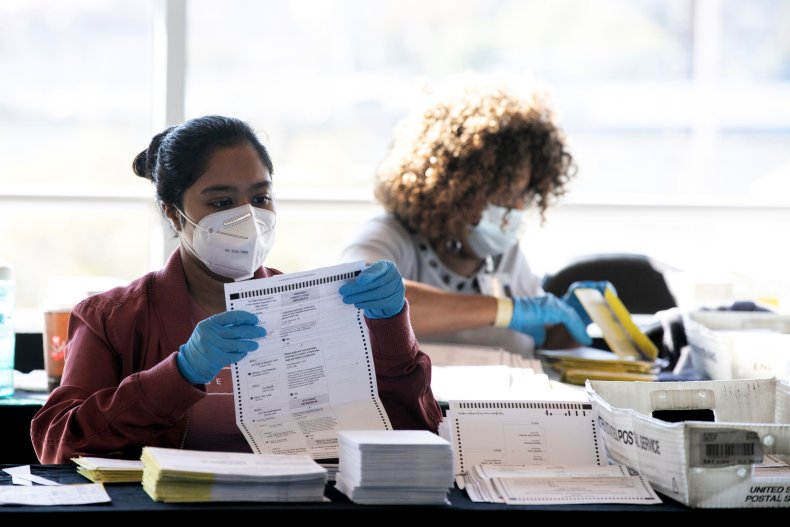 Updated 12/5/20 4:49 p.m. ET, to include Trump's late Saturday afternoon tweet responding to Kemp.