'Blood Money': Donald Trump's 'Art of the Deal' Ghostwriter Says He Wants to Atone for Helping President's Rise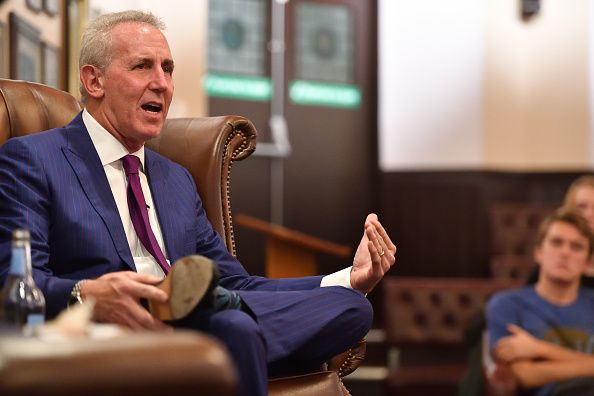 Donald Trump's former ghostwriter Tony Schwartz said writing the best-selling book The Art of the Deal was the biggest regret of his life and that he hoped to atone for helping the president rise to power.
"Once Trump began to run, I spent two and a half years out there trying to warn people about who this man is," Schwartz told CBS News chief Washington correspondent Major Garrett. "It's something I can't ever really fully make right."
The 1987 book, which is a mixture of memoir and business advice, helped make then-real estate mogul Trump a household name. Trump referenced the book several times on the 2016 campaign trail, using it to bolster his claim that he was a master negotiator.
But since the 2016 election, Schwartz has publicly condemned Trump on multiple occasions. He's even argued that The Art of the Deal should be moved to the fiction section of bookstores or put out of print altogether.
Schwartz told CBS that he knew Trump was a "bad guy" when he wrote the book. Just before taking the deal, Schwartz wrote an exposé on Trump's real estate business for New York Magazine. The report detailed how Trump attempted to push rent-stabilized tenants out of a building in Manhattan in order to build luxury apartments.
He added that his reporting made it clear that Trump was willing to "push the envelope very, very intensely when it came to the law." Based on that, Schwartz said he should have turned down the opportunity to ghostwrite.
"Trump is not only willing to lie, but he doesn't get bothered by it, doesn't feel guilty about it, isn't preoccupied by it," Schwartz said. "There's an emptiness inside Trump. There's an absence of a soul. There's an absence of a heart."
Schwartz has made hundreds of thousands of dollars from the book but now deems the profits "blood money." Over the past few years, Schwartz said, he has donated much of the royalties to different charities.
Earlier this month, Schwartz told CNN's Anderson Cooper that The Art of the Deal should be renamed "The Sociopath" to reflect its leading protagonist. He argued that Trump doesn't experience the same "pressure or tension" that most people do when they make an error or a mistake.
"Because he has no conscience, he has no guilt. All he wants to do is make the case that he would like to be true. And while I do think he is probably aware that more walls are closing around him than ever before, he does not experience the world in the way an ordinary human being would," Schwartz said.